Top 10 Highest Paying IT Companies in India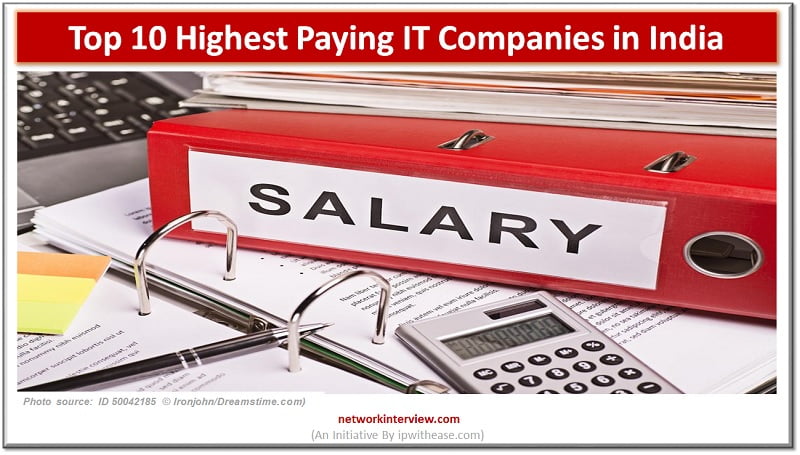 The IT sector is always busy every year with new recruitment and hiring processes. It makes it a competitive sector and new graduates can benefit from it. While selecting a company applicants should check various things, first of all, is the Salary package. 
Because at the end of the day everyone works for the salary. So if you are a new graduate looking for a job in IT companies in India, then here are the companies you should consider based on the package. 
This article includes all the IT companies that function in India, irrespective of the country of origin. Okay without further ado let's see the top 10 highest paying IT companies in India 2022. 
List of Highest Paying IT Companies in India
1.Google
Of course Google, Google always reaches the top 10 on any tech-related list. It is a dream for every fresh and even experienced job seeker to get recruited by Google. It is not only the top paying company in India but also around the world. It is said that Google pays 40 percent more salaries to its employees than other companies. 
2.Adobe 
It is an American Multinational company focused on software design or Graphical Designs. Though it is not of Indian origin it is said that the company recruiters tend to be interested in Indian professionals. If you are fresher in Adobe you can expect a salary package between 7-14 lakhs Indian Rupees. 
3.Juniper Networks
Juniper Networks is Silicon Valley-based American Multinational company that is very active in India. It has branches in Bengaluru and Mumbai. If you are an IT professional, particularly in Network Engineering and Management then Juniper Network rewards you well. You can expect pay between 4 – 23 Lakhs of Indian Rupees. 
4.Microsoft
Next on the list is the Windows Developer, Microsoft. There is no need to Introduce this American company which is a brand itself in the job recruitment. IT professionals tend to run for jobs in Microsoft because of high-paying opportunities and positions. You can expect a salary package of 12 -18 lakh as a tech consultant in Microsoft India. 
5.Intel 
Intel is a successful Microprocessors and Computer Chips producer in the World. Though it is more focused on the production side, they still have a lot of jobs in Information Technology. And pay promisingly high in India. The average salary is around 10 lakhs. 
6.Cisco
Cisco is widely known for its cloud and networking services. It is a multinational company, but India is a huge contributor to Cisco. Thus job seekers consider Cisco as a good choice if you are looking for a constant salary rise. As for now, a software Engineer is paid 12 lakhs and a network engineer is paid 6 lakh per annum. 
7.Amazon
You all know Amazon as an E-Commerce giant, but it is no joke that Amazon is also a leading tech company, it has involved various projects like IoT, Cloud Computing, etc… This is why Amazon India pays the highest salary for Software Engineers, which varies based on grade and experience. 
8.Honeywell 
Honeywell as a leading tech giant continuously changes its business strategies to remain productive. Thus they always look for Software Engineers or Tech professionals with 1 to 8 years of experience. And they pay 8 – 30 lakhs based on their experience. And also provide the employees a marvelous workplace environment. 
9.Mediatek
It is an IT company based in Taiwan, which is also the leading producer of microchips and processors for a large share of Smartphones in the world. It employs a lot of skilled and software engineers and IT professionals and provides a promising salary package of 16 to 24 lakhs. 
10.PayPal
PayPal is an American Multinational company that facilitates online transactions and E-Commerce businesses. It's all about the Information and Data in PayPal thus they pay high. In India, PayPal pays a high salary of 25 lakhs per annum. 
These are the top 10 highest paying IT Companies in India. And along with the above salaries they also provide various benefits to their employees. If you have any questions or thoughts about this article please leave them in the comment section below. 
***The salary packages are only indicative and may vary as per the rise and low of the demand***
Continue Reading:
Top 10 Networking technology trends