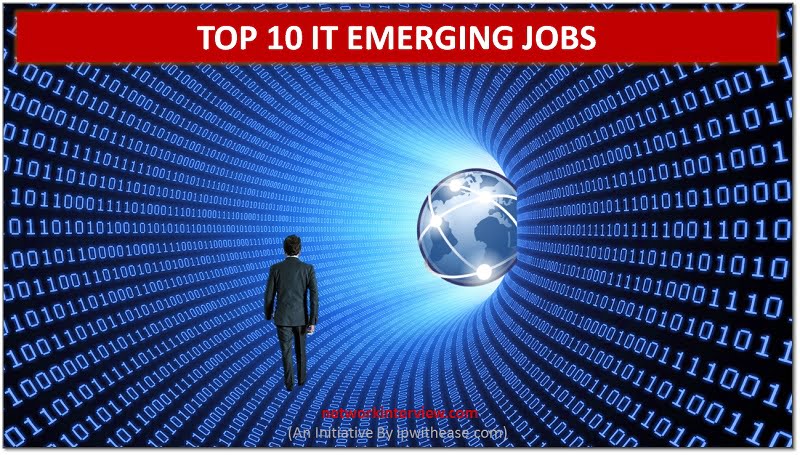 Introduction
Everyone in the world knows that the IT career has a promising future. But all the IT jobs or careers are not that everlasting or promising. So what are the Emerging IT jobs? Which IT job or characteristic is most demanded today?
In this article you will get the answers to the above questions.
List of Top IT Emerging Jobs
Here are the Top 10 IT emerging jobs in 2021. 
1.Web Developer 
In today's world, all the companies irrespective of the size should have their site and many companies do e-sales through their sites. The success of the business all depends on the best Web Developer. 
The web Developer helps the organizations to stand out from the competition by their unique, high performing, and fast web Design. They constantly work with other experts like graphic designers and back-end experts. 
2.Database Administrator 
The IT world is dealing with a large amount of data in today's life. So only a data analyst or engineer is not enough to handle them, especially when we are dealing with the things like Big Data. 
This creates a great demand for the Database Administrator in many organizations who organize and classify the data so that the analyst work can be eased. 
3.Software or Applications Developer
There are more software developers in recent years. But the graze of demand for them never stops. And in the current trend, many software and business pages are converted to mobile or other forms of application. 
So if you are a Software or Web Developer with knowledge of App Development then it means you have a bright future for the next 10 years for sure. 
4.Cloud Engineer 
All the organizations that deal with large amounts of data are now moving to the cloud-based platform. Surely, Cloud computing, cloud networking, and other cloud technologies are going to rule the world for the next 50 or more years. 
So if you are planning to create an IT career, you should try to become a cloud engineer. Though it is a little challenging comparatively, you will reap the benefit in the long run. 
5.Security Analyst
More we take steps toward the Cyberworld, we uncover many threats. If you are interested in cybersecurity or security Analyst careers, don't give up hope. Because every small organization cannot afford to hire a Security expert to their organization (but most times they do), in that case, you do a Security check-up as a service. 
And there is always a demand for talents in Cyber Security as the attackers are always outsmarting the existing preventive protocols. 
6.AI/Machine Learning
Many new IT enthusiasts avoid this portion because it needs deep knowledge. But don't do that AI and Machine learning has big demand. If invested properly they can even override other IT positions easily.
AI/machine learning has been receiving huge investment around the world and in the rapid growth phase. 
7.IT Manager
This option may feel out of track for most of you. But the increasing IT operations have created a great demand for the IT manager. They act as a bridge between the business and the technical team. 
So if you can spare some time to get to know about the business, there is a great chance for you to become an IT manager. 
8.Networking Experts
It is reported that Network Architect and Network Administrators are the two jobs that are hard to fill in many IT companies. Many companies are interested to move to fast, wide, and reliable networks this increases the demand for Network specialists. 
Though the cloud is replacing many traditional networks, still there is scope for the network experts. 
9.IoT Engineer
Internet of Things (IoT) plays an important role in our steps towards the cyber world. Many companies are looking for software engineers and developers who are experienced in the IoT. 
Though IoT is covered by only multi-national companies or large enterprises it will become common to small enterprises in the next ten years. So if you are skilled in IoT then you don't need to worry about your future. 
10.Full-Stack Engineer
Web users are now demanding more robust and user-friendly pages like in the mobile apps this forces a web developer to mix the knowledge of different areas. 
The Full-Stack Engineer with both Front and Back-end is in great demand in today's Internet world. 
If you have any other careers in your mind please share them in the comment section. 
Continue Reading:
Cloud Engineer vs DevOps Engineer
Responsibilities of a Cloud Architect