Capgemini Technical Hierarchy: IT Jobs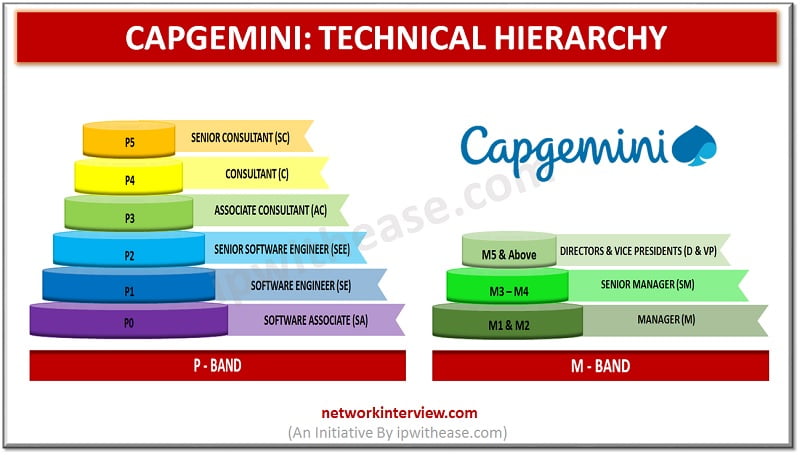 Are you wondering how the Technical Hierarchy in CAPGEMINI is? Do you want to know more about the promotions and higher positions? You are in the right place.
It is common to be curious about the organization's hierarchy where you just got hired. This article will give you a basic idea about the technical Hierarchy in CAPGEMINI.
A Short Introduction on CAPGEMINI
CAPGEMINI is a French Multi-national Technology company, headquartered in Paris. Since 1967, it has been serving people all around the world in Outsourcing, consulting, managing, etc… They help many businesses around the world to move to IT-based platforms.  It has been working in 50 different countries with 3,00,000 employees(2022) of which over 1, 25,000 are in India.
You can also watch this video for better understanding:
Technical Hierarchy in CAPGEMINI
Like the other IT and consulting companies CAPGEMINI also follows the band designation system. The major bands are P, M, O, and L. However the technical hierarchy is covered within P and M bands, others related to managerial. So in this article, you will see about the P and M bands.
P0 – Software Associate (SA)
It is the starting level technical position or band. Here you will help the software engineers with their basic workflows. This position is for freshers who just graduated straight from college.
Mostly a fresher with B.Sc under graduation is hired in this designation. There is a compulsory promotion after one year in this band.
P1 – Software Engineer (SE)
If you are a fresher, straight out from engineering college, then you will be hired for this band. After a few months of the training period, you will be assigned to work on the different development and maintenance programs.
You will be guided by a senior Software Engineer or team lead. And if you are a B.E graduate there is a compulsory promotion for you after one year.
P2 – Senior Software Engineer (SEE)
After getting experience as a Software engineer, you will be promoted to Senior Software Engineer. There is no further difference in the workings, it just you will be experienced in the particular program or project and will be responsible to guide others.
There is a salary increase and there is no information regarding the promotion. It is speculated that you need to do some extra courses or attend some training to get a promotion from here.
P3 – Associate Consultant (AC)
The works of a consultant are different from those of a software engineer. As an Associate Consultant, you will be learning about the functions and responsibilities of the Consultant under the guidance of a Consultant.
It is said you will be promoted after two years based on your performance.
P4 – Consultant (C)
The consultant is the person who communicates with the clients and gives them advice in the implementation of new technologies. He/she should have a wide technical knowledge and should be able to plan the process.
Mostly you can't be hired as a consultant without prior experience. A consultant can also play different roles like team lead, technical analyst, or test engineer, etc…
P5 – Senior Consultant (SC)
As a consultant, if you gathered enough experience with different clients, then you will be promoted to Senior Consultant. There is an increase in salary and responsibilities. You should be familiarised with different aspects to become a Senior Consultant.
The P5 band is the last band that focuses only on technical skills and then comes the M band. It focuses both on technical and managerial skills.
M1 and M2 – Manager (M)
The manager here refers to the project manager and Program manager. He/she is responsible for the particular project assigned to him. A project manager will lead a team of consultants and engineers to the proper completion of the project.
A program refers to a group of projects carried by different teams and the one managing it is called a Program Manager. He/she should have the technical knowledge and managerial skill. The promotion chances solely depend on your performance from this stage.
M3 – M4 Senior Manager (SM)
A senior manager is a manager with enough experience. A senior manager is mostly appointed as a project manager or a general/technical manager of a particular branch. There is an increase in salary and responsibilities.
M5 and above – Directors and Vice presidents (D & VP)
The persons above the M5 band are mostly management-based, they do have technical knowledge and skills but they mostly focus on the administration and business sides. A company or branch can have different Directors and Vice presidents based on their expertise.
This is the technical Hierarchy in CAPGEMINI, if you have further doubts please share them in the comment section below.
Continue Reading:
Responsibilities of a Cloud Architect
Enterprise Architect vs Solution Architect
Are you preparing for your next interview?
Please check our e-store for e-books on Interview Q&A on IT technologies. All the e-books are in easy to understand PDF Format, explained with relevant Diagrams (where required) for better ease of understanding.