IBM 360/ IBM SYSTEM 360: Sneak Preview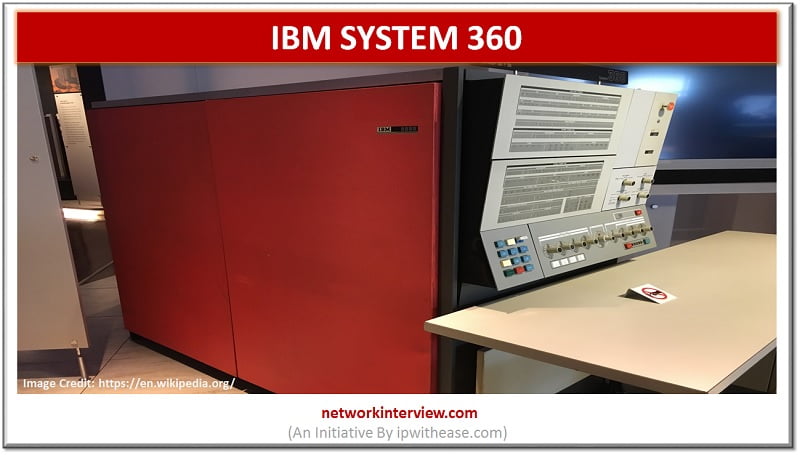 Introduction to IBM 360
Up to early 1960 IBM systems were incompatible – there were inter-operability issues and systems were used different peripherals like tapes, disk drives etc. All these factors were increasing the design and production costs for both hardware and software which was unsustainable in nature and sales were declining as customer were not willing to upgrade to higher systems due to costs constraints.
It was very risky venture costing over $5 billion to IBM eventually it was a huge success and one of the top three business accomplishments of all times.
Emergence of IBM 360
IBM 360 series was designed to provide 'Upward Compatibility' and have a wide range of systems in comparable price. Programs meant to run on lower priced models can also run on more expensive powerful systems to facilitate customers that they need not have their programs re-written to run on highly upgraded systems. This concept was highly popular and many systems manufacturers of Mid – 1960s adopted it. The general-purpose IBM 360 systems handled businesses, scientific applications.
IBM revenue jumped from double fold after company president Tom Watson Jr. announced system/360 in 1964 based on IBM's Solid Logic Technology (SLT) which advent starting of new more powerful and smaller systems.
It changed the way people used systems , now customers can purchase smaller systems which they will be able to migrate as need grew, without re-programming or replacing peripheral devices. All models of IBM 360 were backward and upward compatible but with some limitations.
IBM 360 was the first product family which let businesses data processing operations grown from small systems to the large systems without major expenditure on rewriting vital programs. The code written for the initial member of the system family was upwardly compatible with each of the family's larger processors. Many peripherals such as disks, printers, communications devices, and input-output devices were compatible across the family.
The Chief architect of IBM 360 systems was Gene Amdahl and this project was managed by Fred Brooks.
This mainframe system was introduced by IBM in 1964, it has 2 main features : –
Support for array of applications and
This was first operating systems which require direct access to storage
Operating System Versions of IBM 360
The name '360' suggests that a single system would support full range of systems , there were 3 versions of operating system.
OS/360 PCP (Principal Control Program) could run only one program at a time. It was used by IBM in-house.
OS/360 MFT (Multiple Programming with a Fixed Number of Tasks) memory partitions were created to run each program and when one program is idle then memory allocated to it would remain unusable for other programs.
OS/360 MVT (Multiple Programming with a Variable Number of Tasks) Memory divisions were created as required. So, when memory is idle it is allocated to another program in the search queue.
OS/360 MFT is renamed as OS/VS1 and OS/360 MVT become OS/VS2.
In year 2000, OS/360 put in Public domain and it is made freely available to users and developers for download and enhancements.
Features of IBM 360 systems
Some of the key features introduced in IBM 360 were : –
Solid Logic Technology – Microelectronic circuits carry and control the electrical impulses to present information on computers.
8-bit byte addresses – Memory storage in IBM 360 is addressed in 8-but bytes.
Commercial use of micro-coded CPU's – imposes an interpreter between system hardware and its architecture.
IBM Floating Point architecture – Supported floating point operations on floating point numbers in typical operations related to addition, subtraction, multiplication, square root etc.
Nine track magnetic tape – This was introduced with IBM 360 having the ½ inch wise magnetic tape and reels with eight tracks for data and 1 track for parity bit.
Hierarchal file management system which allowed to manage files in hierarchies
Quick Facts!
Motion picture THX 1138 had scenes in movie featuring a large computer room with five system/360 consoles , tape drives etc
How to make a Doll (Year1968) shows an IBM 360
Continue Reading: