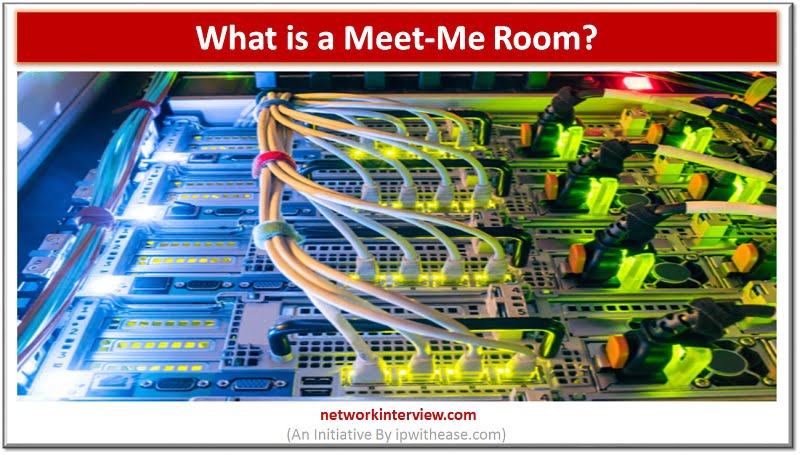 Meet Me Room (MMR), is also known as ENI (External Network Interface) or MDA (Main Distribution Area) is a small but very important space inside the data center, where the ISP connect with one another and exchange data before distribution of services to other areas of the building or location.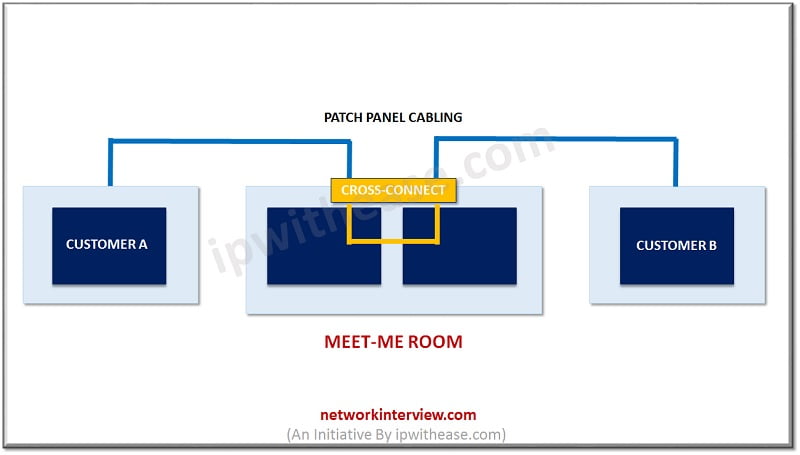 Advantages
A Meet Me Room can be used as a base area to control access to large site backbone interconnectivity.
By avoiding local loop communication fees, a Meet-Me Room can distribute data traffic more cost effectively.
Clients have the advantage of being able to access high bandwidth connectivity directly within the Meet-Me Room, thus avoiding the need first travel out of the data center to get to a telco facility.
Disadvantages
Two MMR need to be provisioned to keep the redundant separate paths with ISP, and it is a cost effective approach to build two MMR in data center.
A Meet Me Room can be classed as a point of failure.
Anything that interrupts the connectivity of a direct connection, for example, interconnection points or cable joints will increase latency and decrease performance.
Close attention must be paid to standards that include interconnection methods of cable counts, color codes and labeling.
Benefits of Meet Me Room: 3C's
The main benefit can be summed up as the '3Cs' of control, cost, and choice:
Control. Making a Meet-Me Room an integral part of your data center allows you to make sure the same security and business continuity i.e. battery backup and generator backup for smooth power supplies, as well as securing from unauthorized access.
Cost. Meet-Me Room can distribute traffic at a lower cost by avoiding certain local loop of ISP with in the data center. High bandwidth connectivity is available to users directly with in the Meet-Me Room, rather than having to first travel out of the data center to get to a carrier facility and then return to data center.
Choice. Smart management of a Meet-Me Room includes offering the right choices to users. For colocation facilities, multiple carriers each with sufficient space for communication and cross-connect equipment.
Meet Me Room Design
Design and size of Meet-Me Rooms can vary as per the requirement of different colocation and data centers. For example, phoenix Nap's Meet-Me Room is a 3000 square foot room with a dedicated cross-connect room. Generally, Meet-Me Room should provide sufficient expansion space for new carriers. Potential clients avoid leasing space within a data center that cannot accommodate new ISPs. One of the things Meet-Me Room should offer is 45U cabinets for carriers and network providers' equipment. Meet-Me Room do not always have both AC and DC power options. If the facility only provides one type of power, the design should offer more space for additional carrier equipment. Cooling is an essential part of every Meet-Me Room. Data centers and colocation providers are responsible for installation of carrier equipment's in the meet-me room. High performance cooling units ensure the Meet-Me Room temperature always stays within acceptable ranges.
Entrance for Carriers
Network carriers enter a data center's MMR by running a fiber cable from the street to the cross-connect room by using meet-me vaults. It is also called as meet-me boxes. These kind of infrastructure points are important for securing carrier access to the facility.
Vaults
Meet-Me Vault is a concrete box for carrier's, where fiber optic enters into the facility. Meet-Me Vault gains maximum redundancy; it requires more than one vault in large data centers. Meet-me vaults are dug under the area located at the perimeter of a data center. Closer the distance from the meet-me vaults to the provider's cable network, the lower the costs are to connect to the facility's infrastructure. Multiple entry points and well positioned Meet-Me Vaults attract more providers. Meet-Me Vault allows providers to bring high bandwidth connection without sharing the ducts. From the Meet-Me Vaults, cables go into the cross-connect room via the reinforced trenches.
Cross-Connect Room
A Cross-Connect Room (CCR) is a highly secure location within a data center, a place where carriers connect to customer's equipment's. Fiber pass from the Cross-Connect Room to the carrier's equipment in the meet-me room or other places in the data center. The primary purpose is to establish cross-connects between tenants and different the service providers.
Conclusion
MMR is a critical point for uninterrupted Internet exchange and ensure smooth transmission of data between tenants and the carriers Enterprise, benefited by establishing a direct connection with their partners and the service providers.
Continue Reading: