Enterprise Architect vs Solution Architect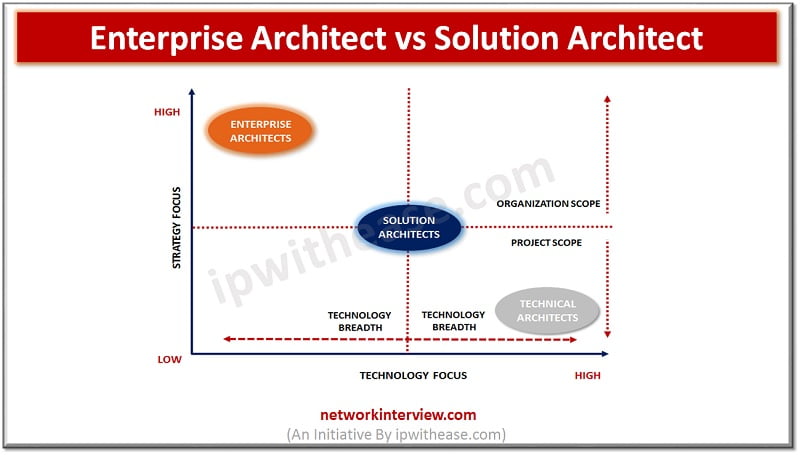 Enterprise Architect vs Solution Architect
There are some key IT roles in organizations which focus on strategic and technology related aspects across their breadth and depth. Two such technical roles are of Enterprise Architect and Solutions Architect. While the former focusses more on organizational strategy, latter works within ambit of strategy as well as technology. In this article we will understand both the roles in detail and how one differs from other.
Enterprise Architect
Enterprise Architect (EA) is a technical role of an experienced resource who bridges the gap between company Business goals and its IT architecture framework. This profile considers the strategy responsible for driving the organization and building its roadmap inline to company's vision and intent. The enterprise architect will render linkage between organizational components and the external environment.
EA oversees the overall project landscape of the enterprise rather than Solution or Technical Architect who are limited to one or two projects. EA works alongside respective domain architects to design IT roadmaps the domains, understands operational gaps and cultivates methods for enhancement. Certification like TOGAF are a great source of learning for the role. One of the most notable fact is most of EAs were once solution architects and have good understanding of components level too.
Job role of Enterprise Architect will encompass:
Understanding current architecture trends and providing recommendations to improve the IT estate.
Gauging applications w.r.t compliance and business standards
Assessing architecture in relation to organizational changes
Disseminating best practices across technology resources in standard governance and IT frameworks
Solution Architect
Contrary to Enterprise Architect role, Solutions Architect's role is limited to a specific solution and not across the company's IT view. A solutions architect will organize activities, and work towards realization of the solution. This responsibility focuses on the detail of each solution and must construct solutions which are inline to business vision and governance as set by enterprise architect.
Solution Architect role is circumscribed as under –
Studies business requirements so as to provide apt business solutions.
Are required to manage application development teams during the design and implementation phase.
Mentoring and training of resources under project purview.
Collaboration with developers of project
High level understanding of relationship between strategy and technology.
Now, lets compare both the profiles. While EA (Enterprise Architect) overlooks at IT from overall enterprise perspective, SAs (Solutions Architect) scope is limited up to solution level only. In terms of qualification level, both are technical roles requiring at least bachelor's degree as eligibility criteria to qualify. Both are technical responsibilities with EAs focus on high level solution and latter on detailed technical understanding up to each component level. Also, Enterprise Architect requires substantial emphasis on company strategy which is lesser in case of SA, who is more focused on creation of solution Blueprints and standards.
Infact, EA's primary goal is to create guidelines in accordance to company policies which are then adhered to be the Solutions Architect. EA develops strategy for End of Life refresh, technology and IT roadmap, whereas solutions Arhcitect is more into creation of Application/Database and infrastructure designs, test designs, training, manuals and use cases related to solutions being developed. We may also consider that Enterprise Architect as an overarching role which defines which problem requires a solution and then Solutions Architect is given responsibility to translate the problem into a solution.
Comparison Table: Enterprise Architect vs Solution Architect
The above shared points have been encapsulated in a tabular form for ease of understanding –
PARAMETER

ENTERPRISE ARCHITECT

SOLUTION ARCHITECT

Scope
Across projects of enterprise
Limited to specific solution
Educational qualification
Bachelor's degree
Bachelor's degree
Technology effort
High Level
Detailed
Strategy Focus
High
Medium
Interactions
Whole organizational communication
Teams engaged in specific solution
Blueprint or standard solution creation
No
Yes
Responsibility
Strategic roadmap for organization, IT principles and guidelines
Implementing a program consistent to guidelines laid by EA
Deliverables
·Strategy on EOL, technology refresh

·IT roadmap documents

·Application/Database/Infrastrucrture design

·Test Design

·Training and Manuals

·Creating use case

Problem & Solution
Defines which problem requires a solution
Translates problem to a solution
Life-Cycle involvement
During strategy development phase
During Business plan development for a project phase
Download the comparison table

here.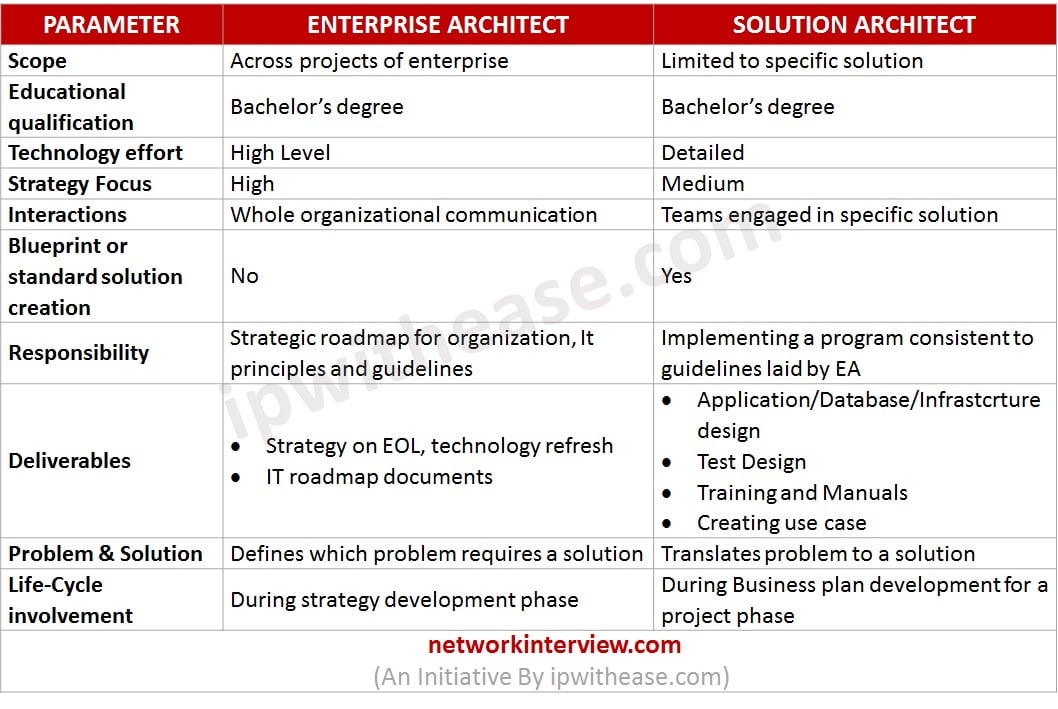 Related – Cloud Engineer vs DevOps Engineer