Difference between TOGAF and ITIL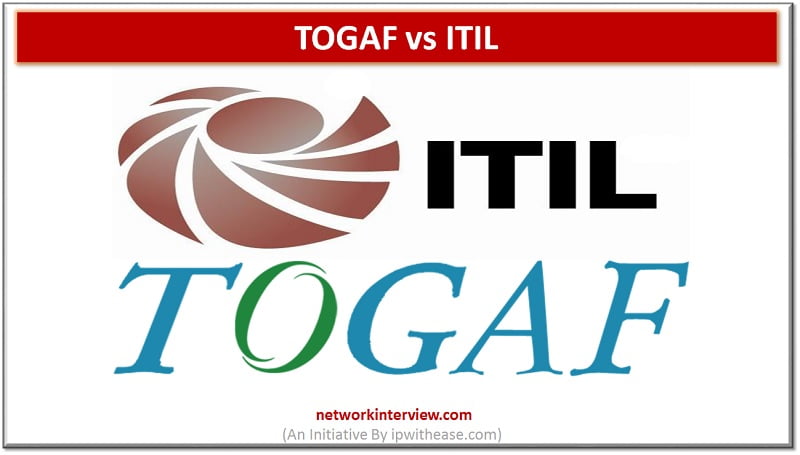 TOGAF and ITIL
What is TOGAF?
The methodology of enterprise architecture by which development of enterprise software receives high level framework is termed as TOGAF (The Open Group Architecture Framework). A systematic approach is used in TOGAF by which it serves helpful in development process organization. The aim of this approach used in TOGAF is to work as per budget, maintain the timelines, reduce errors and offer quality results with alignment of IT and business units.
In 1995, TOGAF has been developed by Open Group and by 2016, the framework has been used by 80% of the 50 Global companies and 60% of the 500 fortune companies. For the internal use, organizations have TOGAF for free but this is not true for use in commercial purposes. However, the Open Group certified training or software programs and tools could be used by businesses. At present, there are 8 tools that are TOGAF certified along with 71 accredited courses that 70 organizations offered.
Benefits of TOGAF:
Organizations receive help from TOGAF in software technology implementation in a method that was organized and structured with focus on meeting objectives of business and governance. The reliance of software development is on collaboration that takes place among business units and multiple departments both outside and inside of IT. Any such issues were resolved with the help of TOGAF so that the stakeholders can also come on similar page. Hence we may summarize benefits of TOGAF as under:
Significant Reduction of IT operating costs.
Helps in defining clear picture of the IT infrastructure and architecture.
Responsible for steady business growth and ease of restructuring.
Reduction of time and risk involved in the development of enterprise infrastructure.
Reduced IT and business complexity
What is ITIL ?
The ITIL or IT Infrastructure Library is the volumes library in which best practices framework is described for the purpose of IT services delivery. In history, there have been several revisions in ITIL and 5 books are comprised by it at present. In each of these books, the several stages and processes of lifecycle of IT service are covered. The systematic approach of ITIL to management of IT service can serve helpful for businesses in strengthening the relations with customers, managing risk, establishing practices that are cost effective and develop IT environment that is stable and allows for scale, growth and change.
During 1980s, CCTA has developed ITIL and over 30 books were present in it at first that were released and developed with time and codified Information technology's best practices collected from round the world from several sources.
Benefits of ITIL:
By using best practices of ITIL, we achieve increased productivity, efficiency and effectiveness.
More stable and structured service environment
Improved way to manage business risk and service disruption.
Cost saving due to efficient utilization of resources
Business goals and IT are efficiently aligned
Improved customer satisfaction
Differences: TOGAF and ITIL
It appeared as if both ITIL and TOGAF have entered in domains of each other in the final versions following process approach. Version 2011 of ITIL was released in July 2011 and TOGAF 9.1 come up as successor of TOGAF 9.0 in December 2011. When these frameworks were in the development years, an ever growing domain change has been described by them to the processes of business from IT.
However, the focus of TOGAF was on Enterprise Architecture while that of ITIL was on the Service Management. The basis of both of them was on best practices and large user's community has offered support to it.
Both frameworks have some other elements covered including technology architecture, information architecture and IT solutions but each framework has different level of detail. TOGAF addresses the business architecture but not ITIL. In the same manner, ITIL addresses the IT services but not TOGAF.
All that is needed for perfectly delivering the IT services is given by ITIL but it does not offer details on business processes supported.
On the other hand, all that is needed for developing perfect solutions of IT and monitoring the same is delivered by TOGAF but it does not offer guidance for actual IT services delivery.

Continue Reading:
Top 10 Cloud Computing Certifications