Microsoft Technical Hierarchy: Job Profiles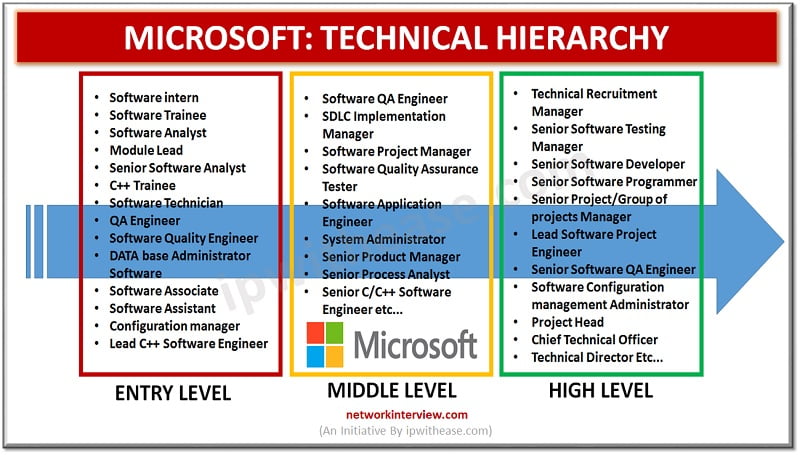 Getting a job in MICROSOFT is a dream come true. But are you worried about the hierarchy and chain of command of your work environment? You are in the right place.  
It's normal to think about the hierarchy in your new workplace. This article will help you understand the complex hierarchy of MICROSOFT in a simple way. Without further adieu, let's start with a short introduction on MICROSOFT.
About Microsoft:
Microsoft is an American multinational company that sells software licenses, computer electronics, and other electrical equipment around the world.  It can be considered as the major player in the OS (Operating System) software market
It is one of the BIG 5 Information Technology Companies along with major players like Google, Apple, Facebook, and Amazon.  It has more than 182,268  employees as per the stats of Q2 2021.
You can also watch this video for better understanding:
Technical Hierarchy of Microsoft
In this article only the positions or designations related to the technical fields of MICROSOFT are discussed. As a lead technology company, it has a complex hierarchy structure. Microsoft follows the level system; each position is given the level based on their power and responsibilities. 
A higher level means a higher salary and benefits. You can easily classify the technical Hierarchy into three categories.
Entry Level
Middle Level
High/ Senior Level
Entry Level Career Positions
It is the position you will be more likely to get hired for when you are a fresher who just graduated. Here you can gain some experience and learn about the workings of the company. You will be responsible to do the works allotted to you by the middle or senior levels. 
The positions that can be covered under the Entry-level are – 
Software intern
Software Trainee
Software Analyst
Module Lead
Senior Software Analyst
C++ Trainee
Software Technician
QA Engineer
Software Quality Engineer
DATA base Administrator Software
Software Associate
Software Assistant
Configuration manager
Lead C++ Software Engineer etc…
Middle-Level Career designations
The people in the Middle-level positions will be specialized in any particular department or technique. After gaining enough experience in the base level you will be promoted to the Middle level. The Middle level mostly focuses on the senior personals that are more responsible, experienced, and updated. 
You can also be directly hired into a middle-level position if you have the required skills and experience in other companies. The positions or designations covered under the Middle Level are –
Software QA Engineer
SDLC Implementation Manager
Software Project Manager
Software Quality Assurance Tester
Software Application Engineer
System Administrator 
Senior Product Manager
Senior Process Analyst
Senior C/C++ Software Engineer etc…
Senior/High-level Positions or jobs
These are the highest technical positions one can be promoted in MICROSOFT. Though they are technical experts they mostly work closely with the managerial and business authorities. They are the bridge between the business and technical team in the organization. 
There is less chance for you to directly hire into these positions unless you are an engineering graduate with more than 5 years of experience in other big companies. Or you should have a special skill or idea that will turn the table. 
In the MICROSOFT workforce, the entry and middle levels cover more than 80%, These high ups are very few because they play a very important role in the organization. The positions that come under this Elite level are – 
Technical Recruitment Manager 
Senior Software Testing Manager
Senior Software Developer
Senior Software Programmer
Senior Project/Group of projects Manager
Lead Software Project Engineer
Senior Software QA Engineer 
Software Configuration management Administrator
Project Head
Chief Technical Officer
Technical Director Etc… 
The salary can be different between the persons in the same category, because of the ranking or leveling system followed in the MICROSOFT. For example, the Principal Program Manager (PM) or Software Development Engineer (SDE), or Software Development Engineer in Test (SDET) can earn more than senior or Normal PM/SDE/SDET. 
Though they all are covered under the same category their salaries differ because Principal PM is ranked as Level 65-67 whereas the normal PM level is between 61 and 62.  
If you have any further doubts relating to the duties, salaries, responsibilities, etc… Of the technical hierarchy in MICROSOFT please share them in the comment section below. 
Continue Reading:
Network Architect – Roles and Responsibility
Enterprise Architect vs Solution Architect
Are you preparing for your next interview?
Please check our e-store for e-books on Interview Q&A on IT technologies. All the e-books are in easy to understand PDF Format, explained with relevant Diagrams (where required) for better ease of understanding.