Technical Hierarchy: CISCO Job Roles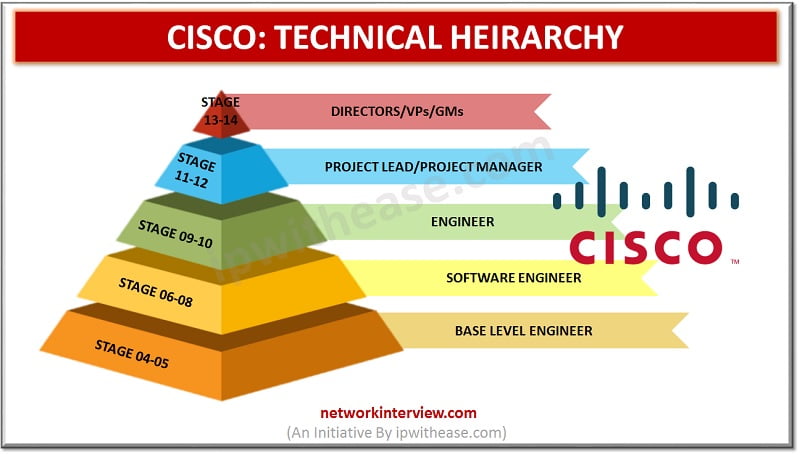 If you are thinking of the networking and IT field, then you must have heard about the CISCO. Cisco is highly ranked at 63rd spot in Fortune 500 (2020) companies.
Are you planning to get a job in CISCO? Then this article will help you. 
In this article, you will be enlightened with Technical Career opportunities available in CISCO and their responsibilities. So, without further delay let's start the article with a small intro to CISCO. 
About CISCO
CISCO is an American-based Multi-national company located in California, in the center of Silicon Valley. It provides various services like the distribution of networking hardware, telecommunication equipment, and other latest high technology products. 
The company has acquired different subsidiaries in course of time in order to serve the IT industries with quality products. They are specialized in the tech markets and concepts like the Internet of Things (IoT), domain security, and energy management. 
They started their journey as telecommunication and played an important role in widening the LAN (Local Area Network) to connect the computers around the globe. Now they have 79,500 (2021) active employees and a market capitalization of  $226.90 Billion US dollars(as of Mar 2022). 
You can also watch this video for better understanding:
Technical Hierarchy: CISCO Job Roles 
All the designations in the CISCO are classified under a Grade system. There is no clear explanation regarding the range of the Grade system. But it is said that a fresher who enters the technical area of the company will start from Grade 4 or more and can reach up to Grade 13 or 14. 
Here is how the different people involved in the technical operations of CISCO are ranked or graded –
Grade 04 – 05 – Base level Engineer
If you are a graduate with a Bachelor degree, then you will be hired for this position. As with others he/she is also a Software engineer who is a complete fresher with no working experience. 
In most cases, the Grade 4 software engineers will be involved in the repetitive, recording, or base level projects or tasks. You need to serve as an assistant for the senior or associate software engineers, to learn the skill and the workflow. 
After one or more years of experience, you will be promoted to Grade 5 software engineer where you will be assigned particular tasks and held responsible for them. 
Grade 06 -08
The software Engineers who are classified under Grade 6 can be the ones who are promoted from Grade 5 or the fresher with Master Graduation. In case the resource is a direct entry, he/she will be graded as Grade 5 for the first 6 months, and then promoted to Grade 6. 
The engineers in the Grade 6 -8 are mostly independent, they receive the tasks from the seniors and are involved in the development or management. They work independently if tasks are isolated. In other cases, they will work as a team under the leadership of the project lead. 
Even though you don't have a master degree, you can directly enter Grade 7, if you have prior working experience in any other reliable IT company. 
Grade 09 – 10
This Grade covers the Senior Engineers. Senior Engineers are the ones who have served in the same area for years and have deep knowledge of them. Sometimes they are called by other names such as the Tech Consultant, Test Engineer, etc… 
They help the low-level software engineers who face any difficulty in their task. In the case of teamwork, they will be given complex functions or testing functions. 
Grade 11 -12
This Grade level covers the Project lead, principal manager, project manager, and other positions. The resources in this grade will have deep technical knowledge and basic managing and administration skills. They act as a bridge between the management and technical teams. 
Grade 13 -14
This grade covers the Directors, Vice president, or General Managers, who communicate with the higher Executives like CEO, CTO, and CFO regarding the technical operations of the company. 
The role discusses with the clients and makes decisions in adopting the project and is also responsible to ensure that all the software developed under the organization meets the organizational guidelines. 
After this grade, the positions are fully focused on management, marketing, and networking and there is a low scope of technical operations. 
If you have any further doubts regarding the Technical hierarchy of CISCO please leave them in the comment section below.
Continue Reading:
Network Administrator vs System Administrator
Are you preparing for your next interview?
Please check our e-store for e-books on Interview Q&A on IT technologies. All the e-books are in easy to understand PDF Format, explained with relevant Diagrams (where required) for better ease of understanding.