Top 10 Networking technology trends for 2023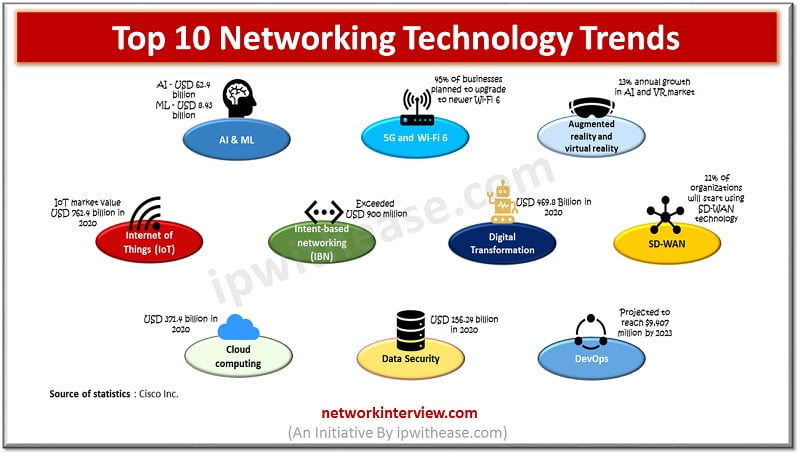 Introduction to Networking technology
Networking technology have evolved significantly over the years as demands on Ethernet and Wi FI have tremendous increased. Apart from supporting a range of devices Local area networks require to manage traffic getting generated from many other sources such as live streaming video, Network attached storage (NAS), Voice over IP (VoIP) , virtualization , Cloud and IoT devices and services have generated demand for additional bandwidth.
In this article we will look at some Networking technology trends which made their place in top 10 in 2021. The need of high-speed internet, cloud and edge computing models and need for migration of data between servers have resulted in shift towards need for high bandwidth and low latency network technologies.
Top 10 Networking Technology Trends 
1. 5G and Wi Fi 6 technology –
5G or fifth generation cellular technology. It is characterized by increased speed, reduced latency and improve flexibility in wireless services. It helps organizations to mobilize workforces, extend automation, supporting new applications with increased network capacity and high data rates. 5G gives seamless open roaming capabilities between cellular and Wi FI access. 5G would solve the issue of many wireless devices connected at once – and IoT makes it worse by slowing wireless network performance. Wi Fi 6 infrastructure is ready to go however Wi Fi 6 capable devices such as computers and mobile phones manufacturers need to adopt new standards.
2. Artificial Intelligence (AI) and Machine Learning (ML)
Complex network and business problems can be addressed in real time using AI and ML capabilities. Application of user cases ranging from small cities, manufacturing, security, and networking. ML can make predictions based on network data and AI can take intelligent actions based on those prophecies. Advanced analytics into automation systems will bring in self-operating networks.
3. Augmented reality and virtual reality
Augmented reality (AR) and virtual reality (VR) technologies empower the applications and customer experiences.  AR is mainly used on smartphone and tablets to present interior design, allowing shopkeepers to have virtual presentation of furniture.
4. Cloud computing 
Cloud allows faster transition to remote work and help to organize remote workplace more efficiently and this contributed to business continuity during any crisis. Maintaining consistent network and security policies across multiple clouds using multi cloud policy management.
5. DevOps 
DevOps is tied up to software development and IT. DevOps improve relationship between network service designers and engineers to make operational changes to the services.
6. Digital transformation 
It enables adoption of digital technology to transform services or businesses, by replacing on digital or manual processes with digital processes. Process of digitization transforms into digital forms that are processed, stored, and transmitted via digital devices and networks.
7. Intent-based networking (IBN)
This approach bridges the gap between business and IT. Business intent is captured and continuously aligned to end to end network related to application service levels, security policies, compliance, operational and business processes. Virtual segmentation of IoT devices from remaining network will be one of the major tasks for Networking teams. The creation of secure zones called Microsegments which will allow IoT devices to operate on same corporate network and reducing the risks to other parts of the network.
8. Internet of Things (IoT)
IoT is all about connecting the unconnected. Majority of objects are unconnected however with IoT devices are acquiring capabilities to communicate and connect with other devices and people changing the way we work.
9. Data Security
usability and integrity of network is crucial to security. Effective network security manages network access effectively and stops a variety of threats entering or spreading within the network
10. SD-WAN 
SD-WAN is a software-based approach to manage Wide Area networks (WANs). This technology lowers operational costs and improvement in resource usage in multisite deployments. Network administrator using this SD-WAN technology can use bandwidth more efficiently and help to ensure enhanced performance for business-critical applications without compromising data security and privacy.
SD concept in SD-WAN technologies separate the control plane from the data plane and centralize the control plane from which multiple devices are controlled. Control plane acts like a shared service which is accessible to all administrators within an organization or in a multi tenancy environment.
SD-WAN supports on premises data centres, Software-as-a-service (SaaS) and public cloud infrastructure-as-a-service (laaS) applications to optimize their performance.  SD-WAN allows proper security for each user and devices irrespective of their physical location.
Continue Reading: