Understanding What is Wi-Fi 6 Technology and How Fast is it?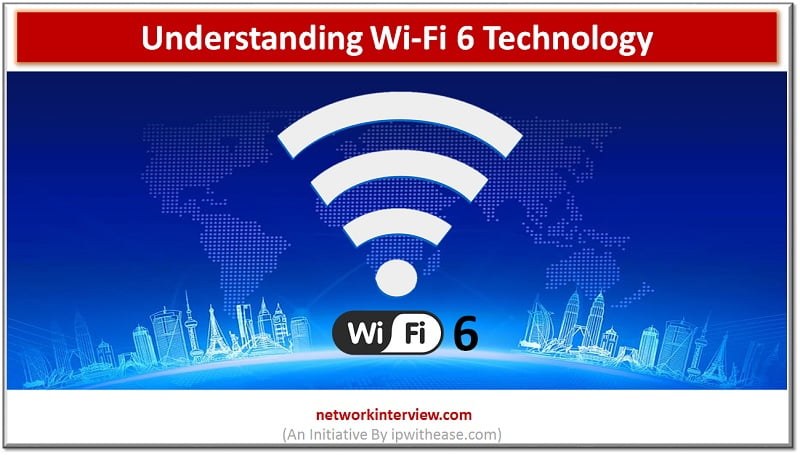 Wi-Fi 6 Technology
With the advent of wireless technology, faster Internet is something that is non-negotiable for most of the users. It is especially demanding for most of the users as there are more bandwidth-consuming apps, videos and games becoming an integral part of our lives.
That is the reason why the next generation Wi-Fi is not merely about speed, it is going to be loaded with more benefits. It is the next generation Wi-Fi, also called Wi-Fi 6, which is going to be equipped with future facing upgrades. On a happy note, it's imperative to share that Wi-Fi 6 can provide a high data rate (upto 9.6 Gbps) compared to its predecessor WiFi5 which could reach the maximum data rate of 3.5 Gbps.
Introduction
If we have to answer the simple question; what is Wi-Fi 6 technology, then it can be referred as the upgraded version of Wi-Fi 5 and fastest one till date. There is no precise estimation of Gbps yet, but it is expected to be nearly thrice the speed of Wi-Fi 5. It is a fact that it's not feasible to reach the maximum speed in the real-world Wi-Fi use, but it is also true that the entire maximum speed is not required to go to a single computer. The entire speed can be split across the entire network of devices.
It is Not Just About Top Speed!
The advent is Wi-Fi 6 is not merely about escalating the speed of individual devices, but improving the overall network between the bunch of devices connected with one another.
If we talk from the viewpoint of a country like the United States, then by the time Wi-Fi 5 came out there were five Wi-Fi devices in average US household. In the current times, an average household comprises of nine Wi-Fi devices. It is quite evident that it will hike in the coming years. It is quite obvious that such a demand would obviously take its toll over your network. It is only possible for a router to communicate with different devices at once, hence with additional gadgets demanding Wi-Fi, the overall network is going to experience a slowdown.
With Wi-Fi 6, it would be possible for the routers to communicate with more devices at one time. The data will be dispatched to multiple devices in same broadcast and authorize Wi-Fi devices to schedule check-ins with router. The speed and performance usually get affected when more and more devices get linked to the network. This type of wireless fidelity is believed to be optimal in maintaining top notch speed even in busier environments. For example, in a situation, where a person in your house is streaming an OTT platform, another one is playing game online, while someone else is using the phone for a video chat, and rest of smart gadgets like door locks, light switches and temperature sensors, are all checking-in at a single moment.
How to Access Wi-Fi 6?
Just simply by knowing what is Wi-Fi 6 technology, you cannot simply upgrade it to the new version. You are required to purchase new devices and it will come along with Wi-Fi 6 by default. When you purchase new laptop, phone and gaming consoles over the tenure of next five years, you will be bringing home this latest version of Wi-Fi. But one thing that would be imperative for you to purchase would be a new router. If your current router cannot support Wi-Fi 6, then there is no use of connecting new Wi-Fi 6 gadgets with the router.
Obviously, there is no use of rushing out and buying, just timely change the router and confirm the features of your new gadget (at the time of purchase) including in-built Wi-Fi 6 support.
So what is the Secret of Faster Wi-Fi?
Wi-Fi 6 feature two technologies- MU-MIMO and OFDMA. Here, MU-MIMO, denotes "multi-user, multiple input, multiple output," which is existing in modern devices and routers, but Wi-Fi 6 simply upgrades it. It authorizes router to communicate with several devices at single moment, instead of broadcasting to one device, then the next, and then the next.
Now the question arises, what is Wi-Fi 6 technology OFDMA has to offer? OFDMA refers to "orthogonal frequency division multiple access," permits one transmission to dispatch data straight to multiple devices simultaneously. For example, if there are 100 units and the first device requires only 75 units then after delivering the requirement, it can shift device and dispatch the remaining 25 units right in one go.
Wi-Fi 6 – Key features and benefits:
Higher throughput – Wi-Fi 6 can garner a maximum speed of upto 9.6 Gbps, which is much higher that Wi-Fi 5 (3.5 Gbps)
Improved Battery Life – Power consumption is reduced by increasing sleep time with minimal impact to end user experience, hence enhancing battery life of device.
Reduced latency – Wi-Fi 6's OFDMA (Orthogonal Frequency Division Multiple Access) modulation mechanism significantly reduces latency.
Improved performance in crowded areas – Wi-Fi 6 technology has capability to substantially improve each user's average speed by 4 times, therefore colossal jump in speed in congested places.
Related – Wifi6 vs Wifi5 vs Wifi4
Conclusion
So answer to the question what is Wi-Fi 6 technology has been elaborated above. The new Wi-Fi technology has been loaded with new features and also features better security. The technology is upgrading itself as per the requirements of the users and it is fully expected that this newest version of Wireless Fidelity will also not disappoint at all.