Apple Inc.: Technical Hierarchy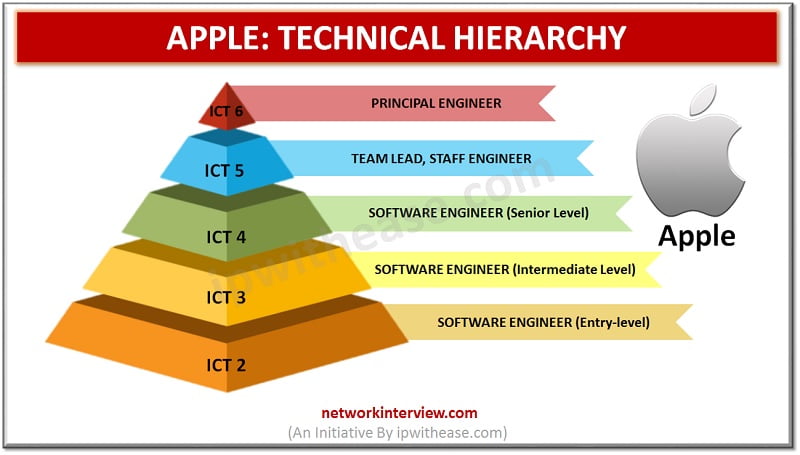 Apple is considered to be an important tech player in the world. And getting a post in Apple Inc. is a dream come true for many graduates. But you can't select your future career based on the reputation of the company. 
It is important to know about the organizational structure, bonus, salary, etc… of your position in a company. So, do you know the technical Hierarchy of Apple Inc.? 
If not, don't worry, here in this article you will get a complete understanding of the Apple Technical Hierarchy and other information regarding it. 
Okay, without further adieu, let's see a short intro about this world-known company. 
A Short Intro on Apple Incorporation
As we all know, Apple Inc. was started by Steve Jobs in 1976 as a Computer company. Now it is the fourth-largest smartphone manufacturer, and one of the Big Five American companies, and considered as the world's most valuable company. 
Apple's main products cover consumer electronics and software and other online and cloud services. The world's largest technology company has more than 154,000 employees (2021) and 520 retail stores across 25 countries (2022).
Like the world's large Multinational companies, Apple also uses the Band system to categorize the workforce. The Salary, bonus, and other work benefits changes between the band Levels. 
But when it comes to software engineers it keeps the classification simple and easy. Apple doesn't use 'Senior, specialist, Lead' etc… all the software Engineers are called the software engineer, they are given different bands or levels based on their experience. 
This article covers only the technical Hierarchy of Apple, that's software engineers. Here is how they are classified. 
You can also watch this video for better understanding:
(or continue reading)
Technical Hierarchy of Apple
ICT 2 – Software Engineer 
It is the Entry-level technical Position in Apple, most of the new graduates will be hired to this position. . You will be assisting with all aspects of software design and coding by working on minor bug fixes. Here you will learn and adapt to this position.
The Average Annual Salary of an ICT 2 or Software Engineer II in Apple is $167,000 (Source: levels.fyi)
ICT 3 – Software Engineer 
You will be promoted from the previous band or directly hired as ICT 3 if you have an intermediate level of experience. As a Software Engineer, you will work on the basic and common tasks in software development and services. 
You will be guided by a Senior Software Engineer or specialist, and as per many recruiters and job seekers the Average Annual Salary of ICT 3 or Software Engineer III is estimated as $216,000
ICT 4 – Software Engineer 
You will be hired or promoted as an ICT 4 if you have 3 – 5 years of experience in software development and consulting. This Band ranks equal to the Senior Software Engineer position in Google or other common tech companies. 
The Salary of the ICT 4 varies from person to person based on their work efficiency. The average or base Annual Salary is estimated as $317,000
ICT 5 – Software Engineer 
You can compare ICT 5 or Software Engineer V with the Team lead, Staff Engineer positions. He/She is a senior-level team member who mainly focuses on repair, redevelopment, testing, and related processes to ensure product efficiency and user satisfaction. 
The Average Annual Salary of a Staff Engineer or ICT 5 in Apple is $452,000 
ICT 6 – Software Engineer 
The final senior level position in Apple is ICT 6, which is considered equal to the Principal Engineer of other companies. It is band level which acts as a bridge between the technical staff and the management or marketing staff. 
The Average Annual Salary of an ICT 6 or Software Engineer VI is $754,000 
Wrapping up 
After ICT 6, the Apple Fellow or managerial chain of command starts, covering the following positions – CTO, Director, CEO, CFO, etc… 
Other than these positions there are also some distinguished or special engineers specialized in a particular niche. 
But those positions are mostly temporary or overworked by the normal software Engineers. So that's how the Apple Technical Hierarchy is designed. 
If you have any more questions relating to the Hierarchy of Apple or other companies please them in the comment section below.
***The salary packages are only indicative and may vary as per the rise and low of the demand.***
Continue Reading:
Technical Hierarchy: LinkedIn Careers
Technical Hierarchy: Cognizant Job Roles
Are you preparing for your next interview?
Please check our e-store for e-books on Interview Q&A on IT technologies. All the e-books are in easy to understand PDF Format, explained with relevant Diagrams (where required) for better ease of understanding.