Technical Hierarchy: LinkedIn Careers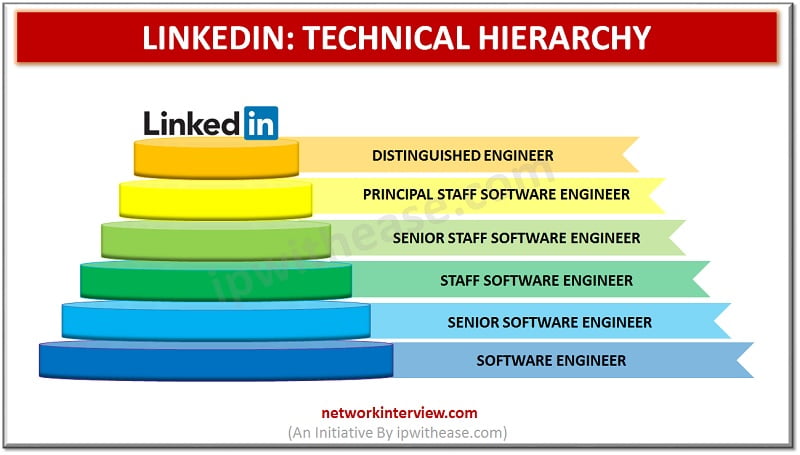 LinkedIn secures jobs and interviews for millions of people around the world. But getting a chance to join the LinkedIn technical team is truly a good opportunity.
Are you confused about your position in the vast workforce of LinkedIn? No problem, you will know everything related to your position, ranking, etc… in this article.
This article discusses the LinkedIn Careers in technical field and the roles, responsibilities, and salaries of the respected designations. Remember only the technical fields are covered in this article, like software engineering and developers.
Okay without further ado, let's start the article with a short intro on LinkedIn and its services.
A Short Introduction on LinkedIn
LinkedIn is an American-based Internet company that helps in business and employment services. In 2016, the whole company was purchased by Microsoft and became its direct subsidy. LinkedIn has 810 million users (February 2022).
As an Internet-based company, it operates through Mobile Apps and websites. The major revenue is created by selling the member's information to the recruiters and sales professionals.
The company aims to link the different members (both workers and employers) in real-world professional relationships. LinkedIn has 18,000 employees (2022).
There is no band or level system in LinkedIn thus it becomes easy to understand the technical Hierarchy of LinkedIn easily. Here are technical designations available on LinkedIn.
You can also watch this video for better understanding:
(or continue reading)
LinkedIn Careers: Technical Hierarchy
Software Engineer
The technical Chain of Command starts with the job title Software Engineer. LinkedIn has more software engineers than other professionals. Here you will be responsible for the development of flow charts, layouts, and documentation to identify the solutions.
And you will be write codes to alter or update the website or mobile apps. The Average Annual Salary of the LinkedIn software Engineer is $200,000 – $250,000.
Senior Software Engineer
After gaining basic experience in the respected field you will be promoted to a Senior Software Engineer. Where you will guide the new or entry-level software Engineers. Normally it takes 2 -3 years to get promoted to a Senior Software Engineer position.
And you will also have to do the tasks and responsibilities you had in the previous designations. The Average Annual Salary of a Senior Software Engineer on LinkedIn is $300,000 – $350,000.
Staff Software Engineer
A Staff Engineer is considered a senior management level worker. He should have both technical and managerial skills to lead the technical team. A Staff engineer acts like a tech lead, Architect, Solver, and Right hand of the organization.
As a junior-level staff engineer, you will plan and design the whole SDLC and involve in different projects. To be clear, you will play the role of Architect. The Average Annual Salary of the Staff Engineer on LinkedIn is $450,000 – $500,000.
Senior Staff Software Engineer
You will be promoted to Senior Staff Engineer after 1 or 2 years of your work in a Junior level position. As a senior staff engineer, you will play the role of Technical Lead or team lead.
You will be held responsible for your tasks and your teams. The Average Annual Salary of the Senior Staff Software Engineer on LinkedIn is $650,000 – $700,000.
Principal Staff Software Engineer
You should have a minimum of 10 years of experience in the company or related industry to become a Principal Staff Software Engineer. The principal software engineer oversees all the technical aspects of the company and guides the development teams with remarks.
The Average Annual Salary of the Principal Staff Software Engineer on LinkedIn is $850,000 – $900,000.
Distinguished Engineer
And the final and uppermost technical position in LinkedIn is the Distinguished Engineer. There is no data regarding the experience level for this position. He/She should be a recognized expert in multiple technology domains in LinkedIn or industry to become a Distinguished Engineer.
He/She should represent senior technical leadership through the company. He is more like the right hand or expert of the company. The Average Annual Salary of the Distinguished Engineer is $ 1,250,000 or more.
Conclusion
Comparing to other multi-national companies the workforce in LinkedIn is relatively small and it consists more of corporate or managerial employees than the technical ones. Still, it is considered a good choice for new graduates to earn some connection and networking.
If you have any further questions regarding the LinkedIn careers, please leave them in the comment section below.
***The salary packages are only indicative and may vary as per the rise and low of the demand.***
Continue Reading:
Technical Hierarchy: Cognizant Job Roles
Technical Hierarchy: Dell Technologies Job Roles
Are you preparing for your next interview?
Please check our e-store for e-books on Interview Q&A on IT technologies. All the e-books are in easy to understand PDF Format, explained with relevant Diagrams (where required) for better ease of understanding.