Technical Hierarchy: Dell Technologies Job Roles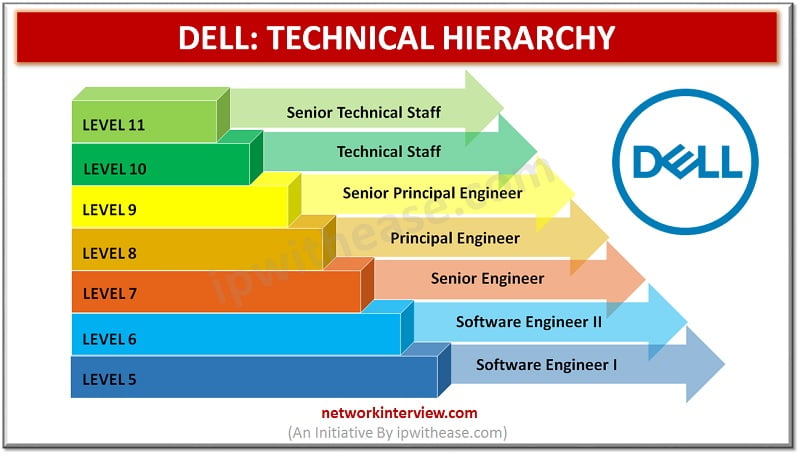 Have you got a job offer from Dell? Passed an Interview? Congrats!, but do you know your position in the vast workforce of the Dell company.
If not, this article is for you. 
It is very important to have a basic understanding of the company's organizational structure and business activities before you join it. It helps you to get hold of the situation fast. So are you looking for the technical Hierarchy in Dell Technologies? 
Here in this article, you will get all the information regarding the Dell technologies job roles and their respective salaries. Okay without further ado, let's start the article with a short introduction to the Dell technologies. 
About Dell Technologies
Dell is an American Multinational Computer technology company that develops, sells, repairs, and supports computers and related products and services. In 2014 Dell was listed as 51st in Fortune 500 list, and now it is 34th currently. 
Now Dell has slowly started to enter data storage, information security, virtualization, analytics, cloud c11omputing, and other related product services. 
See a lot of opportunities for engineers. As per the data of early 2020 Dell company has more than 165,000 employees. And like other multinational tech giants, Dell also uses the band or level system to classify its workforce. 
Dell Technologies Job Roles
The14 technical designations are covered from L 5 to L 11. Here is an elaborate discussion about them – 
L 5 – Software Engineer 
It is the starting level software engineer position or you can say, junior software engineer. Most of the new graduates get hired to this position. Here you will learn and gain experience about the work culture of the company. 
The Average Annual Salary of the Software Engineer I in Dell Company is $ 192,689 
L 6 – Software Engineer 
As a Software Engineer II, you will take important tasks or assignments in your hands, and report regularly to the Senior Software Engineer. You will also train the new or junior engineers in their work. 
The Average Annual salary for a Software Engineer II in Dell company is $ 257,318 
L 7 – Senior Engineer 
After you gain experience as a Software Engineer for more than 3 years you will be promoted to a Senior Engineer. A Senior Engineer will have deep knowledge of product development and maintenance. 
The Average Annual Salary of a Senior Software Engineer in Dell company is $ 355,784
L 8 – Principal Engineer 
A Principal Engineer is ranked equal to the team lead or project lead. He receives the assignment from the Senior Principal Engineer and breaks it into several tasks and allot to each software engineer. 
A Principal Engineer Dell Technologies will receive an Average Annual salary of $ 478,265
L 9 – Senior Principal Engineer 
A Senior Principal Engineer position is given only to the software engineers who work in the company for more than 7 – 10 years. A Senior Principal Engineer leads the group project and commands the principal Engineer below him accordingly. 
The Average Annual Salary of the Senior principal Engineer in Dell Technologies is $ 645,474
L 10 – Technical Staff 
Technical Staff is a person who has deep knowledge in a particular domain. He/She also takes part in the managerial or corporate side of the business. They communicate with clients and create the plan according to the client's needs. 
The Average Annual Salary of the Technical Staff in Dell Technologies is $ 718,986
L 11 – Senior Technical Staff 
He/She is the final authority next to the technical director. A Senior Technical Staff is ranked equal to the program manager. The whole responsibility of the technical team lays on him. He acts as a bridge between the management and Technical Department. 
This highest level technical position in Dell technologies earns $ 1,078,124 as an Average Annual Salary. 
Conclusion
There are still many positions above the Senior Technical Staff, like Director, Vice President, President, CEO, etc… But they are more focused on the managerial and business side of the company. They may or may not have technical knowledge. 
If you have any further doubts regarding the technical hierarchy of the Dell technologies please leave them in the comment section below.
***The salary packages are only indicative and may vary as per the rise and low of the demand.***
Continue Reading:
Amazon Organizational Structure: Technical hierarchy
Technical Hierarchy: CISCO Job Roles
Are you preparing for your next interview?
Please check our e-store for e-books on Interview Q&A on IT technologies. All the e-books are in easy to understand PDF Format, explained with relevant Diagrams (where required) for better ease of understanding.