Top 10 Free Conference Call Services in 2022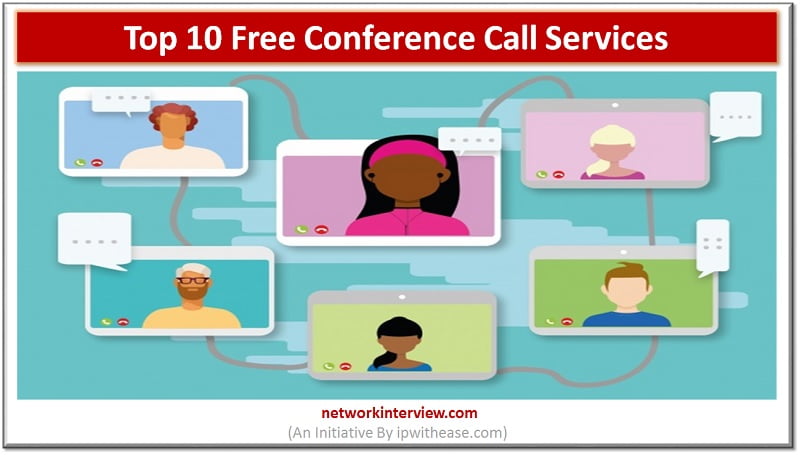 Conference call is primary communication tool for working professionals and widely used in offices. It helps teams to collaborate and communicate quickly and an easy manner. Conference call services become more important and crucial to businesses since the year 2020 when Corona pandemic hit the world. Conference calls provide unlimited and uninterrupted services, good audio and video quality, secure and safe way of connecting, and supported both for desktops and mobile devices, and even a non-technical person can use them with ease.
Before going further into crux of things, its noteworthy to share that organization are also looking for "remote worker time tracking" solutions in addition to conference call services, since accurate time tracking of employees, especially when they are at home is directly related to their productivity. Real time monitoring helps in easing day to day operations and tracks time spent on projects and tasks.
In this article we will look at top 10 Free Conference call services and learn about their features and functionalities.
Top 10 Free Conference Call Services
RingCentral –
It offers video conferencing with their paid phone plus and it is perfect for any work from home businesses. Having a VOIP phone service let you make phone calls from having just and Internet connection. Capping of 40 minutes per meeting up to 100 participants in free plan. It offers calling, collaboration, and mobile feature, hosted on cloud no equipment installation required. Some of the key features are: – unified communication system, any user to host call without scheduling it in advance, voice mail, voicemail-to-email, one touch calling, call recording, auto attendants, IVRs, and softphone.
GoToMeeting –
GoToMeeting gives a free plan to collaborate with up to 3 clients and colleagues. It has three pricing plans – starter, Pro and Plus kit. It allows to schedule the meeting anytime-anywhere and from any device. It gets integrated with Microsoft office, email, and instant messaging tools. There is no need for a PIN or code to join the calls. It has built in audio and Toll-Free option. Some of the key features are : – 'Call me' feature to eliminate need for code or PINs, HD video conferencing , Supports Mac, PC, Chromebook, Linux, and mobile devices, Drawing tools , hand over control and virtual whiteboard.
BlueJeans –
It is a web conferencing and unified communication platform with multi device operability, both mobile and browser integration, for businesses irrespective of its size and industry. It offers high quality video meetings with additional features like content sharing, recording, chat, and multiple participants. This platform can be accessed from multiple platforms like web browsers, iOS, and Android devices as well as other programs. It also includes Google Handouts, Cisco Jabber, Avaya Scopia, Microsoft Lync, and other conferencing systems.
Vast Conference –
It offers both reservation-less and operator assisted services, reservation-less service allows to host conference calls at any time without scheduling them in advance, can hosts up to 500 callers. Customized greeting options and includes call recording at no additional cost. Some of the key features are: – Supports both call types, accommodates up to 500 callers, call recording, web controls, screen sharing etc.
Zoom –
Cloud based system offers wide range of free and paid options for individuals and businesses of any size. It has simple video conferencing and messaging across any devices. Join anywhere on any device, zoom meetings syncs with calendar system and delivers streamlined enterprise level video conferencing from mobile and desktop systems. It enables internal and external communications, all hands meeting, and trainings through single communication platform.
FreeConference.com –
Free version allows only five online meeting participants. It offers three additional plans starter, plus and pro. It offers online meetings, and collaboration. It provides HD audio, video, and screen. It offers video conferencing service, conference call recording, web conferencing service, dedicated dial-in numbers, and free conference calls. Some of the key features are: – screen sharing facility, dedicated dial-in and Toll-free dial-ins, smart meeting summaries, auto transcripts, video recording, online white board etc.
Lifesize –
It provides a reliable and fast web collaboration solution. The app provides an easy to use interface, the admin console enables users to get full control and easily manage their account. Other features include screen sharing, calendar integration, call recording, audio conferencing via PSTN, unlimited guest invitations, web-based management. It enables participants to set up conference room by connecting a camera to a TV and internet-based connection.
FreeConferenceCalling.com –
It ideally suited for small to medium businesses. This service is free and apply charges only for domestic long-distance rates. It allows to host conference call with 1000 clients. It has a call manager, dial-pad controls, and free call recordings. Some of the key features are: – offers free conference recording, able to access call details and reports through online dashboard, conference calls can be held for 1000 callers, supports VOIP.
Skype –
Skype is free to use. It has monthly subscription and pay-as-you-go option. It is a communication tool which provide business features like meeting recording, instant messaging anytime, integrated with office apps like Word, Excel, PowerPoint , OneNote etc., screen sharing , live subtitles.
Google Hangouts –
It is available for free and had three plans Basic, Business and Enterprise. It provides a communication platform through Google Handout. It has features for messaging, Video chat and VOIP. The video conference tool is easy to install. Some of the key features are: – free video call up to 10 persons, used from computer, smartphone, and tablet, integrated with Gmail, it can also be integrated with other business applications like Slack and Zendesk.
Comparison Table: Free Conference Call Services
Below table summarizes the comparison between the top free conference call services:
Free Conference call services  

Best suited for 

Features

RingCentral
Small to larger businesses
Cloud hosted business phone system
Microsoft outlook integration
Free call recording
Voice mail, voicemail-to-email , call forwarding
Manage incoming/ outgoing faxes
GoToMeeting
Small to Large businesses & freelancers
Control hand over
HD video conferencing
Built in audio
Toll free option
BlueJeans
Small to Large businesses & freelancers
Multi device operability
Mobile and browser integration
HD content sharing
Dual stream support
Vast Conference
All size businesses
Operated assisted and reservation-less mode
Customized greetings for caller
Free recording feature
No limit on recordings
Zoom 
Small  businesses  & freelancers
Virtual background
Calendar integration
Waiting room
– Multi share
FreeConference.com
Small to medium size businesses
Conference calls
Video conferencing
Screen sharing
Dedicated dial in
Mobile apps
Toll free dial-ins
Lifesize
Small businesses
API based
Calendar management
Contact management and contact sharing
FreeConferenceCalling.com
Small to Large businesses
1000 callers anytime
Contacts, address book
Host phone controls
Free conferencing
Call recording
Skype 
Small to Large businesses & freelancers
Meeting recording and messaging anytime
Office apps integration
250 people can communicate thru meeting
Screen sharing and live subtitles
Sensitive conversation private with encryption
Google Hangouts
Small to Large businesses & freelancers
Upto 10 participants
Used from computer, mobile and tablet
Can be integrated with business applications – GMAIL, Slack and Zendesk
Continue Reading:
Top 10 Internet Speed Test Sites