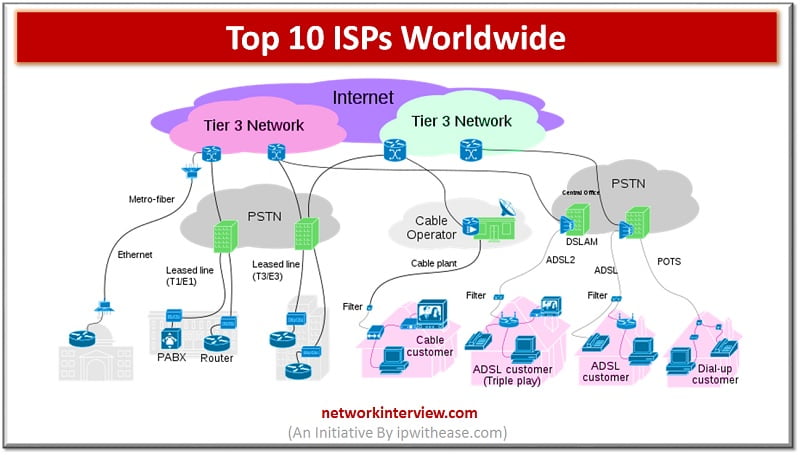 Introduction to ISPs
In the IT and Telecommunications industry with the term Internet Service Provider (ISP), we define an organization that provides a wide area of services for accessing, using, or participating on the Internet. As a general rule, Internet service providers (ISPs) can be classified in various categories, such as commercial, community owned, nonprofit and privately owned.
The variety of Internet services that are commonly provided by ISPs are Internet access, Internet transit, domain name registration, web hosting, Usenet service, and colocation. An ISP typically serves as the access point or the gateway that provides a user, access to the Worldwide Web.
Top 10 ISPs Worldwide
It is commonly accepted by humanity that the internet is a really essential piece of our every day life. This technological invention has been an evolution the last 30 years. During this period, we have distinguished the most well-known ISP's from the competition and we present them below:
Verizon Fios: The first place of best ISP worldwide is taken by Verizon Fios. It boasts almost to light fast speed internet connections via fiber optics cabling worldwide. Data is delivered through advanced phone lines and their service is extremely rock solid and reliable. Finally, the commercial plans are flexible and capable for different customers and company profiles.
Time Warner Cable: The 2nd place goes to Time Warner Cable for many reasons. This ISP uses an innovative hybrid fiber coaxial cable network. Although it is not available to the most countries, it provides internet speeds of up to 50Mbps among with wide efficient services and an advanced and free internet security service, firewall and antivirus to help customers protect their privacy.
Comcast Xfinity: The 3rd place goes to Comcast Xfinity for providing premium services to home based customers. It also provides reliable internet connectivity at a maximum speed of 105 Mbps. Their technical and commercial policy constantly improves the services and follows the philosophy of not resting on its oars.
Cox: Our next choice is the ISP named Cox. It is one of the oldest company available on the market and provides services of Internet speed connectivity from 5 Mbps up to 150 Mbps. In addition to each customer's subscription, Cox gifts a host of praetorian guards to protect them from security threats.
Century Link: The 5th place goes to Century Link. It is the largest ISP provider in the world and according to the customer's location and payment scheme, it provides internet download speeds up to 1 Gbps. The company's policy is based on social awareness, meaning that they offer low cost and high speed internet services to poor families around the globe.
AT&T: The next choice for the top ISP's list, is AT&T Telecommunication company. The most advanced feature of AT&T is that it possesses millions of miles of phone lines that covers all the dialup services, which makes it stand tall and proud at the competition. Despite the fact that they don't provide the fastest Internet connectivity on the market, the quality of services and the customer support are top priorities. Finally, AT&T also supports a fiber optic cable service that offers high-speed net access for customers that may need it.
Suddenlink: The 7th place is taken by the ISP named Suddenlink. The main advantages of such a choice, are the amazing download speed and internet connectivity services against the competition. If a user is downloading 4K videos or large files from the Internet, then the 150 Mbps download service pack by Suddenlink will be the top priority. Furthermore, the ISP provides a number of free and eminently useful TV applications and a streaming website called Suddenlink2GO that allows to every user to access a list of excellent video and TV programs without paying.
Frontier: Next choice of the top ISP's list stands for Frontier telecommunications company. Although the negative reputation and reviews by the spotty services and shoddy customer care support, Frontier still manages to maintain its lead. The main evolution is that it started expanding their services to large metropolitan cities, instead of supporting only the country side of the US.
Charter: The 9th place of our list is taken by Charter telecommunications company. Although Charter is providing internet services on home customers, the quality of consistent services and average customer care keeps her among the top. The best feature it offers, is the security suite of network protection and parental control so the underage 18 customers don't get all cross adult web content like (Gambling, Porn, etc.) by mistake.
Cable One: The last position on the list is acquired by Cable One. Despite the fact that it is a relative small company among the competition, it offers a triple plan of high-speed access plans. Each of these plans is an excellent solution for taking care of customers' needs and capable of being used in a wide variety of ways. Remarkably Cable One works hard and its weight class staggers customers with how good it can be in the future.
Conclusion 
The worldwide internet is the most advanced human race's revolution. Unfortunately, in order to access it, users need to obtain an internet service provider. The best ISPs have been addressed in this article and hopefully a wide picture in the market will help our readers to pick up wisely.
Continue Reading
ISP vs VPN: Know the difference