Amazon Organizational Structure: Technical hierarchy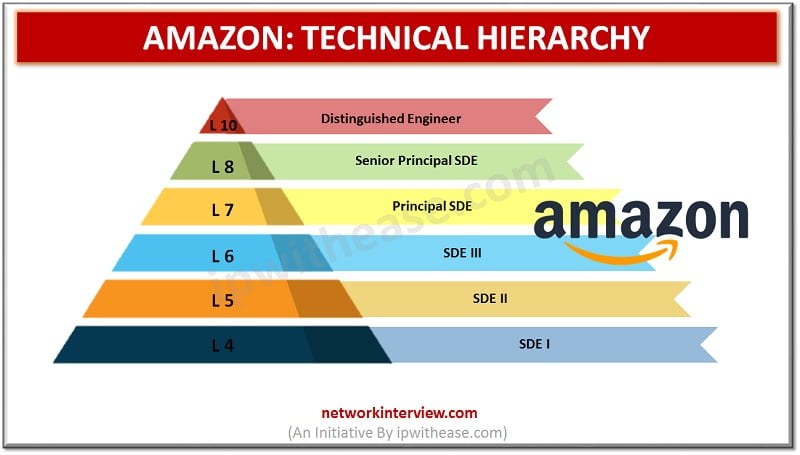 About Amazon
We all are familiar with the famous tech giant Amazon. Getting a job at Amazon is a dream for many engineering graduates. But do you know about the technical designations or hierarchy in Amazon? 
If not, don't worry. You are in the right place, here in this article you will know about the technical Hierarchy of Amazon and the roles, responsibilities, salary of each technical designations. 
But before seeing that, here is a short introduction about Amazon organizational structure. 
You can also watch this video for better understanding:
Introduction to Amazon Organizational Structure
Amazon.com Incorporation which is shortly called Amazon is an American Multinational tech company that focuses mainly on e-commerce, cloud computing, digital streaming, and also space research. It is the world's most valuable brand. 
As of Mar 2022, the company employed more than 1,622,000 members. Among them, 950,000 are from the U.S. (June 2021). Amazon uses the band or grade system to classify their employee's designations and the Technical designations are covered under the L 4 – L 10 bands.
Let's explore them one by one as follow –
L 4 – SDE I 
SDE I refers to the Junior level Software Development Engineer. They are mostly inexperienced ones or college graduates. As a junior engineer, you will learn basics, industrial practices, get experience in the domain you are hired for. 
You will do simple and basic tasks that will assist the other senior engineers at first, then you will be given tasks and training according to your skill. Usually one will get a promotion after 1 or 2 years. The average salary of the SDE I is $160,000 to $170,000
L 5 – SDE II 
SDE II is a software engineer with few years of experience, like large codebases and architectural experience. An SDE will perform various important tasks of the project or product development as per the guidance of SDE III. 
There is a chance for you to get directly hired as an SDE II if you have previous experience in the related industry. The Average Annual Salary of an SDE II in Amazon is $220,000 to $230,000
L 6 – SDE III
The SDE III is a very experienced Software engineer. He/She will be involved in one or two major projects. You will be promoted as an SDE III after 5 -7 years of working in Amazon if you started from L 4. 
SDE III is a senior-level Software engineer who has a lot of responsibilities and duties. And it is highest position one who obtains through promotion. After this skills play a major role than experience. The Average Annual Salary of the SDE III is $320,000 to $330,000
L 7 – Principal SDE 
It is an equal rank to the Team lead or Project lead. A Principal SDE is an advanced level Engineer who will have at least 10 – 15 years of experience in the Industry. And have at least a few whitepapers published. 
Becoming a Principal SDE is hard, that only 10% of the Amazon employees have become Principal SDE. The Average Annual Salary of Principal SDE is $640,000 to $650,000 
L 8 – Senior Principal SDE 
Only 1% of the Amazon technical force become Senior Principal Engineers. It is very hard to be promoted as a Senior Principal SDE, so most of the engineers choose people management or other corporate positions after the Principal SDE positions. 
A Senior Principal SDE is valued equal to the Program Manager or Ground Project Manager. The Average Annual Salary of the Senior Principal SDE is $ 770,000 or more
L 10 – Distinguished Engineer 
It is very rare to become a Distinguished engineer in Amazon, only a dozen of the engineers have become Distinguished Engineers in Amazon. And to become one you should have created any famous products or instrumental things like AWS or Kindle. 
In short, you should be an individual contributor to becoming a distinguished Engineer. The Average Annual Salary of a distinguished Engineer is $950,000 to $970,00
Conclusion
There are numerous benefits for you to work in amazon like Insurance and Health and Wellness fees, Transportation allowance, Immigration Assistance, Residential Assistance. So, If you got an offer from amazon there is no reason for you to say no. 
If you have any further questions relating to the organizational structure or hierarchy in Amazon please leave them in the comment section below. 
***The salary packages are only indicative and may vary as per the rise and low of the demand.***
Continue Reading:
Technical Hierarchy: Capgemini Job Roles
Technical Hierarchy: CISCO Job Roles
Are you preparing for your next interview?
Please check our e-store for e-books on Interview Q&A on IT technologies. All the e-books are in easy to understand PDF Format, explained with relevant Diagrams (where required) for better ease of understanding.