Top 10 Internet Speed Test Sites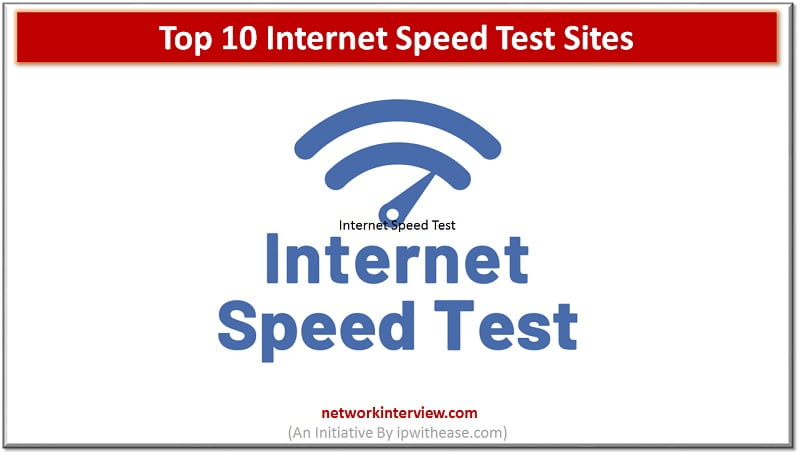 Introduction to Top 10 Internet Speed Test Sites
In the IT community, we define with the term Internet Speed Test Site, any website that can test the speed and quality of every user's internet connection. The main idea is to utilize the browser directly, or proceed with the installation of some extra free tools or software to the computer.  
The general rule applies to most of these websites, where the tools are very useful in order to determine which network service provider is the best for any user's internet needs. 
Technically, all the internet speed test sites work by creating packets of information and sending them to servers. Those kinds of packets are a virtualization of information that the user would have access such as video, text, images, etc.
The 10 Best Internet Speed Test Sites
According to user review's and site accessibility, we gathered information about the top 10 list of these kind of websites and we address them below:
Speedtest.net:
Speedtest.net is proved to be the most well-known site. It's fast, free and available to a wide list of worldwide test servers, resulting in more accurate results than average competition. 
Speedtest.net also has the option to keep user's log of all the speed tests that they perform and creates attractive graphic representations that any user can share online. Finally, smartphone apps for IOS, Android, and Windows Mobile are also available from Speedtest.net, allowing to test any kind of internet speed from any smartphone phone to any global server.
SpeedOf.me:
The most essential feature about this internet speed test service is that it can work via HTML5, which is a built-in technology to most browsers, instead of Java or another technology that might require a browser plugin to be pre-installed. Another advantage of SpeedOf.me is that it utilizes 100+ servers around the globe. Providing a worldwide experience to users from every part of the world.
Testmy.net:
This particular web internet test site distinguishes for the tech-savvy services it provides. To be more specific it provides a free of charge program that can be downloaded to any computer. This software is analyzing router distribution, browser health and latency. In addition, the upload and download representation are done separately. 
Internet Health Test:
The most special ability of this speed test is the snapshot feature describing what is happening in the background of the network. Unfortunately, the duration of the process takes considerably more time than the competition sites because it's running a lot of different tests at once. Very appealing for tech-savvy users who need the most of information about network specifications.
Bandwidth Place:
A great internet speed test site with 20 servers across the globe. Like speedof.me, Bandwidth Place works via HTML5 too, resulting in a great choice for an internet speed test for your smartphone mobile browser. 
Ookla: 
Although Ookla monopolizes internet speed testing, probably because the engineers made it so easy to use their technology on other sites as well. Looking carefully at a lot of internet speed test sites someone can find in search engine results, the ubiquitous Ookla logo. Most of these speed tests, however, like some of the ISP-hosted tests above, are sponsored by Ookla's excellent software but with the usage of their own server as testing points. 
Fast.com:
Fast.com is an internet speed test with Netflix as a sponsor. Two main advantages of Fast.com are accuracy and simplified interface. All the user needs to do is visit the website and the test begins automatically. The simplicity of the site is confirmed with the display of the download speed.
Google Fiber Speedtest:
Although it is not a clear internet speed test website. Google Fiber, technically provides very accurate and unbiased test results. Every user can quickly and easily read the displayed results in 10 seconds. In addition, the website offers consulting and recommended tweaks and settings for optimal internet connection speed results for free.
Speedsmart:
The best next recommendation is the Speedsmart website. One of the easiest to use, based on HTML5 and accessible from a variety of devices. A lot of data are exchanged on purpose, in order to give the most accurate results possible. Finally, it provides to the user a log-in option to visualize the history of tests from mobile or computer terminals.
Xfinity Speed Test:
Our final proposal is the Xfinity Speed Test. The most interesting part of this website is that it provides contextual information, is reliable with a user-friendly environment. The speed test will provide bullet points on how to manipulate the current download speed.
Conclusion 
As a conclusion of all the above, we can justify that performing a periodic speed test on every user's connection is a great way to ensure that you are getting the services you are paying for. Hopefully in the future, more advanced tests will include DNS proposals and ISP DSLAM profiles and settings.
Continue Reading:
What is Penetration Testing or Pen Test?