Juniper Careers: Technical Hierarchy in Juniper Networks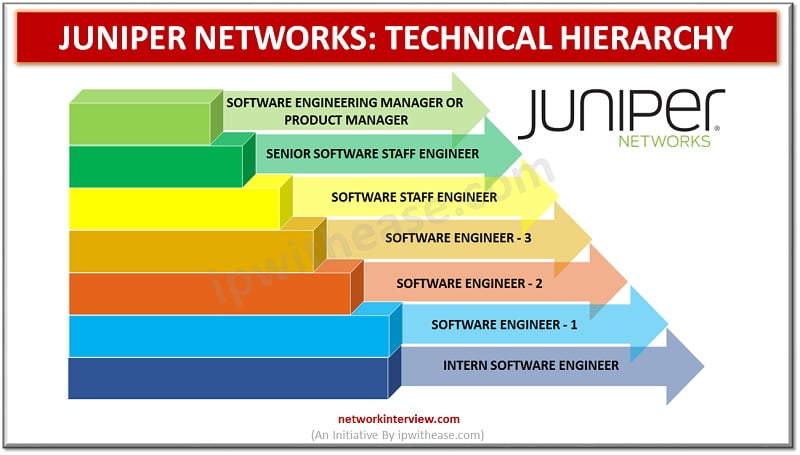 After graduation, engineers always wonder about good job opportunities. But you should know about the Hierarchy and working environment before you select a company. 
Are you an engineering graduate planning to get a job in Juniper Networks? Want to know about the technical Hierarchy of the Juniper Networks or Juniper Careers? Then you are in the right place.
Here is this article you will get to know about the technical Hierarchy in the Juniper Networks and their respected salary package. Okay without further ado let's get started. 
A Short Introduction to Juniper Networks
Juniper Networks is an American-based multinational company that develops and markets various Networking products which include routers, switches, network security, and management software. The company was founded in 1996 and is headquartered in Sunnyvale, California.
Originally focusing on the core routers which are used by Internet Service Providers ( ISPs) to direct and manage Internet Traffic. Now, Juniper focuses on software-defined network products, and network security. It became a big competitor to Cisco enterprise on the core routers market. 
Okay this being discussed let's see the technical hierarchy of the Juniper Networks. 
You can also watch this video for better understanding:
Technical Hierarchy in Juniper Networks: Juniper Careers
As per 2019 data, the Juniper networks employ more than 9400 people around the world under different job titles. However, as an Engineering graduate, you will be recruited for the IT and Design department or Software Development. 
Most times the workers are switched between these two job categories thus there is no clear hierarchy. Here is how the technical hierarchy on Juniper networks is estimated – 
Intern Software Engineer 
As a fresh graduate, you will be mostly recruited to this job. There is no particular defined responsibility for this job here you would be trained to various works and processes. It is more like a training period. 
The average annual salary of the Intern Software Engineer is 5-6 lakhs INR.
Software Engineer – 1
After the training period, you will be officially recruited or become a part of the company. Most of the software Engineer roles and responsibilities are the same. They are classified into three types based on their pay, skills, and experience. 
The Average Annual Salary of the Software Engineer – 1 is 10-12 lakhs INR.
Software Engineer – 2 
After a year or more experience, you will be promoted to Software Engineer 2. Here is where you would get real work and assignments. You will mostly work under the guidance of a senior engineer or executive. 
The Average Annual Salary of the Software Engineer – 2 is 15-18 lakhs INR.
Software Engineer – 3 
It is the senior position where you will gain deep knowledge about the software development process and enough experience. In some branches, this category is used as an alternative for the Senior Software Engineer. 
The Average Annual salary of the Software Engineer – 3 in Juniper networks is 20 -35 lakhs INR.
Software Staff Engineer 
This position is also called the Staff Engineer. It is a technical position that can fall under these categories, Tech Lead, Architect, Solver, etc… Mostly there would be only one Staff Engineer in a particular branch or organization. 
The average annual salary of the staff Engineer in Juniper networks is 40-50 lakhs INR .
Senior Software Staff Engineer 
It is a senior most position that involves software development. A Senior staff engineer can also team lead or head of different projects or product development. They supervise the workings of other software engineers. 
The average annual salary of the Senior staff Engineer in Juniper Networks is 60-65 lakhs INR.
Software Engineering Manager or Product Manager
This position is more based on the administrative or management side. A product manager will meet and communicate with clients and Staff engineers. And formulate the plan of software development and improvement. 
They should also have Engineering knowledge to understand the concepts, but they are more focused on the final output than involving in the development process.
The Average Annual Salary of the Software Engineering manager or Juniper networks is 50 -55 lakhs INR 
Other than these are many other technical positions like network engineers, test engineers, and QA engineers. But there is no clear definition of the hierarchical position they fit in. 
If you have any more questions or doubts regarding the technical hierarchy of the Juniper networks please share them in the comment section below. 
***The salary packages are only indicative and may vary as per the rise and low of the demand.***
Continue Reading:
Alcatel Lucent Enterprise: Technical Hierarchy
Technical Hierarchy: Accenture Job Roles
Technical Hierarchy: CISCO Job Roles
Are you preparing for your next interview?
Please check our e-store for e-books on Interview Q&A on IT technologies. All the e-books are in easy to understand PDF Format, explained with relevant Diagrams (where required) for better ease of understanding.