5 Top Cloud Service Providers 2022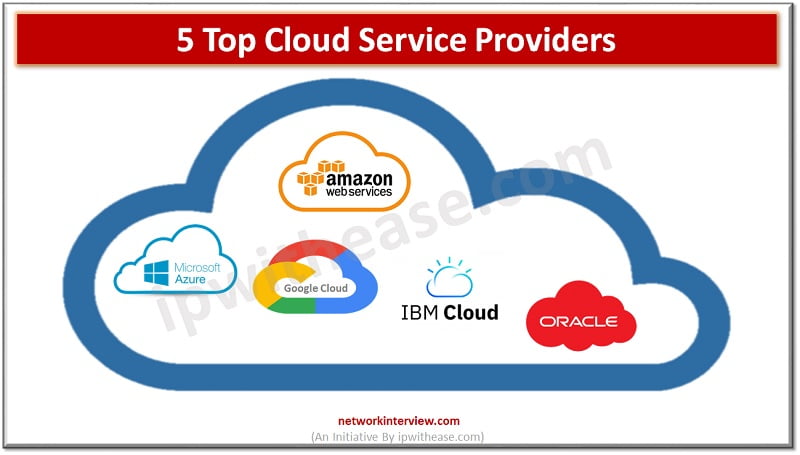 Introduction to Cloud Technology
Cloud Technologies has dramatically changed the world in the last decade, the data center has become a private cloud and Container technology has become mainstream, Artificial Intelligence and Cloud Computing are now interlinked industries. 
Looking back at 2021, top cloud computing companies have made exciting developments from Multi-cloud to Hybrid cloud then to now cloud and 5G. So now the question arises what are the best cloud service providers for 2022? 
Do you have this question in your mind? then you are in the right place. Today in this article you will get to know the Big 5 top cloud service providers to help your business succeed this year. 
List of top Cloud Service Providers
1. Amazon Web Services (AWS) 
Amazon Web Services (AWS) is the cloud company that pulled the world into the cloud revolution, and its past year's performance shows no sign of complaints. In midst of the large competition, AWS has shown a 30% growth rate last year. 
They provide 99.99% uptime, Free migration tools, Different types of databases, Artificial Intelligence and Machine learning, and Long-term storage and Data backup. They provide flexible cloud plans that help potential customers to minimize their cloud costs. 
Pros
Global Availability 

Helpful Customer support

Multiple features 
Cons
The confusing pricing structure can affect new users. 
2. Microsoft Azure 
Azure Cloud Services of Microsoft is second only in revenue. However, they are a head-to-head competitor for AWS. Their legacy in the Computer field is a great advantage for them. As many businesses use the Microsoft Office Tools it is easy for them to move to Azure Cloud services. 
Microsoft Azure provides various situational discounts and flexible plans, thus it is hard to estimate the cost for your business without contacting the sales representative. Azure has a top-level PaaS offering and is well-positioned in automation and AI. 
Pros
Easy to migrate and manage

Regular updates and promising uptime
Cons
Licensing restrictions and confusing prices. 

Support isn't as responsive as AWS.
3. Google Cloud Platform (GCP)
If your business is related to applications and mix deployments then Google Cloud Platform is the best choice for you. Over the last few years, GCP has proved itself as the best company for small, new, or individual developers. It supports open-source programs. 
Having a dominant hand in networking and automation, GCP is undoubtedly leading in Artificial Intelligence, Machine and mainly Data Analytics and BigData. 
Pros 
Flexible Contracts and Good Discounts 

Best for API Documentation

Helpful Customer support 

Global Availability 
Cons
Slightly fewer features compared to AWS and Azure

User Interface may be confusing for some persons (migrating from other providers)
4. IBM Cloud 
IBM cloud has proved itself as the favorite choice of mid and large enterprise clients. IBM's global influence has helped to achieve large cloud customers and made it a leading player in the multi-cloud landscape. 
IBM has an advantage over data analytics like GCP, because of its widespread data centers from Brazil to India to Germany to Korea. The company acquisition of Red Hat in 2019 and its recent Watson initiative has implanted a firm global footprint on laaS, PaaS solutions, and AI-based cloud offerings. 
Pros
Awesome storage facility and 

Positive customer Support Satisfaction 

Data security 
Cons
Less diverse server options

Overpriced for small enterprises 
5. Oracle Cloud 
Despite the late entry into the Cloud market, Oracle cloud has proved itself as a promising cloud service provider in the past years. Though it lacks cloud service providers like AWS and Azure, the positive reviews and growing market share makes it a better choice. 
Oracle leads the market by offering their Oracle software and leads the market using their strength in the database and core enterprise offerings. It wins points by providing a transparent pricing structure. 
Pros
Friendly User Interface

Scalability

Free tier for new users
Cons
Little expensive 

The cost structure is not flexible. 
Wrapping Up:
These are only leading cloud service providers, there are still many good cloud computing companies that may be suitable for you. However, if you are not a tech-geek or looking for an easy Cloud migration for your business then it is better to choose AWS or GCP. 
If you have any thoughts or questions relating to this article please feel free to share them in the comment section below. 
Continue Reading:
Top 10 Cloud Computing Certifications
An Introduction to Oracle Cloud Infrastructure (OCI)