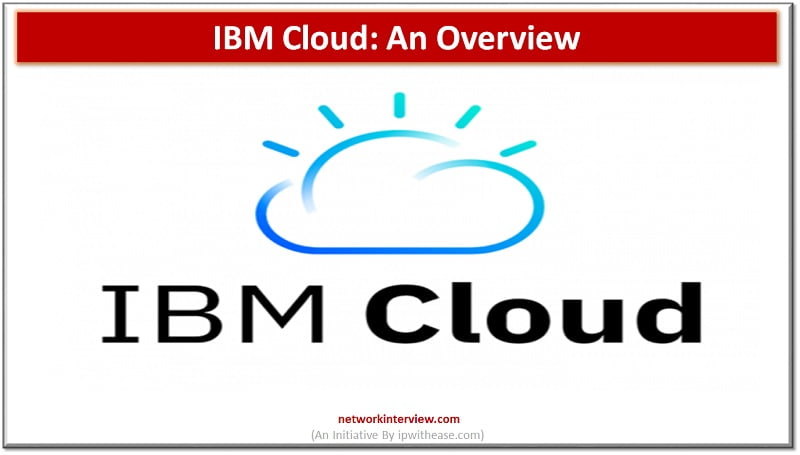 Introduction to IBM Cloud
In this digital era, it is all about Data and storage. This created the need for Cloud Computing and Cloud storage. There are various reputed Cloud Platforms and one of them is IBM Cloud.
If this is the first time you are hearing about the IBM Cloud or Are you interested to know further details about IBM Clouds? Then you are in the right place.
Here in this article, you will get a basic understanding of the IBM Cloud and its features. But before seeing it, here is a short intro for you to Cloud Computing.
What is Cloud Computing?
In simple words, the cloud refers to the virtual storage space or computing resources that are not physically owned by the user but used for his/her business.
The rapid development in the IT sector created the need for more storage, servers, analysis, and research, to reduce the operating cost the resources needed are purchased from the Cloud Computing platform which provides the services like servers, storage, software analytics, Artificial Intelligence on Internet.
What is IBM Cloud? 
IBM Cloud refers to the suite of American-based Information Technology company IBM that provides the cloud computing services both Platform as a Service (PaaS) and Infrastructure as a Service (IaaS). (SaaS vs PaaS)
The Platform is designed to serve the full range of applications both small development teams and organizations and also large enterprise businesses. The IBM cloud networks have more than 60 data centers and servers in 19 countries around the Globe.
It supports various programming languages such as Java, PHP, and Python, etc… It supports modern, cloud-native apps and other microservices and the Internet of Things (IoT).
Product and Services covered under IBM Cloud:
IBM Cloud Catalog lists over 170 services in different categories here are some of them –
Computing – bare metal servers, virtual servers, and other computing resources
Storage – Storage of Images, files, Data, and other objects
Security – Activity tracking, Access management, authentication, etc…
Analytics – Data Science tools like Apache Spark, Apache Hadoop, and IBM Watson Machine Learning, and also Analytics for streaming data.
Internet of Things (IoT) – IBM's IoT and the data produced by them.
Blockchain – Software-as-a-Service (SaaS) to develop apps and monitor blockchain networks.
Network – load balance, Content Delivery Network (CDN), Virtual Private Network (VPN), and firewalls.
Data Management – SQL and NoSQL databases, data querying, and migration tools.
Mobile – Helps in building and monitoring mobile applications and their back-end components.
Developer and Migration Tools – Command-line Interface (CLI), tools for continuous delivery, application pipelines, continuous-release, and migration tools like IBM life CLI and Cloud Mass Data Migration.
Integration – Provides various integration options like API Connect, IBM Secure Gateway, and APP Connect, etc…
Types of IBM Cloud Plans
The Cloud services provided by IBM can be divided into three types here, are they –
i) Public Cloud
Here the users rent the cloud resources on a subscription basis or usage-based fee. Everything is managed and owned by IBM. You don't need to own any software or hardware; everything will be available under your plan.
IBM Cloud is trusted by 47 companies of the Fortune 50 and 10 largest banks and 8 out of 10 largest Airlines. It has various advantages like Ease of Use, Industry-leading compliance, Threat monitoring, and security.
ii) Private Cloud 
Here instead of renting a public place or server, you will be allocated with your own private Cloud space which will be fully under your control. Companies choose IBM Private Cloud to meet regulatory compliance, to deal with confidential documents, intellectual property, medical records, financial data, or sensitive data.
The IBM Private Cloud has the following advantages – elasticity, scalability, ease of service delivery, control, security, and resource customization.
iii) Hybrid Cloud 
IBM Hybrid Cloud refers to the integrated environment of both private and public cloud. The Hybrid cloud helps companies to easily manage speed, security, latency, and Performance. It is cost-efficient than doing business with private or public cloud alone.
Conclusion
It is said in the next 3 years, 75% of the existing non-cloud apps will move to the cloud. And it is said the cloud journey has only started now. While comparing to other cloud platforms IBM has many advantages. So if you are planning to Cloud then IBM is a good choice for you.
If you have any questions or doubts in the comment section below, and if you want to know more about any other Cloud platforms please let us know.
Continue Reading:
Top 10 Cloud Computing Certifications