Top 10 SIEM Tools of 2023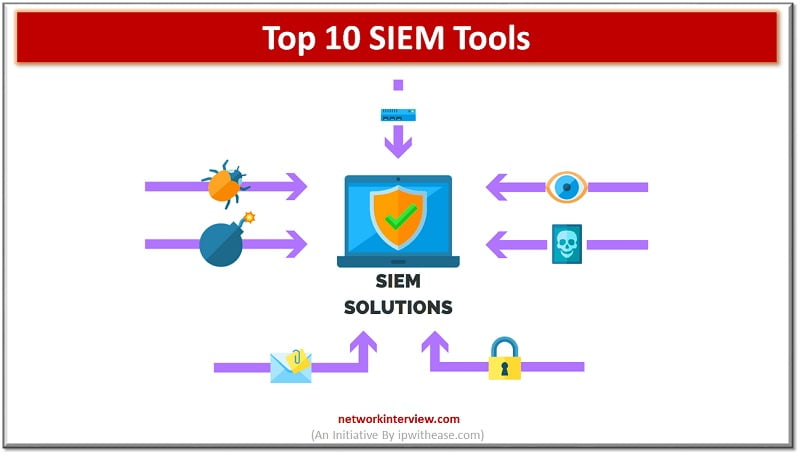 The more the world moves to the Digital and Cyber World, the more we face unidentified threats and vulnerabilities. This is when the SIEM tools come in handy. 
Are you looking for the best SIEM tools for your business? Then you are in the right place here are the top 10 SIEM tools. 
List of Top SIEM Tools
1.Splunk Enterprise SIEM
Splunk is the most popular SIEM solution in the world. It supports both the Windows and Linux Operating systems. The best thing about it is that the network and machine data can be monitored on a real-time basis. 
You can get a free sample if you are a core enterprise platform. It has a highly customizable dashboard, statistical analysis tools. It finds vulnerabilities and threats and gets rid of them. It is widely used in public sectors, financial and health sectors.
2.SolarWinds SIEM Security and Monitoring 
It is best for Small, Medium, and Large businesses. It has features like threat detection solutions, log filtering, node management, etc… Like the previous, it also supports different platforms like Windows, Linux, Mac, and Solaris, etc… 
It performs advanced search and forensic analysis and maintains continuous security.
3.DataDog
It is a cloud monitoring tool with exceptional cloud security functions. It provides real-time threat protection for tech data. It unifies DevOps, NetOps, and security teams. 
It has a multilayered single platform that displays all the contents, metrics, and threats. You can detect threats in minutes with default out-of-box rules and attacker techniques. 
4.OSSEC
It is a Host-based Intrusion Prevention System (HIDS). It supports Windows, Linux, Unix, and Mac Operating Systems. As the HIDS methods are interchangeable OSSEC is also considered a SIEM tool. And it is also a free tool. 
It uses available information in the log to find intrusion by reading through the files. But as it uses only logs to find the intrusion it requires Graylog and Kibana for further analysis. 
5.ManageEngine EventLog Analyzer
Though it doesn't sound like a SIEM tool, it is one. Because it manages the logs and finds security intrusion by scanning them. It supports Windows and Linux. 
It has analytical functions that gather Windows Event logs and alert unauthorized access to company resources. It includes a free version for testing. 
6.LogRhythm 
It is best for mid-sized companies. LogRhythm is the next-generation SIEM solution that deals with a problem like fragmented workflow, segmented threat detection, lack of centralized visibility. 
It is an AI-based technology that supports Windows and Linux OS. It also processes the unstructured data to provide a consistent and clear analysis. However, compared to other tools it is considered a little expensive as per customer reviews. 
7.RSA NetWitness 
This is the best tool for medium and large-size businesses. The price starts from $857 per month. It uses threat intelligence and business context and creates a real-time enrichment that helps the analysts during the investigation and secures data. 
It provides complete incident management and can be deployed both on-premises or in the cloud. It works with different and more than 200 metadata sources to extract threat-relevant data. 
8.Securonix 
It is also a next-gen SIEM platform that collects large-scale data, detects new threats, and gives immediate solutions to the threats. It is a scalable platform based on Hadoop. It can be used in all types of business like small, medium, and large. 
It is machine learning thus it will be able to find complex threats using behavior analytics and machine learning. 
9.IBM Security QRadar 
Over the past few years, IBM has proved itself in the SIEM field. It's Security QRadar provides cloud monitoring and security for your entire infrastructure. It allows you to prioritize your security alerts using threat intelligence and has an inbuilt risk management solution. 
It supports integration with antivirus and access control systems. However, it is a little expensive tool costing $800 per month. It is suitable for Medium and large businesses. 
10.Rapid7
It is a simple SIEM tool that detects threats like malware, phishing, and stolen credentials, etc… It uses behavior analytics file integrity monitoring, deception technology to scan the endpoints for real-time detection. 
It is a cloud-based insight platform that doesn't need any ongoing maintenance and is best for small, medium, and large size businesses. 
Conclusion 
Though there are many SIEM tools in the list, the recommendation is to select the first or second tool of the list. If you have any further doubts please leave them in the comment section below. 
Continue Reading: