Reasons to Become a Penetration Tester: Salaries and Job Satisfaction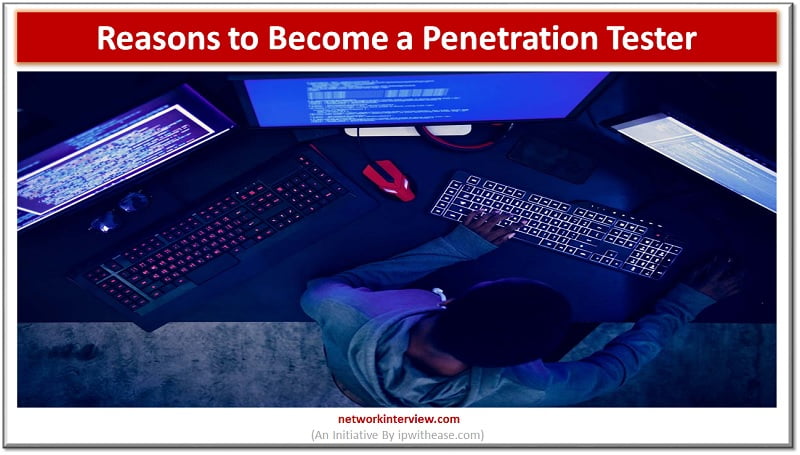 Cybersecurity is a rapidly growing field that only seems to continue advancing with technology still rapidly evolving. As a matter of fact, it is expected that by 2022 companies worldwide would be collectively spending $170.4 billion on information security (Gartner). With such high numbers, it's no wonder that there are many job opportunities for those looking into a career in cyber security or penetration testing.
So what does a penetration tester do? How much will you make as a penetration tester? What does the future scope of this job look like? And finally, how satisfied are ethical hackers with their current careers and would they recommend it to others? You'll have the answers to all these questions and more, by the end of this article.
What does a penetration tester do?
Penetration testers, also known as pentesters or ethical hackers, are highly-skilled and specially trained to detect weaknesses and vulnerabilities in systems. They mimic the tactics used by criminal hackers to expose security flaws before malicious attackers find them first. An online penetration testing is a critical part of cybersecurity because it allows organisations to discover their exposure without actually being attacked.
How much will you make as a Pen Tester?
According to PayScale, salaries can range from $57,000 to $134,000 based on the experience level. However, the average salary for an entry-level pentester is around $75,000 with some companies offering even higher starting pay rates. Corporate environments tend to offer better compensation packages than startups or smaller companies. And with the increasing demand for pentesters, salaries are only expected to go up in the future.
Future scope of Cybersecurity Jobs
According to a report by GISWS in 2017, the shortage of qualified cybersecurity professionals would hit a mark of 1.8 million in 2022. This means that there is and will continue to be a high demand for qualified individuals in the field of cybersecurity. So if you're looking to start or further your career in this area, now is definitely the time to do it.
Job satisfaction as an Ethical Hacker?
According to the  Cybersecurity Workforce Study published by (ISC)², 68% of pentesters said they were satisfied with their current jobs. This number is especially high in comparison to the job satisfaction rates of other IT professionals. And 83% of respondents said they would recommend a career in pentesting to others.
Still not convinced? We give you 7 solid reasons why penetration testing could be a wholesome career choice:
The work is exciting –

Different clients come in with different products for testing and when it comes to technology expect changes in evolution in no time. Considering this, you're bound to deal with a different scenario every day, never knowing what's going to happen next.

You're always learning

– The technology world is ever-changing and as a pentester, you need to be on top of things. This ensures that you're always learning new strategies and techniques so your

skills

don't become obsolete.

It would be relatively easier to enter just about any company

– Penetration testing is one of those jobs that can get you just about anywhere. It's a great way to get your foot in the door at a company and move up from there.

You get paid well –

As mentioned before, starting salaries can range from $50,000 to $100,000. Not too shabby for a job that requires no post-secondary education.

You can relax knowing you'll have a stable job –

With the increasing demand for pentesters, job security is practically given.

It's challenging and fun –

Software penetration testing

is both mentally and physically challenging. It's a good way to put your talents to the test and see how far you can push yourself.

You're helping keep people safe –

The world needs a select few to protect it from the "bad guys" and you're one of them.
So if you are on the look for an exciting and/or rewarding job, consider becoming a pentester. The future of cybersecurity is looking bright and there's plenty of room for new talent.
Penetration Testing Job Requirements
So now you may be wondering, what do I need to become a penetration tester. As a penetration tester, you must be able to demonstrate an understanding of the five phases of penetration testing which includes-
Reconnaissance:

  Gathering information about the target organization such as what systems they use, their IP addresses, and user accounts.

Scanning and enumeration:

  Identifying and targeting systems and vulnerabilities in order to exploit them.

Gaining access and escalating privileges:

Exploiting vulnerabilities to gain control of systems and networks and escalating privileges to gain access to sensitive data.

Maintaining access

: Keeping control of systems and networks once they have been compromised and hidden from detection.

Covering tracks

: Making sure that there is no trace or evidence of the penetration test left behind (just like an attacker would try to do).

Reporting

: Communicating the findings of a penetration test to stakeholders in order to improve the security posture of an organization.
They should also know how to use different types of tools and software for exploitation purposes like Metasploit, Wireshark, Nmap, Powershell Scripting, etc. And lastly, they need to remain up-to-date on the latest security vulnerabilities and techniques.
Of course, it's not necessary to excel in all these areas. However, having a basic understanding of them all will help you in your career as a pentester.
Conclusion
In the end, there are a variety of entry-level jobs in cybersecurity that can provide you with financial stability and job satisfaction. The demand for qualified cybersecurity professionals is high and salaries are only going to go up from here. If you're up for the challenge, then why not try to become one of them. And with job satisfaction rates as high as they are, you can be sure that you'll enjoy your work every day.
Continue Reading:
What is Penetration Testing or Pen Test?
Top 10 Penetration Testing Tools & Software 2022