Data Science vs Artificial Intelligence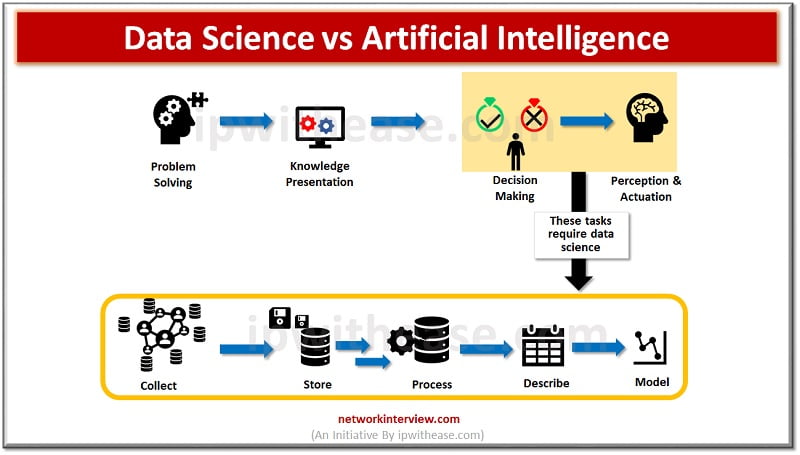 In the last couple of years there has been an explosion of workshops, conferences and symposia , books, reports and blogs which talk and cover the use of data in different fields and variations of words coming into existence such as 'data', 'data driven', 'big data'. Some of them make reference to techniques – 'data analytics', 'machine learning', 'artificial intelligence', 'deep learning' etc.
Today we look more in detail about two important terms, widely used data science and artificial intelligence and understand the difference between them, the purpose for which they are deployed and how they work etc.
What is Data Science?
Data science is the analysis and study of data. Data science is instrumental in bringing the 4th industrial revolution in the world today. This has resulted in data explosion and growing need for industries to rely on data to make informed decisions. Data science involves various fields like statistics, mathematics, and programming.
Data science involves various steps and procedures such as data extraction, manipulation, visualization and maintenance of data for forecasting future events occurrence. Industries require data scientists which help them to make informed decisions which are data driven. They help product development teams to tailor their products which appeal to customers by analysing their behaviours.
What is Artificial Intelligence?
Artificial Intelligence (AI) is a broad field and quite modern. However, some ideas do exist in older times and the discipline was born a way back in 1956 in a workshop at Dartmouth College. It is presented in contact with intelligence displayed by humans, and other animals. Artificial intelligence is modelled after natural intelligence and talks about intelligent systems. It makes use of algorithms to perform autonomous decisions and actions.
Traditional AI systems are goal driven however contemporary AI algorithms like deep learning understand the patterns and locate the goal embedded in data. It also makes use of several software engineering principles to develop solutions to existing problems. Major technology giants like Google, Amazon and Facebook are leveraging AI to develop autonomous systems using neural networks which are modelled after human neurons which learn over time and execute actions.
Comparison Table: Data Science vs Artificial Intelligence
Below table summarizes the differences between the two terms:
Parameter

Data Science

Artificial Intelligence

Definition
Comprehensive process which comprises of pre-processing, analysis, visualization and prediction
It is a discipline which performs analysis of data
Implementation of a predictive model used in forecasting future events
It is a tool which helps in creating better products and impart them with autonomy
Techniques
Various statistical techniques are used here
This is based on computer algorithms
Tools size
The tools subset is quite large
AI used a limited tool set
Purpose
Finding hidden patterns in data
Building models which use statistical insights
Imparting autonomy to data model
Building models that emulate cognitive ability and human like understanding
Processing
Not so much processing requirement
High degree of scientific processing requirements
Applicability
Applicable to wide range of business problems and issues
Applicable to replace humans in specific tasks and workflows only
Tools used
Python and R
TensorFlow, Kaffee, Scikit-learn
Download the comparison table: Data Science vs Artificial Intelligence
Where to use Data Science?
Data science should be used when:
Identification of patterns and trends required
Requirement for statistical insight
Need for exploratory data analysis
Requirement of fast mathematical processing
Use of predictive analytics required
Where to use Artificial Intelligence?
Artificial intelligence should be used when:
Precision is the requirement
Fast decision making is needed
Logical decision making without emotional intelligence is needed
Repetitive tasks are required
Need to perform risk analysis
Continue Reading:
Artificial Intelligence vs Machine Learning
Top 10 Networking technology trends