Automation vs Artificial Intelligence: Understand the difference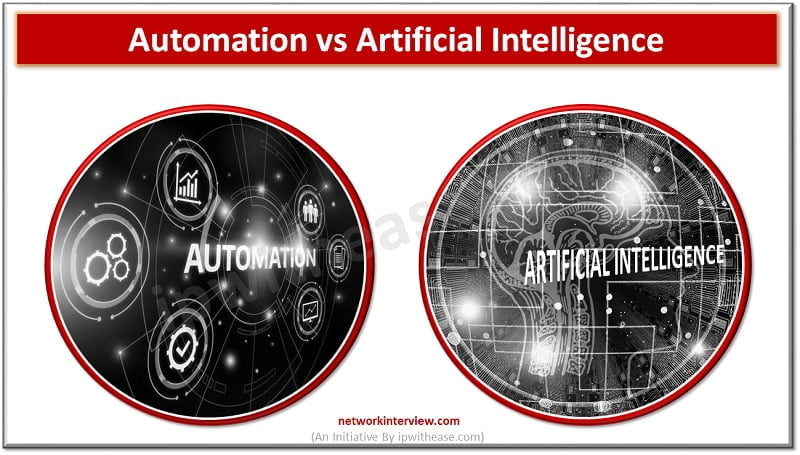 In this 21st century, humans rely more on machines than any other thing. So it is important to know about the important technologies that make the machines reliable. Yes, they are automation and artificial Intelligence.
Automation has been among humans for a long time though Artificial Intelligence has been developed in recent years. In this article, we are going to see the difference between these two. Yes, though we consider both as the robots or machines that work on their own there is a pretty big difference between them.
So without ado let's get started with the an introduction to automation and AI before discussing Automation vs Artificial Intelligence.
What is Automation?
Automation refers to a technique or process that makes a machine or system operate on its own or with minimum human inputs. Implementing automation in a process improves efficiency, reduces cost, and gives more reliability.
The history of automation starts from mechanization which is connected to the great industrial revolution. Now automation is everywhere in the modern economy.
Examples of Automation
The examples of automation are:
Automatic payment system in your banks,
automatic lights, and
even automatic or self-driving cars.
To explain it technically, automation is software that acts according to the way it is pre-programmed to act in a given situation. For example, let's take the example of copy-pasting or moving data from one place to another. Moving data from one place to another can be a tedious repetitive task for humans, but automation software makes it simple.
All you need to do is program the computer or machines how to transfer files from, and when to do it. After that, the machine itself will transfer or move files automatically from one place to another. In this way, automation saves both money and time spent on these monotonous, large tasks. The employees and human resources can be used in something more creative.
What is Artificial Intelligence?
Artificial Intelligence is the further advanced form of automation, where the machines or mostly systems mimic human thinking and make decisions of their own. AI is software that simulates human thinking and processing in machines.
Artificial Intelligence is achieved by combining various automation technologies like data analysis, data prediction, etc… In Artificial Intelligence you don't need to write any program for a particular process…all you need to do is give the past data to the system, it will analyze the decisions made in the past and make decisions for the current problem like a human being.
As automation can only be applied for repetitive tasks, artificial intelligence has been invented to do more variable processes where there is a need for human decisions. It learns from experience and involves self-correction to give a proper solution to a problem.
Examples of Artificial Intelligence
Good examples of Artificial Intelligence are
Chatbots,
Digital assistants,
Social media recommendations,
Text or grammar editors,
Facial detection,
maps,
navigation, etc…
Let's explain it with maps and navigation, Google maps show you the quickest way to go to a place. As it is not a repetitive process the navigation software should adopt artificial intelligence and guide users in a way an ordinary human would do.
Comparison Table: Automation vs Artificial Intelligence
Now as you got the basic idea about what automation and artificial intelligence is let's see the major difference between them i.e. Automation vs Artificial Intelligence: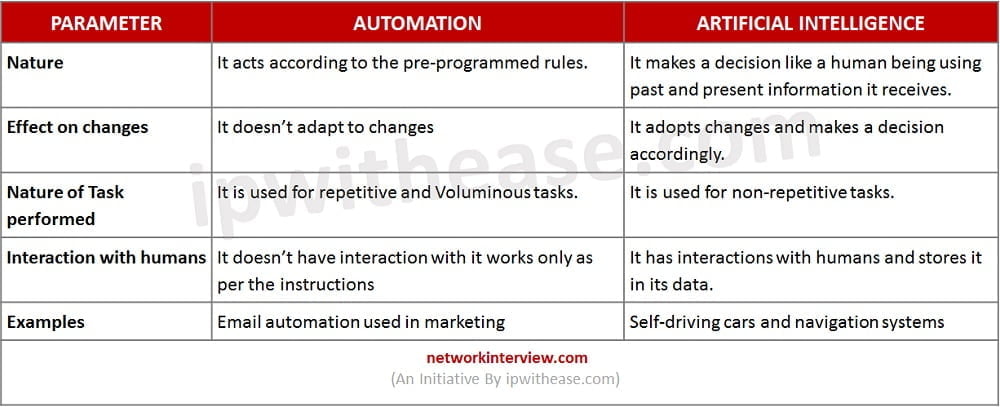 Continue Reading:
RPA – Robotic Process Automation
What is AIML (Artificial Intelligence Markup Language)