RPA – Robotic Process Automation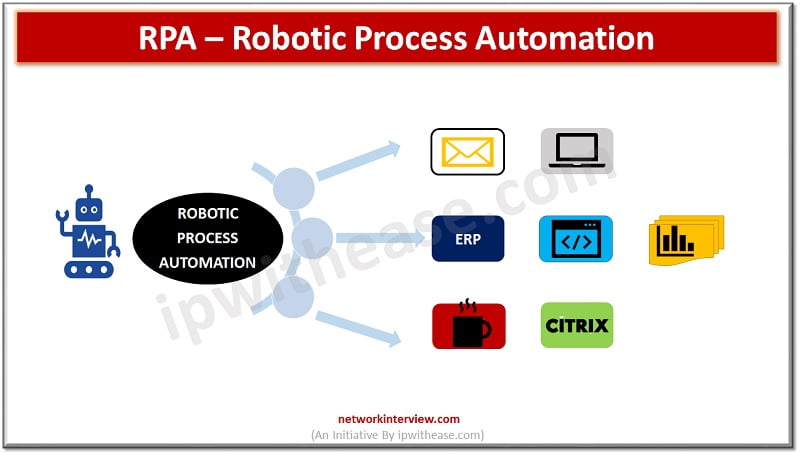 Introduction to RPA 
Convergence of the physical world and digital world has changed how businesses are interacting with customers nowadays. Robotic Process Automation can be tracked back in early 2000 , it has progressed and developed over a number of years. RPA comprises of three major technologies – Screen scraping (ability to capture data from legacy application interface and display using Morden user interface) , workflow automation (ability to remove manual process of data entry) and Artificial Intelligence (ability to learn from perceived behaviour and perform actions which require human intervention) 
Today we look some more in depth about what RPA is ? What are the benefits and how this evolved over the years and so on . 
What is Robotic Process Automation
RPA uses software with Artificial Intelligence (AI) and machine learning capabilities to perform high volume, repetitive and redundant tasks which required earlier involvement of human intervention and consumed loads of human resources and involved huge labour costs and prone to errors due to their nature of repetitiveness.
RPA comprises software robots commonly called 'Bots' which can mimic a human behaviour and perform actions like data entry, calculations and maintenance of transactions or records.
Categories – RPA 
RPA has the capability to learn from actions and situations; it is capable of learning and adapting to changes in circumstances, exceptions, and new situations; it captures and interprets actions of specific processes and applications deployed in the environment. Based on the perceived learning it would trigger responses, manipulate data, take new actions, and communicate to other systems as per the need.
RPA improves efficiency, boosts productivity, and saves costs by replacing manual, routine, and often error-prone processing jobs due to their repetitive nature and still performed manually by human labour in many organizations. 
Probots – perform simple and repetitive tasks to process data
Knowbots – perform search on Internet and store user specific information 
Chatbots  – handle customer queries in real time.
Benefits of RPA 
Table 1: Pros and Cons of RPA 
RPA Pros

RPA Cons

Reduction in long hours – repetitive tasks can be handled for long hours which other be left to humans to perform
Resistance to change could be one of factor in RPA deployment . People are habitual to a routine and any change could cause stress for employees being part of new technology implementation and change in routine work culture and taking up new responsibilities
Enhancement in employee productivity as repetitive tasks are handled by RPA and employee can do some more productive task
Long turn sustaining could be a concern using RPA where tendency is more on quick fixes rather than doing things correctly from start in the long run
RPA performs tasks with zero defect especially in case of repetitive tasks as they are prone to errors when performed by humans
Initial implementation require more precision which involve time and money.
Speed up repetitive tasks and perform it in more efficient manner where humans get tired and bored
RPAs cant detect obvious errors which humans can detect such as data errors
Enhancement in customer experience such as reduction in waiting time while waiting for response on a query, 24*7 support without human intervention
RPA may not be a good fit where precision requirements are very high such as managing purchase invoices where data accuracy is critical
Data gaps between multiple sources of information is removed and actions performed by RPA Bots are logged / stored
RPA are made custom fit as per business requirements hence they require ongoing maintenance and minor change in business setup could lead to major disruption in RPA.
Use and Applications 
Many businesses are using RPA significantly however it is an ideal fit for some specific applications as under : –
Customer service – Automation of customer call center tasks is one of the primary usage areas for RPA. Helpdesk support, verification of e-signatures, scanned documents upload into systems and verification of details uploaded for automatic approvals and rejections.
Accounting services – General accounting , operational accounting , transactional reporting, and preparation of budget.
Financial services – Opening new bank account, closure of account, processing insurance claims, Foreign exchange payments, handling audit requests.
Healthcare services – managing patient records, claim processing, customer handling and queries, billing , reporting etc.
Human resources services – Payroll services, managing employee records, Onboarding and offboarding of persons, timesheet submission and maintenance, leave records etc.
Supply Chain Management – Procurement , automation of processing and payments, inventory management , shipment tracking , order tracking, dispatch etc.
Some top RPA vendors are Automation Anywhere Inc. Blue Prism , EdgeVerve Limited, HelpSystems, Workfusion,  UiPath and so on. The range of services start from digital workforce platforms to perform HR, claims management, back office processes , customer services, IT, and business processes automation etc.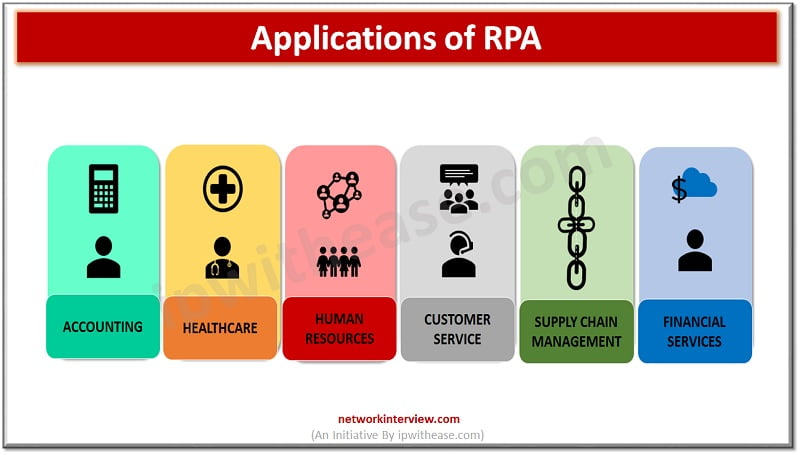 Factors to consider while choosing – RPA 
Table 2: Factors to be considered while choosing RPA for Organization 
Functions

Features

Scalability
Centrally managed and scalable
Speed
Design and test new robotics quickly and optimize them as per need
Reliability
Tools with inbuilt monitoring and analytics so as to enable to monitor health of systems
Simplicity
Easy to use and able to handle various kinds of work
Intelligence
Advanced learning feature to improve

automation

Enterprise Class
Scalable, reliable, and manageable in nature
Used cases
IVR, Factory Floor, Batch jobs, Customer help-desk ,
Way Ahead – 
The RPA industry would reach USD 3.11 billion by 2025 as per latest study conducted by Grand View Research Inc.  As per a report published by Deloitte consulting 50% of the tasks performed by employees are considered mundane , repetitive, and labour intensive and RPA technology will replace 16% of repetitive tasks by Year 2025. 
Continue Reading:
Artificial Intelligence vs Machine Learning
Data Science vs Artificial Intelligence