What is Torrenting and how does it work?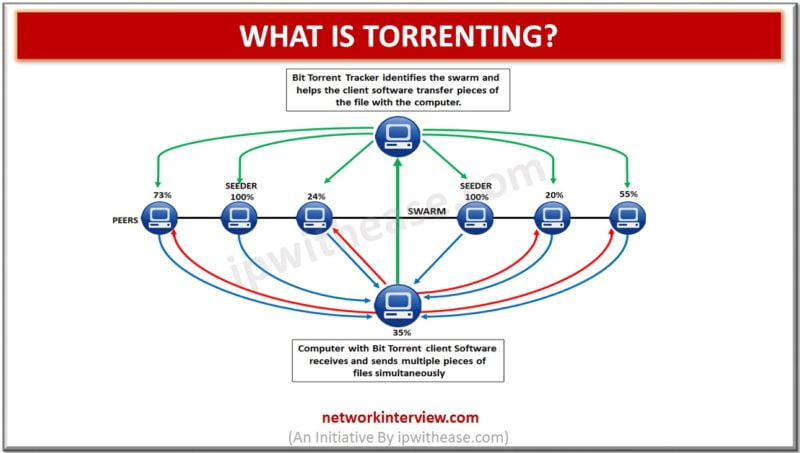 Introduction to Torrenting
Torrenting is a P2P (peer-to-peer) file sharing technology used to share files efficiently. This technology relies on a community of decentralized users for file sharing  rather than being dependent on traditional single website or source for downloading. A user can download the file from the direct source as well as from other users of the same torrent. This makes the transfer smoother by significantly reducing the network load.
Before discussing Torrenting technology in detail, let's understand – What is torrent? The word "torrent" simply means a computer file containing metadata to hold information.
Terminology to understand the working of Torrents –
Peers: All the users involved in the sharing of files through torrent P2P sharing are called peers.
Seeders: Seeder is a user who is downloading a file from a torrent and simultaneously uploading it to be used by others.
Swarms: A number of peers sharing (downloading or uploading) the same torrent files are called swarms.
Indexers: The websites which work as a search engine for the files and content to be downloaded through a torrent are known as indexers. E.g. – Extratorrent , Torrentz, RarBG  or Piratebay are some of the widely used indexers.
Trackers: Trackers are servers that act as bridges between different torrent users. Thus aiding the smooth and fast transfer of data by routing small pieces of files between each torrent downloader and uploader.
Leechers:  Leechers are the users that are only downloading and have disabled uploading. Its not considered an ethical practice as their intention is not to help the other peers for download. Many trackers ban leechers.
BitTorrent Client: One of the main requirements for torrenting is the presence of a client. Programs that enable file transfer using BitTorrent protocol are called BitTorrent clients
Ratio – The relationship between your uploading (seeding) and downloading (leeching) score. The ratio for each file should be greater than 1.0, means you upload at least the same amount as you download.
Magnet link – Instead of downloading a torrent file, magnet links identify files and sources and allow your torrent client to start downloading immediately.
How torrenting works? (BitTorrent Client)
When we open a Web page and click on a link to download a file we want, BitTorrent client software communicates with a tracker to find other computers running BitTorrent that have the complete file (seed computers) or those with a portion of the file (peers that are usually in the process of downloading the file).
The tracker then identifies the swarm.
The tracker helps the client software to transfer pieces of the file we want with other computers in the swarm. Thus our computer receives multiple pieces of the file simultaneously.
Continuous use of the BitTorrent client software after our download is complete, helps others to receive ".torrent files" from your computer. This results in an improved future download rates as we are ranked higher in the "tit-for-tat" system.
By downloading multiple pieces at the same time, the overall speed is greatly improved. The more is the number of computers in the swarm, the faster is the file transfer, that's the reason that BitTorrent is useful especially for large, popular files. To keep yourself safe during torrenting, always use a VPN, use Anti-Virus Software, don't download illegal content and try to use private trackers.
Continue Reading:
In case you are preparing for your next job interview, then check our e-book on VPN Interview Questions and Answers in easy to understand PDF Format, explained with relevant Diagrams (where required) for better ease of understanding.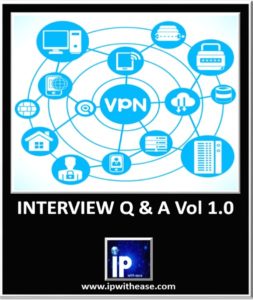 You may like to watch our related video: