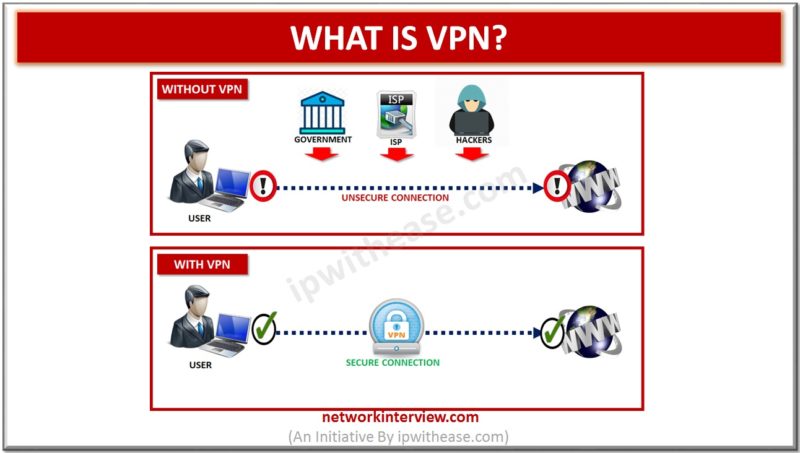 VPN (Virtual Private Network) is a technology that lets you access the web safely and privately. It acts like a secure tunnel between your device and the internet. The information traveling between a connected device (computer, smartphone, tablet) and a VPN server is encrypted. Thus,VPNs are used to protect your online traffic from snooping, interference, and censorship.
How does a VPN work?
When you connect to the web without a VPN,the connection looks something like (below diagram) –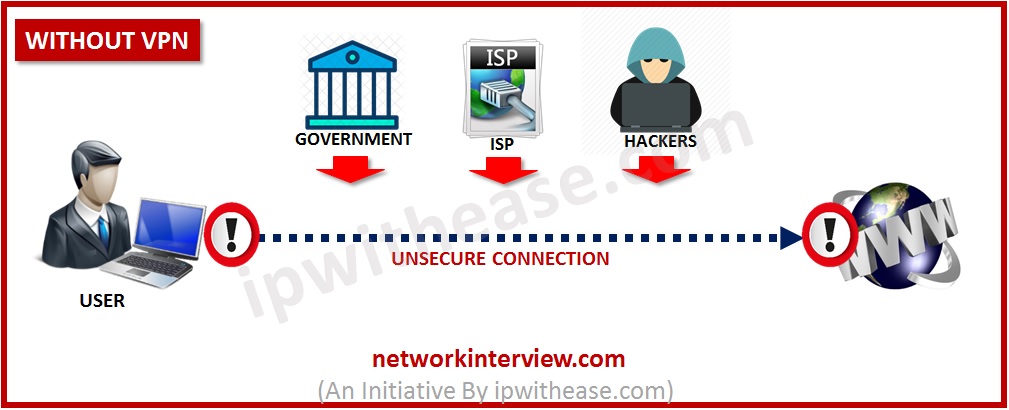 Without a VPN, you are connected to a public or shared network through your Internet Service Provider (ISP).
This means that any information you send is public and is open to any possible attack –
Virtually anyone (with tools and appropriate knowledge), can see what you're doing. Thus governments and businesses can track your whereabouts.
Since the Internet Service Provider can see what information you're accessing, they can also control the content you have access to by blocking and censoring websites.
And the worst is the hackers and cyber criminals can steal your personal information — such as credit cards, bank account numbers,passwords and other personal data.
When you connect to the web with a VPN,the connection looks like –
With a VPN ,your data is encrypted , even before your Internet Service Provider sees it. The data then goes to the VPN server, and from the VPN server towards destination — anything from your bank website to a video sharing website to a search engine. The online destination sees your data as coming from the VPN server and its location, and not from your computer and your location.
Advantages of using VPN
Using a VPN to protect your privacy has some big advantages compared to an unprotected connection.
Data Encryption
VPNs encrypt all messages passing between VPN Gateways and your computer. This prevents anyone (such as your ISP) from spying on your connection and intercepting your data. This is especially important in countries with high levels of censorship, or when you're sending particularly sensitive data.
Speed
Although your Internet traffic passes through the VPN's encryption software and servers can slightly slow down your internet connection, it's only by an insignificant amount.
Ease of installation
Most of the VPN Software are easy to install and use. With just a few clicks, an installation wizard will install and configure the software. The wizard can set the VPN to start automatically when you start your computer so you are always protected.
Device Compatibility
VPN service providers have software that works on most of devices.

Computers with Windows or Mac or Linux operating systems.
Smartphones running on Android or iOS
Some services even provide software that can run on your home router or set-top box.
Related – Is It Legal To Use A VPN?
Disadvantages of VPN
Using a VPN can provide good security against most kinds of surveillance.But its not 100% secure as there are ways that your privacy can be compromised when you use a VPN.
Varied logging policies
Most VPN services keep various types of logs of the activity of their users. Sometimes the services keep these logs for their own use, and sometimes they are forced to keep these logs by their government norms. Further, there is the potential that an agency could use log information against you, and there are limits to what a VPN can do to protect you. If a government agency demands their logs, they are under obligation to surrender them.
Weak encryption
For a safe communication, the encryption used by the VPN service must be unbreakable. This is true of the best VPNs, which use the military grade encryption 256 bit Advanced Encryption Standard (AES). However, some lower tier VPNs use weaker encryption algorithms like PPTP etc, so you'll want to look carefully at the encryption each VPN uses when choosing a provider.
VPN software failures
If the VPN software crashes for some reason, messages to and from your computer could travel unencrypted       and outside of the VPN network. This would leave our information vulnerable. (Possible Solution – To protect against this challenge is to have mechanism to stop data transfer if the VPN software fails for any reason. While losing Internet access isn't great, it is better than using the security the VPN gives you.)
Related – VPN Interview Questions
Watch our related video: