What is Cisco Network Assistant (CNA)?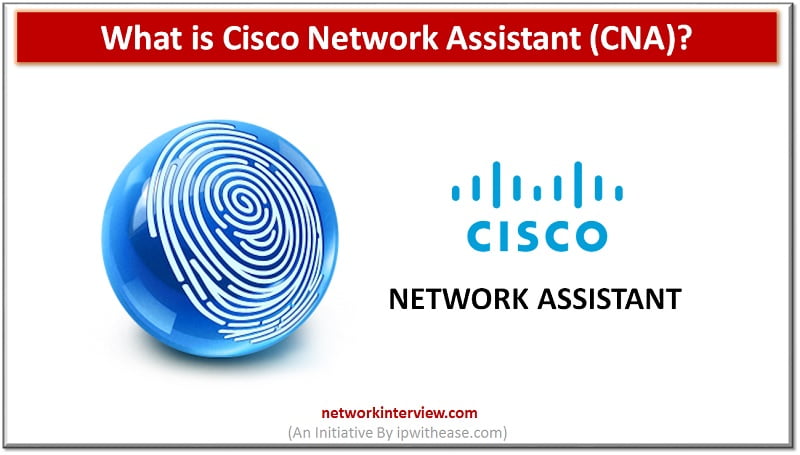 Introduction to Cisco Network Assistant (CNA)
Cisco Network Assistant/ CNA is an application designed for Windows PC in order to manage networks. It is designed to be compatible with wired and wireless networks and Small-Medium sized organizations. Cisco Network Assistant has an internal user friendly interface (GUI) that provides a centralized display of the network.
This implementation makes configuration, management and troubleshooting a simple every day task for network administrators. They also have the option to manipulate common services, create inventory reports and synchronize passwords over Cisco routers, switches, LAN Controllers and Access points.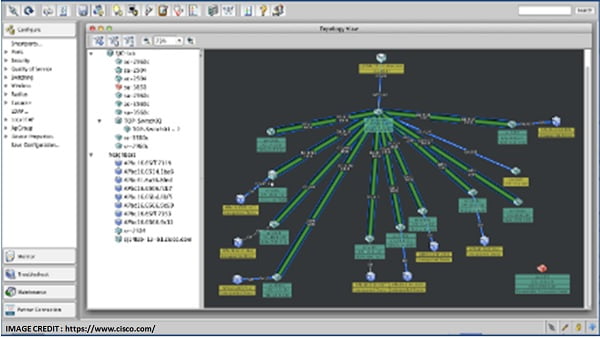 Specifications of Cisco Network Assistant (CNA)
In the IT industry, Cisco Network Assistant has been an extremely reliable solution. The main specifications that makes it distinctive from the competition are described below:
Network Configuration: The key advanced advantage of using Cisco Network Assistant is the ability it provides to network administrators to configure and support maximum 80 routers, switches, wireless controllers and access points at the same time. With a few clicks the user can execute the internal device manager or start a Telnet session, through the intuitive GUI interface.
Network Management:

Another very important advantage of Cisco Network Assistant is the ability to simplify ongoing Network Management. To be more specific, it allows network administrators to create inventory reports and reset passwords. Finally a great option is the embedded Cisco IOS software update, via a drag and drop process.
Network Troubleshooting:

Cisco Network Assistant offers a topology view of the associated network, where problems are highlighted. This technique helps troubleshooting from administrators to easily identify the cause of network problems on time. Another advanced technology feature is the graphical representation in trend charts. These charts represent automatically identified network problems, such as cable malfunctions and configuration errors.
Network Optimization: One of the best functions that Cisco Network Assistant provides to the user, is the ability of network risk reduction. This service is accomplished by the review of network configuration. Then the software recommends changes on the quality of services (QoS), security implementations and network availability according to industry best practices.
Device and Multilanguage Support:

Finally, Cisco has designed Network Assistant with many valuable features such as Multilanguage and Device support. Apart from English, the GUI is implemented in German, French, Spanish, Italian, Chinese and Japanese languages. In addition, Cisco keeps an updated list in the software for Catalyst Switches, LAN Controllers, ISR Routers and Access Points that can be found in the official Cisco website.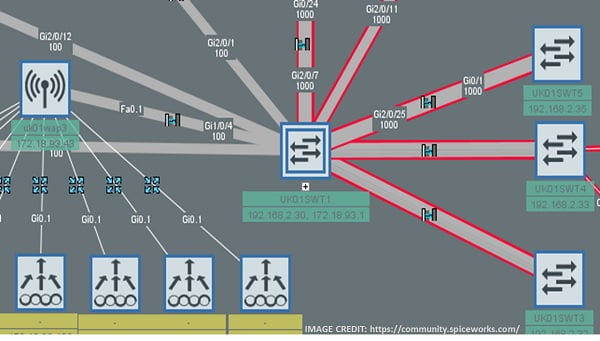 How Cisco Network Assistant works
Cisco Network Assistant is designed to provide two graphical views of a device group:
Topology View

: In this particular option, the software displays on screen devices that are in a community, in a cluster, or are potential eligible to join them, link information across devices and connected clusters.

Front Panel View

: In this category, the user can monitor the real time status of the devices. The devices and port LED's in the front panel view are displayed exactly like the physical devices and the port LED's in the network.
The main strategy of Cisco, is that all network devices that have IP addresses, such as routers, switches, and access points, can be assigned to a "community". Now the main reason for creating a "community", is the ability to manage Cisco cluster capable devices as well as non-cluster capable devices in the same logical group.
Cisco Introduced the term "cluster", as a group that can contain up to 16 connected network devices. Notably, they have to be cluster capable catalyst devices. 
These devices are assigned exclusively to one cluster and they do not participate in other clusters. Then the user assigns an IP address to the main device that will become the "Command Device". The IP address of the "Command Device" acts as the single point of access that the Cisco Network Assistant utilizes to set-up, manage, and monitor the command device and the grouped devices in the cluster.
Conclusion
To summarize the above shared content, we can now tell with confidence that Cisco Network Assistant/CNA provides enterprise-class, simplified configuration and management specifications while accessing crucial product life cycle information securely.
It helps many organizations to manage their networks with a reasonable cost, especially small-medium size where the budget is a big challenge.
Continue Reading: