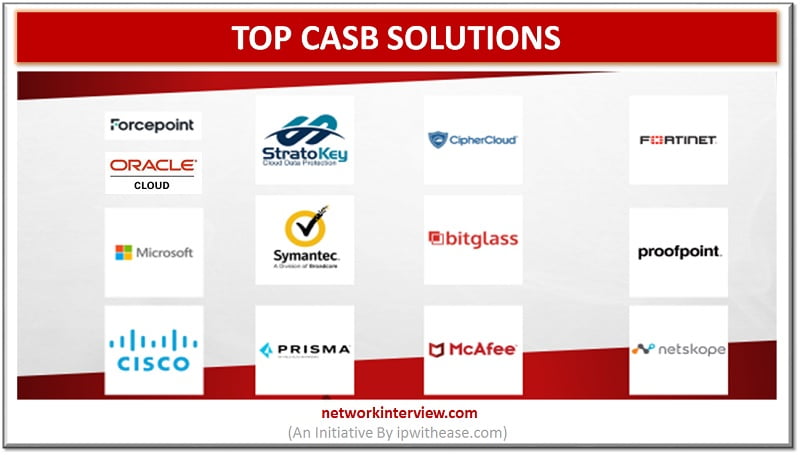 Introduction to CASB Solutions
CASB (Cloud Access Security Broker) is an intermediary between cloud users and cloud applications. CASB solution is a software/hardware application that is located inside the network or works as a cloud-native application. Cloud access security broker (CASB) can deliver security as well as management features. Security features includes prevention of high-risk events or threats (requires in-path data access). On the other hand, management involves monitoring and mitigation from attack.
List of Top CASB Solutions:
Following are some of the top CASB solutions available in the market:
1.Bitglass:
Bitglass was founded in 2013. Bitglass cloud security solutions deliver zero-day, agentless, data and threat protection for any app or any device. It renders unique agentless, browser-based approach, Good security, management and Good value including support. Deployment of this solution can become challenging.
Bitglass is a cloud-native CASB that can also be deployed in a docker container for on-premises client requirements. It combines forward and reverse proxy and API approaches, browser-based reverse proxy helps it catch threats that network-based reverse proxies might miss. Bitglass supports mobile and unmanaged devices, including mobile device management capabilities.
2.Ciphercloud:
CipherCloud focus is on end-to-end protection for data resident in the cloud. CipherCloud launched an encryption partner program back in 2012, but links to that page are now dead. Good security and compliance features, Office 365 and G Suite all are supported. CipherCloud's weak spot is that deployment can be challenging, but otherwise it's a solid CASB product and even offers niceties like Office 365 and G Suite support.
3.Cisco Systems Cloudlock:
CISCO's Cloudlock is an API-based Cloud Access Security Broker (CASB) solution. Cloudlock secures customer identities, data, and apps. Cloudlock apparently is part of Cisco's larger Umbrella security. Umbrella is a very popular and user friendly platform which encompasses strong security, ease of deployment and good automation, caveat that compliance and visibility could be better. Cisco Cloudlock came out on top for raw security, not a not the best selling point for a security product. The cloud-native CASB product makes use of APIs to manage risks.
Cisco uses machine learning algorithms to identify any anomalies based on a set of factors and moves to prevent any threat to the cloud infrastructure. Its data loss prevention (DLP) technology continuously monitors the cloud environment. Numerous out-of-the-box policies and the highly tunable custom policies make Cisco a formidable competitor on this list. The Cloudlock Apps Firewall ensures that all cloud apps connected to the enterprise IT infrastructure are regularly detected and controlled. Cisco is facing tuff challenge since CASB market has become very competitive, and customers keep on expecting improved functionality in compliance and visibility.
4.Forcepoint:
Forcepoint CASB provides cloud app security with visibility and control over sanctioned and unsanctioned cloud apps to enable their safe and productive use. Forcepoint provides a technology platform, professional services and training to help MSSPs succeed with the platform. Some of USPs of this product include security and behavior analytics and user-centric interface.
Forcepoint offers good security, management, behavior analytics and workflow, however, has earned some flak in terms of product development and problem resolution, which can be slow. In order attain and sustain the market leader community, Forcepoint needs to address teething challenges and transpire itself in this evolving CASB market.
5.McAfee MVISION Cloud:
Formerly Skyhigh Networks, MVISION Cloud provides three major CASB capabilities, McAfee claims: 
customers gain visibility into data, context, and user behavior across all cloud services, users, and devices.

customers can apply persistent protection to sensitive information wherever it goes inside or outside the cloud.

customers can take real-time actions deep within cloud services to correct policy violations and stop security threats.
McAfee acquired Skyhigh in November 2017. It scores high on detection, automation and intelligence combined with excellent service and support. However, some deployment challenges can spoil the broth.
6.Microsoft Cloud App Security:
The CASB solution gives customers visibility into cloud apps and services; analytics to identify and combat cyber threats; and enables customers to control how their data travels. Microsoft announced multiple CASB updates in September 2018. Cloud App Security is available from partners as part of the Enterprise Mobility + Security E5 or as a standalone service. Cloud App Security paid service is available.
Microsoft is an emerging security player, backed by independent tests, Good security and management. Caveat includes need for additional products for maximum effectiveness. Additionally, Compliance features could be better.
7.Netskope:
Netskope patented Cloud XD technology can quickly target and control activities across thousands of cloud services and millions of websites. It Improves compliance and risk management in addition to good security and management. Netskope is one of the top-notch solution, and stands very high in Detection and Response, Management, Support and Value. Its ability to identify and manage cloud applications, whether managed or unmanaged, stands out. Security gateways help prevent sensitive data being exfiltrated by risky insiders or cybercriminals who have penetrated the security perimeter.
The data-centric approach adopted by Netskope Security Cloud allows it to deliver impressive visibility and real-time data and threat protection whenever any PC or mobile device connects to the cloud. Its vast experience enables Netskope to offer the appropriate solution to the satisfaction of its clientele.
8.Oracle CASB:
Oracle CASB Cloud Service features include threat detection, predictive analytics, automated incident response and security configuration management. Oracle's channel program (Oracle Partner Network Specialized aka OPN Specialized) certainly has thousands of members.
9.Proofpoint CASB:
Proofpoint CASB helps customer to secure applications like Microsoft Office 365, Google G Suite and Box. Some of its key features include ease of deployment, good security and excellent support. One challenge is on report management. Proofpoint aims to satisfy the needs of a client on a limited budget. The CASB offering secures the major cloud offerings and ensures enterprises gain people-centric visibility and control over cloud apps. The tool allows enterprises to structure levels of access to users and third-party apps based on the identified risk parameters.
One of the critical advantages of Proofpoint is the granular visibility about user information and any risks to data. The insights are defined under three classes: global, user and app level. The CASB protocol offers extensive control for managing oversight of suspicious logins, activity and DLP alerts. Users are happy but report some challenges with management. Deployment times are faster than average.
10.Symantec CloudSOC:
Symantec allows organizations to gain visibility into shadow IT, apply governance over cloud data, protect against threats, and more easily ensure compliance, Symantec asserts. But, deployment can take longer than other competitors. Symantec's CloudSOC arises from the company's acquisitions of Blue Coat Systems and Fireglass – CASB and remote browsing technology, respectively.
The CASB product scores well in the all-important areas of Detection, Response and Management. It combines behavior analytics with other measures to come up with a ThreatScore to alert security analysts to the highest-risk events. Deployment can take longer than average, while Support and Value are about mediocre.
11.Fortinet FortiCASB:
Fortinet is more in independent testing than most security vendors, so not surprisingly, FortiCASB scores near the top in Detection and Response. Users are also positive about the company's performance, compliance, visibility and overall capabilities. Support is above average while Deployment is about average.
The only area the company lags in is Value – as per users reviews, it can get pricey. Strong security, Good overall capabilities, but High cost. Fortinet has subjected itself to more independent testing than most security vendors, so not surprisingly.
12.Palo Alto Networks Prisma:
It improves compliance, risk management and renders good visibility in addition to security. Multiple consoles may be needed for additional services. Palo Alto Networks has posted impressive third-party test results across its security portfolio, so it's not surprising that Prisma ranks high in security, and visibility and compliance are other strengths.
Prisma scored well across the board in our evaluation, with Detection and Response, Management, Deployment and ease of use noteworthy standouts. One downside could be the complexity of management as additional services are added, however overall users are satisfied.
13.StratoKey:
The product renders Solid security, management, deployment and value. It has strong partnership with the likes of Oracle and SAP. It offers solid security, management and value, and very less deployment times. Partnerships with vendors such as Oracle and SAP could make it a good choice for users of specific applications. Not a considerable user feedback is available presently.
Continue Reading:
What is CASB (Cloud Access Security Broker)?