What is a Terminal Server?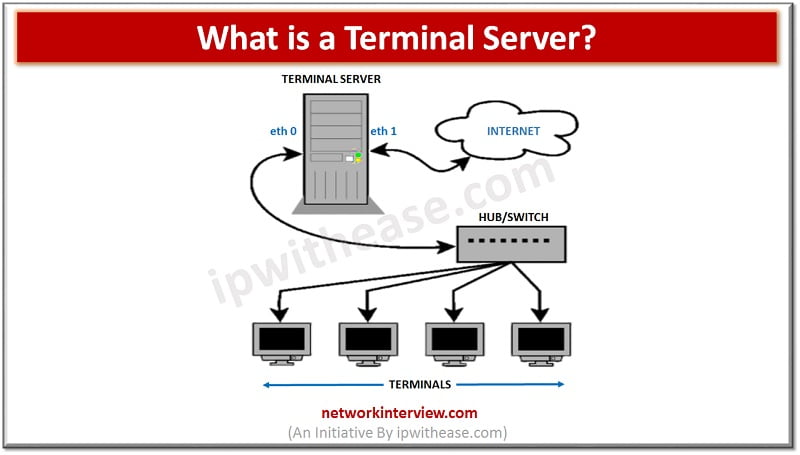 Introduction to Terminal Server
Nowadays in the IT community we define with the term Terminal Server, any hardware device or computer server that provides terminals, such as PC computers, printers and other devices with a common connection point to a local (LAN) or wide area network (WAN). 
The common architecture used for terminal servers is by connecting the one side with their RS-232C interface, a RS-423 serial port or UDP and the other side of the terminal server connected through network interface cards (NIC) to a local area network (LAN), a wide area network (WAN), Dial-Up modems, to an X.25 network or a 3270 gateway.
How a Terminal Server Works?
Although the way a Terminal Server works depends on different vendor characteristics, Windows based Terminal Servers use the Operating System OS in order to support multiple user sessions. This is different from multi-session environments that Windows file servers mainly use, because the operating system renders a user interface (UI) for each of these sessions. 
Most end users connect to a terminal server by applying the remote desktop protocol (RDP) client. The RDP protocol is a desktop or mobile application whose job it is to connect to the terminal server and display the session's contents.
On this type of architecture, the RDP client communicates with the terminal server through a connection port. The presence of a session manager component keeps all the user sessions separate and handles the relevant tasks such as allowing a user to reconnect after accidentally closing the RDP client. 
This kind of sessions are actually executed as a part of the terminal server services and the session manager is responsible for managing them. When a user asks for an interaction with a session through keyboard, mouse or touch inputs, those inputs are inserted within the RDP client. Then the RDP client transmits the inputs to the terminal server for processing. Finally, the terminal server is also responsible for executing all the needed graphical rendering, although it is the RDP client that actually makes the session visible to the users.
Advantages 
In the IT industry, many large enterprises have adopted Terminal Server technology for many years. The most essential advantages are presented below:
Remote Access to Systems:

The most essential advantage as mobility needs grow fast, is related to business executives and employees that need a robust remote access to their contacts, calendars and documents regardless of the current location and time. Therefore, Terminal Servers with a Remote Desktop environment, provide a great solution for today's mobility requirements.
Single Point of Maintenance:

The next most essential advantage is that using a Terminal Server environment, most crucial applications are installed on a terminal server rather than on individual terminal desktops. As a result, all the required application updates become much easier because there is only one copy of each application. There is no need to verify that application-level patches are applied to every desktop in the company's IT infrastructure.
Hardware Optimization:

Finally, last but not least is the fact that Terminal Servers offer to the IT department's the ability to squeeze more life out of their desktop computers. As the economy has seen better days and every enterprise is looking to make the most of their IT budget, all the processing power that occurs resides in the Terminal Server end, therefore all the desktops are essentially acting as dumb terminals. 
This particular implementation means that all the in use existing desktop hardware remains a practical option for much longer than it would if all applications were executed at local Terminals. Finally, running applications on a terminal server may allow organizations to purchase lower-end desktop hardware, resulting in cost savings.
Conclusion 
We addressed in this article how the Terminal Servers can be a huge improvement for any kind of Business in terms of cost saving and productivity. Also, the most important thing is that this technology should be managed by a proper IT scientists and engineers team inside a company. Finally, we hopefully rest on future Windows NT and Linux editions that will improve Remote Desktop Protocol to be more secure and reliable for various networking equipment connection interfaces.
Continue Reading:
Blade Server vs Rack Server vs Tower Server