Blade Server vs Rack Server vs Tower Server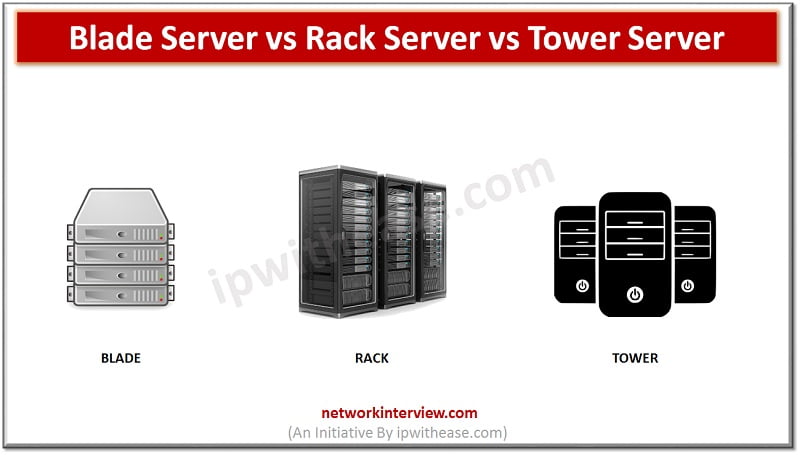 Introduction
Servers comes in different shapes, sizes, and configurations. Organizations take decisions about which servers to deploy depending on availability of data center space, performance, budget, and scalability.
In this article we will explore more about various types of servers – Blade Server, rack sever & tower server and understand their advantages and disadvantages and how each category fits into specific server requirements of data centres.
About Blade Servers
Blade servers are circuit boards within server enclosures and known for their high processing power and dense environment.  They are also known as expansions module.
Blade server enclosure has several modular circuit boards which are known as blades. These blades are stripped down to CPUs, network controllers and memory and some also has internal storage drives as well. The other components such as switches, ports and power supply or connectors are shared through chassis.
The enclosure typically fits as per rack unit measurements to save space. Blades can be clustered for high redundancy or can be managed individually by administrators as a separate server to assign it to specific applications and can have end user specific blades. This structure also supports hot swapping.
Blade servers have high processing power and they are designed to serve complex computing requirements. The high performance can be scaled if the data center where they are hosted have sufficient cooling and power requirements to support dense infrastructure.
Blade servers Pros and Cons
PROS:
There is no separate need for power and cooling requirement as chassis supplies power to blades and this in turn reduces energy expenditure.
Blade servers take up minimal space and have high processing power
Blade servers can host multiple types of software and applications such as primary OS, hypervisors, databases, web services and other enterprise applications
The monitoring is centralized, and it supports clustering for high availability, hot swapping feature which supports increased availability
CONS:
Initial deployment and configuration costs are high.
Highly dense blade servers require advanced climate control in data centres where they are hosted. Heating, cooling, ventilation is required expenditure to main high performance of blade servers.
About Rack Servers
 Mounted or standardized servers which can reach upto 10 feet height and good where space is a constraint in closely packed data center space. These are general purpose servers deployed to support broad range of applications and computing services. They are housed vertically to save space in data centres. Standard configuration for a rack server measured in units (1.75" tall * 19" wide).
Rack servers Pros and Cons
PROS:
Rack servers are self-contained units designed to run intensive computing operations and house everything within required to run as a stand alone or in a networked environment it has its own power source, CPU, and memory.
Highly efficient for use in data center having limited space. Easy to expand with additional memory, storage, and processors. If servers are clustered, then hot swapping can be done for rack servers for redundancy
Ease of management and energy costs are low.
CONS:
Densely populated racks require more cooling power which in turn raises energy costs. More the number of rack servers more will be the energy requirements.
More efforts on troubleshooting and management.
About Tower Servers
Tower servers are characterized for their high optimization and customization to support organizations high configuration and scalability requirements.
Standalone chassis configuration with minimal components is the characteristic of tower servers. No high-end graphic cards and high RAM or peripherals.
Meant for mid-size businesses who want to maintain customized upgrade path and can be configured as general-purpose servers, web servers, email servers, network servers etc. Customization can be inhouse to have one powerful server hosting applications and processes.
Tower installations require separate keyboards, mouse and display monitors and network storage can be shared.
Tower servers Pros and Cons
PROS:
Highly scalable as they come with minimal configuration and can be upgraded based on business needs and less expensive than a fully loaded server
Cooling costs are low as due to low component density
CONS:
Upgrade expenses could be high
Servers don't fit into racks and consume space in data center. Any upgrade or configuration change or troubleshooting require enclosure to be opened which is cumbersome
In Multi tower environment , investment is required separately for each switch
Blade vs Rack vs Tower servers
Below table summarizes the key points of comparison between these three:
PARAMETER

BLADE SERVERS

RACK SERVERS

TOWER SERVERS

Definition
An enclosure composed of circuit board with minimal components. It houses multiple blades and have power and networking requirements served through chassis
No external hard enclosure but housed in slots of rack structure.
Standalone server built in vertical structure. They usually come within minimal parts and pre-loaded software and can be optimized for specific needs.
Power
Less
More
More
Maintenance
Less
More
More
Cost
Lower priced
Highly priced
Less expensive and cheaper
Size
Smaller in size and compact
Large
Comparatively large
Cabling
Less cabling requirement
More cabling requirement
More cabling requirement
Business model
Majorly used by large organizations
Ideal for small and mid-size businesses
Ideal for small businesses
Design
Modular
Standalone
Standalone
Mount inside
Chassis
Rack structure
 Rack or stand alone
Operational cost
Lower costs to manage
High costs to manage
High
Examples
DELL M630, DELL M830, Lenovo Flex system x440, Lenovo x240MS, UCS B200M4, UCS B420M4
UCS C220 M4, HP DL360 Gen9, HP DL160 Gen9, DELL R630, Lenovo x3550 M5
HPE ProLiant, DELL PowerEdge
Download the comparison table: Blade vs Rack Vs Tower servers
Continue Reading: