VPN vs Proxy vs Tor: What's the Difference?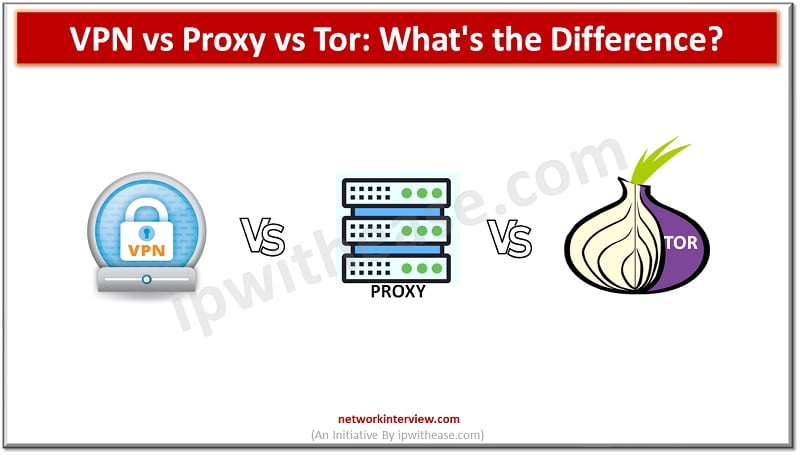 In today's digital age, protecting our privacy and security online has become increasingly important. With the rise of cyber threats and the constant tracking of our online activities, it's crucial to find effective ways to safeguard our personal information. Three popular tools that can help achieve this are VPNs, proxies, and Tor. While all three serve the purpose of enhancing privacy and security, they operate differently and offer varying levels of protection.
In this comprehensive guide, we will explore the comparison VPN vs Proxy vs Tor, and help you make an informed decision about which option is best suited for your needs.
What is a Proxy?
A proxy server acts as a gateway between a client and the internet. It allows clients to connect to other servers in a roundabout way, hiding their IP addresses and enabling them to access resources on the server's network that would otherwise be inaccessible. Proxies offer several benefits, including increased privacy, the ability to filter web content, and enhanced network safety.
Different Types of Proxy Servers
There are several types of proxy servers, each with its own unique features and functionalities:
Forward Proxy: A forward proxy server acts as an intermediary between a client and the internet, forwarding client requests to the internet and returning the response to the client.
Reverse Proxy: A reverse proxy server is positioned in front of a collection of web servers, directing client requests to the suitable web server and sending back the response to the client.
Transparent Proxy: A proxy server that is transparent intercepts requests from clients and sends them to the internet, without the client being aware that they are actually communicating with a proxy server.
Anonymous Proxy: A proxy server that remains anonymous ensures anonymity by not disclosing the client's IP address to the internet.
Distorting Proxy: The client's true IP address is masked by a distorting proxy server, which sends a different IP address to the internet.
High Anonymity Proxy: A high anonymity proxy server does not forward the client's IP address to the internet and also changes the client's IP address, providing the highest level of anonymity.
Understanding the different types of proxy servers is essential as it allows you to choose the one that best suits your specific needs.
How Do Proxy Servers Work?
Proxy servers act as intermediaries between client devices and target servers. When a client sends a request, the proxy server evaluates it and decides whether it can handle it internally or should be sent to another server. If the request is successful, the proxy server processes it and returns the result to the client. This process provides additional protection and anonymity for the client's connections.
What is Tor?
Tor, short for The Onion Router, is a free and open-source network of servers designed to provide anonymity and privacy to internet users. It routes internet traffic through a network of volunteer-run servers called "nodes" or "relays" before it reaches its final destination. The traffic is encrypted multiple times as it passes through the different nodes, with each layer of encryption being removed at the next node. This multi-layered encryption makes it extremely difficult for anyone monitoring network traffic to trace its origin or destination.
Tor Security Protocol
The Tor network employs a unique security protocol to ensure the privacy and anonymity of its users. As mentioned earlier, the traffic passing through Tor is encrypted multiple times, resembling the layers of an onion. Each layer of encryption is peeled off at each node, making it nearly impossible to track the origin or destination of the traffic. This high level of security makes Tor an ideal choice for individuals who value their privacy when using the internet.
What is a VPN?
A Virtual Private Network (VPN) is a software that allows users to establish a secure and encrypted connection between their device and the internet. When connected to a VPN, all internet traffic is routed through a remote server, effectively hiding the user's IP address and location. This not only enhances privacy but also provides an added layer of security, protecting the user's data from being accessed or tracked by third parties.
How Does a VPN Service Work?
When a user connects to a VPN, their internet traffic is encrypted and sent through a VPN server before reaching its final destination on the internet. The VPN server acts as an intermediary, hiding the user's IP address and location. This allows the user to access content that may be restricted in their country or region and protects their online activities from being monitored.
VPN vs Proxy vs Tor: Understanding the Differences
Now that we have explored the concepts of VPNs, proxies, and Tor individually, let's compare and contrast their key features:
Parameters

VPN

Proxy

Tor

Purpose
Secure and encrypt internet traffic, mask IP address
Serve as intermediaries for requests, often for anonymity
Anonymize internet traffic by routing it through multiple nodes
Encryption
Typically uses strong encryption, securing the entire connection
Encryption depends on the type of proxy; not always encrypted
Uses multiple layers of encryption (onion routing) for anonymity
Privacy
Offers a high level of privacy and anonymity
Provides varying levels of anonymity, depending on the proxy type
Provides strong anonymity but may be slower due to routing
Speed
Generally faster than Tor, especially with premium services
Speed varies depending on the proxy server and location
Tends to be slower due to multiple routing layers
Use Cases
Protect online privacy, access geo-blocked content, secure public Wi-Fi
Bypass content filters, access region-restricted content
High-level anonymity, evading censorship, whistleblowing
Logging
Some VPNs may log user data, so privacy depends on the VPN service
Proxies can log user data, potentially compromising anonymity
Tor nodes don't log user data, enhancing anonymity
Device Compatibility
Compatible with a wide range of devices and platforms
Varies depending on the proxy type; may require manual setup
Compatible with many devices but may need additional setup
Setup Complexity
Typically user-friendly with dedicated apps; easy setup
Setup can range from easy to complex, depending on the proxy type
Installation and setup may require more technical knowledge
Cost
Usually requires a subscription fee, with free options available
Free and paid proxy options exist; some paid proxies offer more features
Free to use, with optional donations to support the network
Security
Provides strong security and encryption for data protection
Security varies depending on the proxy type and server
Offers strong security, especially for anonymity purposes
Legal and Ethical
Legal in most countries; ethical considerations depend on use
Legal in most countries; ethical concerns depend on use
Legal in most countries; ethical usage encouraged
Centralization
Controlled by VPN service providers, potentially centralized
Controlled by proxy server owners; can be centralized or decentralized
Decentralized network, no single controlling entity
Speed and Performance
Generally offers good performance with minimal impact
Speed depends on the proxy server's location and load
Slower due to multiple hops, impacting performance
Anonymity Level
Provides good anonymity but may log user data
Varies depending on proxy type and provider
Offers a high level of anonymity, with no centralized control
Download the comparison table: VPN vs Proxy vs Tor
Which Is More Efficient: VPN vs Proxy vs Tor?
The efficiency of VPNs, proxies, and Tor depends on the specific context and requirements. If your top priority is protecting your anonymity and privacy online, Tor may be the best choice. However, due to the additional layers of encryption, Tor may not be ideal for high-bandwidth tasks like streaming or gaming, which rely on a fast internet connection. VPNs offer a balance between security and speed, making them suitable for a wide range of online activities. Proxies, while useful for specific purposes, may not provide the same level of security and privacy as VPNs or Tor.
Conclusion
In conclusion, VPNs, proxies, and Tor are valuable tools for enhancing privacy and security when using the internet. Each option has its own unique features. It's important to note that the choice between VPNs, proxies, and Tor depends on your specific needs and priorities, such as privacy, security, speed, and anonymity. Each technology has its advantages and limitations, and the right choice depends on your individual use case.
By understanding the differences between these technologies, you can make an informed decision and enjoy a safer and more private online experience.
Continue Reading:
SDP vs VPN: Understand the difference