Tips for Remote Monitoring and Management Devices to Improve Enterprise Security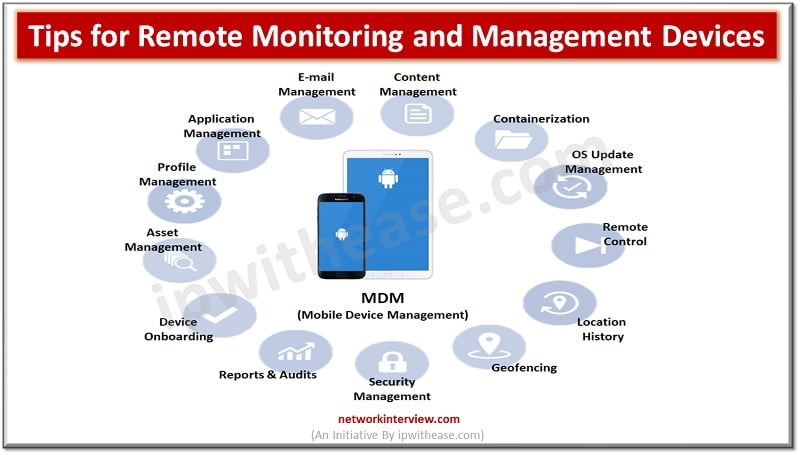 In today's fast-paced and interconnected world, businesses rely heavily on technology to streamline their operations and stay competitive. With the rising quantity of enterprise devices and the increasing complexity of IT systems, it has become essential for companies to manage device fleets effectively. Mobile Device Management(MDM) solution allows businesses to proactively monitor and manage their systems, networks, and devices from a centralized location, ensuring optimal performance, enhanced security, and improved productivity. 
In this article, we will explore the key benefits of remote monitoring and management for businesses and how it can revolutionize the way organizations operate.
Benefits of Remote Monitoring and Management Devices
Proactive Maintenance for Seamless Operations
One of the primary advantages of remote monitoring and management software is its ability to enable proactive maintenance. With sophisticated monitoring tools, businesses can uncover potential issues and address them before they escalate into major problems. By continuously monitoring their devices, organizations can detect subtle signs of trouble and take preventive measures to avoid downtime. 
The remote monitoring capabilities allow IT teams or managed service providers (MSPs) to identify failing components, software issues, or security vulnerabilities. By resolving these issues proactively, businesses can ensure uninterrupted operations, minimize productivity losses, and maintain a high level of customer satisfaction.
Enhanced Security and Incident Response
In today's digital landscape, cybersecurity threats are a constant concern for businesses. MDM is crucial in managing enterprise devices to ensure an organization's security posture. With real-time monitoring, businesses can identify any suspicious activities or potential security breaches. 
MSPs equipped with robust security tools and a skilled team of security experts can quickly investigate the root cause of the incident and mitigate any potential damages. This proactive approach to security ensures that businesses can safeguard their sensitive data, protect their reputation, and maintain compliance with industry regulations.
Rapid Problem Resolution for Uninterrupted Productivity
When IT issues arise, time is of the essence. MDM allows to remote access the attended or unattended devices for rapid problem resolution. IT teams can remotely access and control devices, and applications to diagnose and fix problems efficiently. This remote troubleshooting capability eliminates the need for physical intervention, reducing downtime and minimizing productivity losses.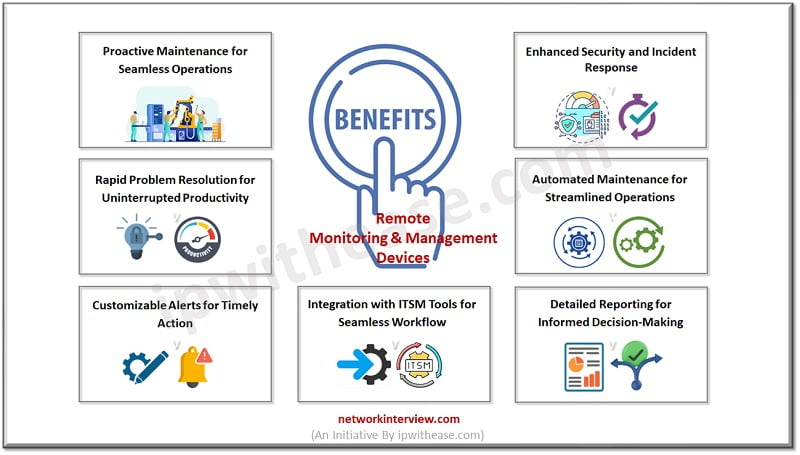 Automated Maintenance for Streamlined Operations
Manually performing routine maintenance tasks can be time-consuming and prone to human error. MDM automated essential workflows, such as application updates, device status monitoring, and network configurations. By scheduling these tasks and automating their execution, businesses can ensure that their devices are up-to-date, secure, and optimized for performance. 
This automation not only saves time and effort but also reduces the risk of overlooking critical updates or misconfigurations. With remote monitoring and management software, businesses can streamline their operations, improve efficiency, and focus their IT resources on more strategic initiatives.
Customizable Alerts for Timely Action
MDM solutions provide businesses with customizable alerts tailored to their specific needs. These alerts can be set to notify IT personnel through email, enabling them to take immediate action. 
Whether it's a sudden spike in data traffic, a low battery, turn on or turn off, or a security incident, timely alerts ensure that IT teams can analyze the situation promptly and resolve issues before they impact business operations. Customizable alerts empower organizations to stay proactive, responsive, and in control of their IT environment.
Detailed Reporting for Informed Decision-Making
MDM gathers a wealth of data from devices and applications, providing businesses with detailed reports on the health and performance of their IT environment. These reports offer valuable insights into the overall device status and security posture. By analyzing these reports, organizations can make more informed decisions about their IT investments, identify areas for improvement, and optimize their infrastructure for maximum efficiency. 
Detailed reporting enables businesses to have a comprehensive overview of their IT environment, empowering them to align their technology strategies with their overall business goals.
Remote Monitoring and Managing Devices Effectively with AirDroid Business MDM Solution
AirDroid Business is a powerful mobile device management solution that enables businesses to configure their Android devices for maximum security and productivity. It offers comprehensive features, such as remote monitoring and management, applications management, location tracking, kiosk mode & policy, alerts & notifications, automated workflows, and bulk file transfer, ensuring the stability of your Android endpoints and bringing continuity to your mobile business.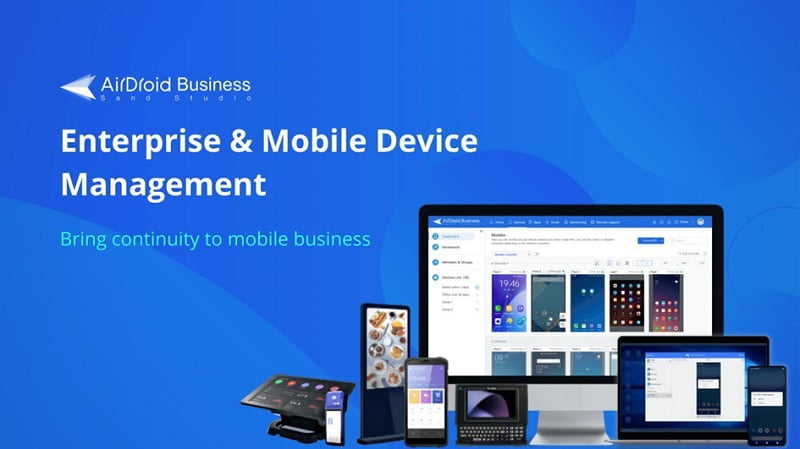 Remote monitoring and management
AirDroid Business MDM provides a centralized dashboard from where you can effectively monitor all the devices' status, device screen, data usage, battery usage, location, etc. What's more, device grouping allows IT teams to better manage specific devices.
Remote access and control
The remote control feature enables IT to remotely access and control the attended and unattended devices, minimizing downtime and increasing efficiency. By turning on the Black Screen Mode, the device will be temperately blocked and reminded " The device is under maintenance" on the screen while remote controlling, which can better protect the company data.
Application Management
Configure, deploy, and manage business apps over-the-air with rich rollout options tailored to meet the specific needs of your business. Supports Google Play Store and enterprise app store solutions.
Geofencing & Tracking
Monitor all registered devices to ensure they are working properly in the right places. Track device location and status using a dashboard or set up geofences to get alerted when a device enters or leaves a virtual boundary, giving you full visibility so you react fast when a pressing situation arises. Additionally, it allows to remotely wipe the device data if it's lost or being stolen.
Timely Alerts & Automated Workflows
Receive early warnings when the system identifies abnormal occurrences and use automated workflows to handle problems as soon as possible, increasing efficiency and lowering maintenance costs.
Security Policy
You may increase device security and avoid data breaches or leaks by creating a comprehensive security policy that includes banning USB file transmission, prohibiting the installation of hazardous programs, etc.
Conclusion
Mobile Device Management solutions have become indispensable tools for businesses seeking to optimize their operations, enhance security, and improve productivity. From proactive maintenance and enhanced security to rapid problem resolution and automated maintenance, MDM software offers a wide range of benefits. 
Remotely controlling and managing device fleets further empowers organizations to stay proactive, make informed decisions, and provide seamless support to their end-users. By embracing remote monitoring and management, businesses can unlock new levels of efficiency, reliability, and scalability in their IT infrastructure, setting the stage for sustainable growth and success in today's digital age.