7 Risks of Giving Out Your Phone Number to Just Anyone: Cyber Security Alert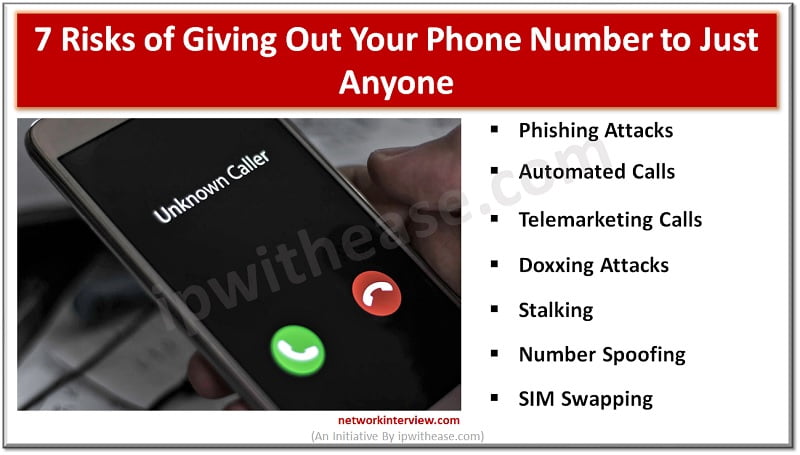 Many people don't think twice about giving out their contact numbers. But did you know that this seemingly ordinary practice could expose you to a variety of threats?
The fact is, your phone number belongs to personally identifiable information, commonly known as PII. This means it is a unique piece of data linked to you. Think about it for a moment: your bank accounts, online shopping carts, social media profiles, and various other critical services use your contact number to identify and verify your authenticity. This naturally makes it a valuable data point you should keep secure.
If you are not convinced, let's examine seven very real risks you stand to encounter by disclosing your phone number to total strangers.
Risks of Giving Out Your Phone Number to Just Anyone
There are many instances when you would willingly allow strangers to access your contact number. You might share it with someone you meet at a party or put it up on your website, hoping to attract new clients for your business. But all these practices could open the door to unwanted trouble.
1. Phishing attacks
When a scammer gets hold of your number, they could target you for a voice or SMS phishing scam, often known as vishing and smishing, respectively.
These threats are designed to trick you into divulging personal information that could compromise your identity. For instance, a fraudster may call you imitating tech support staff and ask for your account passwords on the pretext of updating software or removing a malware threat.
2. Automated calls
In 2022, the FTC received over 1.8 million complaints regarding automated calls, making it an alarmingly widespread threat.
Robocalls involve pre-recorded messages used for various purposes. Some of them, such as medical appointment reminders and check-ins, can be undoubtedly beneficial. However, when your phone number makes its way into a robocall list, you could also get swamped by automated marketing calls. Some could even be related to scams that put your personal safety at risk.
3. Telemarketing calls
According to one research, telemarketers make around 148 million calls per day. These are mostly unsolicited cold outreach efforts for which phone users have not signed up. And they typically involve product, membership, and subscription sales.
Receiving such calls when you are at an important meeting or fast asleep at night could be annoying. But as long as they are genuine telemarketers, you only need to deal with the hassle and inconvenience. Remember, some of them could even be racketeers in disguise. They may, for instance, target you for phishing fraud while impersonating telemarketers. If you hand them over your payment details, address, or other sensitive information, the repercussions could be graver.
4. Doxxing attacks
This involves a malicious individual publishing your contact details online without your consent, usually in an attempt to seek revenge.
When your phone number appears with your name and other information in the public domain, you could become the subject of various spam and fraudulent activities.
5. Stalking
By frivolously sharing your contact number, you could be encouraging stalkers not just to call and harass you but also to find out more about you. For instance, they could use your number to track your location via GPS or search for you on social media and stalk you online.
6. Number spoofing
With social engineering technology, scammers can imitate or spoof your mobile number and initiate a range of scams under your identity. They may, for instance, carry out voice phishing fraud using a number similar to yours. As a result, you could get blacklisted or, even worse, face criminal charges.
7. SIM swapping
This is when criminals assume your identity and contact your mobile carrier to inform that you have lost your phone. With enough personally identifiable information, they will convince the carrier to cancel your SIM and transfer the number to a new one they hold. This enables fraudsters to access your online bank accounts, emails, shopping carts, and other accounts that rely on sending passcodes to your phone for two-factor authentication.
Keeping Your Phone Number Safe
So, how can you ensure your safety by keeping contact information secure? To begin with, search for your number on PhoneHistory to check what personal information is connected to it. This will give you an idea about the type of data at stake when your contact number is compromised.
Next, take these measures to protect your contact details:
Share your number only when there is a legitimate reason. For instance, your bank or lenders would naturally need it to get in touch with you. But your movie streaming service or social media users might not.
Google your phone number and go through each result. Then, delete your contact details from each website you can access on your own, including social media platforms and personal blogs. Also, request third-party sites to delete what they hold.
List all online accounts you have created, from Gmail to Facebook, and delete your contact number from them unless there is a valid reason.
Use a secondary number for business purposes. This will allow you to keep your personal contact details private.
Register your number with the FTC's Do Not Call Registry to block telemarketers from reaching you.
Never engage with unsolicited or scam callers. If you notice anything suspicious, hang up the phone.
Avoid phishing attempts by limiting how you share personal information.
Ward off malware-related threats with a reputed anti-virus software.
Final Thoughts
In the event your phone number is compromised, taking immediate action to minimize damage is important. Change all account passwords, notify your bank and mobile carrier, and inform your loved ones if you think your number has been hacked. Moreover, alert the FTC and the police about phishing, doxxing, stalking, spoofing, or SIM-swapping attempts.
Remember that most of these crimes are committed by putting together several pieces of personal information in addition to your phone number. So, keeping all your PII secure is also essential to ensure overall safety.
Continue Reading:
Phishing vs Spam: Cyber Attack Techniques