Phishing vs Spam: Cyber Attack Techniques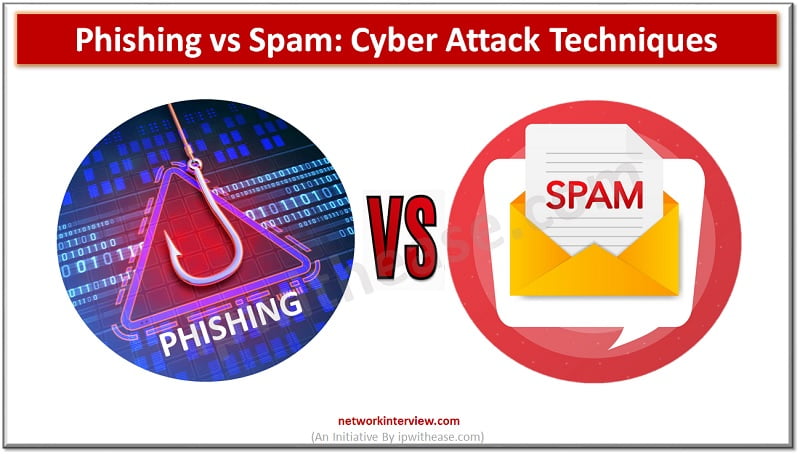 Cyber Attack Technologies
Various forms of cyber attacks are prevailing these days and method of attack sophistication has reached new levels where now attackers are not limited only to fake websites, messages or emails but also focus is on theft of data from social media platforms and failure of security systems. Social engineering attacks are on rise which trick victims into disclosing confidential, personal or sensitive information and then use it for financial gains or to bother cybercrimes. 
Today we look more in detail about two cyber attack techniques: phishing and spam, how these attacks are carried out, how to identify such attacks, steps that can be taken to avoid not being a victim of such attacks and so on.
What is Phishing?
Cybercriminal's cheat and obtain confidential information in deceiving ways such as passwords, or information about credit cards or other banking details, which could lead to financial loss. Social engineering techniques such as obtaining necessary information by manipulating legitimate users is on the rise. Cybercriminal or attacker poses as a person or business of trust in an official communication usually via an email or instant message, social networks, or even using phone calls. 
Related: Spear Phishing vs Phishing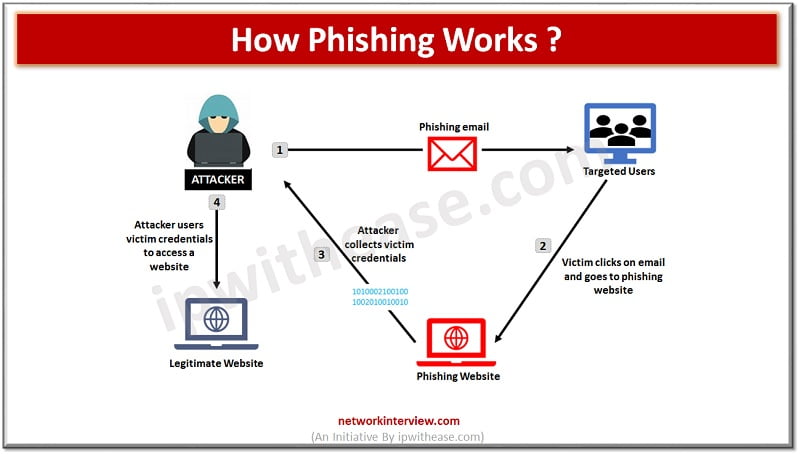 Such emails usually contain a malicious link which when clicked lead to false web pages letting users believe that they are at a trusted website and provide requested information which goes into spammer hand.
The SMS based phishing attack which is also known as smishing is the one in which a user receives a text message to visit a malicious link or 
A vishing kind of phishing attack is the one where user receives a call from a bank or some other financial institution asking for verification of personal details which attacker could use to steal money. 
What is Spam?
Spam is nothing but a flooding of mailboxes or systems with unwanted messages sent by unknown senders, which you have not requested or desired are sent in large numbers. The nature of most of the spam mail is to advertise a product or service. Spammers buy databases which include thousands of email addresses and often mask the origin of message or sender information with the intent to damage or choke systems. 
Spams are also used by hackers to create problems for network administrators but flooding systems, taxed bandwidth, unwanted use of storage space etc. 
How to protect from Phishing and Spam?
Don't click on unsolicited emails or links 

Don't enter your personal sensitive information on unsecured sites if the site URL not starting with HTTPS and a padlock symbol don't enter any sensitive information or download any files from such sites

Rotate your passwords regularly and enablement of multi factor authentication is a good strategy to secure passwords

Make sure your system has latest security patches and updates are installed 
Comparison Table: Phishing vs Spam
Below table summarizes the differences between the two cyber attack technologies: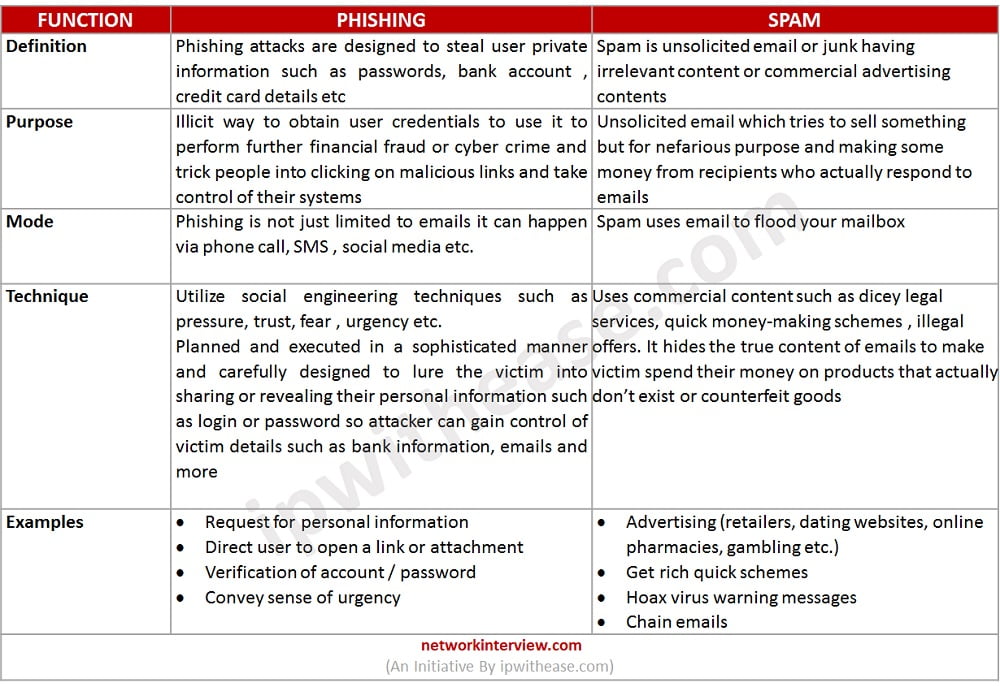 Download the comparison table here: Phishing vs Spam
Continue Reading:
What is Spoofing? Detailed Explanation