Top 10 ServiceDesk Solutions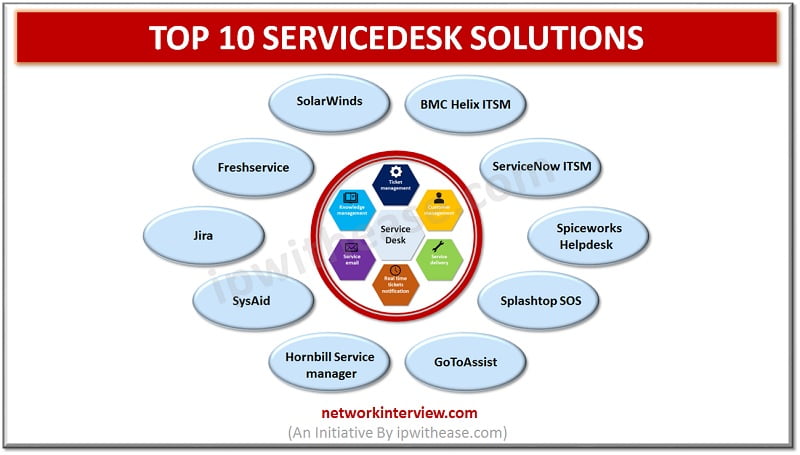 ServiceDesk softwares are designed to provide ticketing platform for internal IT Service management. Service desks are single point of contact (SPOC) within a company to support employees to receive help from IT department or an outsourced agency on submission of issues through a portal when problem arise. Service desks providing both incident and service management functionality and have tools or modules to provide asset management, knowledge management , change management services. Its facilities IT department to stay organized and assist employees in a quicker manner in resolution of issues.
In this article we will look at top 10 ServiceDesk softwares and their features and functionalities.
Top 10 ServiceDesk Solutions
SolarWinds –
Its value lies in its IT management capabilities. It can handle local area network or setup IT security without a glitch. Solarwinds was previously known as Samanage Service Platform and fully integrated cloud-based service desk and IT asset management solution. The system allows natural flow of tickets into problems, problems into changes and audit trail. API is easy to integrate with Sharepoint system and automate tasks like creation/ separation etc.
Its auto discovery feature aims to accurately and in cost effective manner map and manage technology assets. It enables to consolidate asset information from multiple repositories , provide real time intelligence on assets and flexible in collecting and managing data. It eliminates manual burden of managing tickets and uses artificial intelligence and machine learning to help to streamline IT support services and enhance employee self-service.
ManageEngine ServiceDesk Plus–
ManageEngine ServiceDesk Plus solution  has been recognized by Gartner twice for its completeness of vision and ability to execute. Some of key features of the ManageEngine ServiceDesk Plus are: ease of usage, user friendliness, Smart automation, Extensive reporting capabilities and powerful integrations with IT management apps.
Freshservice –
It is a powerful tool with full suite of IT support tools and offers flexibility when it comes to ticketing system. It is a cloud hosted service desk software having built in CMDB functions and fully ITIL ready. It has several solutions to manage tickets, problems, changes, releases, and service catalogue. With this software we can track, prioritize  and automate resolution process. Resolved tickets sent via email, self service portal, phone or in person , setting multiple SLA policies, converting solved incidents into knowledge base , user friendly catalogue , elimination of manual tasks with automation functions and collaborate better with teams using built in chat feature.
Processes can be standardized as per ITIL framework that can isolate problems, perform root cause analysis, plan and rollback changes and document   build and test plans. Individual and team workflow can be streamlined and facilities collaboration with team members in real time, project progress monitoring, and complete visibility into project details and milestones.
Its asset management feature allows to take complete control on IT and non-IT assets. Inventory management , asset repository maintenance, assets lifecycle monitoring , asset information Updation etc. are supported. It is accessible from Internet connected device and integrates with other 3rd party services and applications.
Jira –
It is a comprehensive and ideal solution for developers, managers, and support roles. It simplifies and automates service support tasks via intuitive features including self service which allows customers to find helpful details, automation of repetitive tasks, SLA management, reporting of metrics, and real time collaboration etc. The self-service feature based on AI engine recommends the right service and learns from interactions.
Jira software integration let link IT tickets to dev team backlog to identify root cause of a problem proactively. Customizable service desk with 350 compatible apps. The solution is self-hosted or on cloud having preconfigured IT and customer service templates, business processes and automation rules, built in email support.
SysAid–
It is an integrated helpdesk, asset management, ITSM solution which provide all essential tools for analysing and optimizing IT performance. It uses a modular approach and start with single module and add others as team and operations require it. Top brand companies like Coca cola, Ikea, and adobe use SysAid solution having core modules for helpdesk, ITSM, asset management and analytics. Helpdesk module has platform which includes ticket management tool, IT asset management, self-services portal, mobile device management, chat, password reset, mobile apps, industry benchmarking etc.
It can automate tasks like logging tickets , management of issues, resolve IT problems from anywhere using software remote control capabilities. SysAid let you manage incidents, problems, changes, SLAs, knowledge base. Gives full control and insight over IT assets – hardware, software, licenses , mobile assets. It can be deployed on local machines or on cloud and ideally suited for small and medium segment organizations. It comes with three main features namely BI analytics, team viewer and GFI software for patch management.  It can be integrated with dozens of 3rd party applications, supports multiple languages, and runs on OS and mobile devices.
Splashtop SOS –
It is a best value remote support software solution for IT and support teams. It can securely connect on demand to users' desktops and mobile devices with simple session code or with unattended anytime access. On demand support access to Windows, Mac, iOS, and Android . Unattended anytime access to Windows , Mac, and Linux systems , screen sharing for collaboration, remote view of iOS screens in real time, file transfer – remote reboot and reconnect, chat , user management , customer branding – integration with PSA tools, are some of features of this product.
Hornbill Service Manager –  
It is a SaaS and IT service management solution with capabilities like self service portal which is intuitive and highly configurable , service catalogue to define services across different internal service providers , Knowledge management contains traditional knowledge articles and also captures knowledge from conversations, CMDB database to support incident, problem and change management processes.
It is designed in line with ITIL framework. Have strong reporting and analytical capabilities which allows customers to create reports using measures, widgets, and scorecards and a native report designer tool with filtering, sorting, and publishing capabilities. It offers asset management, document management, timesheet management and project management capabilities as well.
BMC Helix ITSM –
It has cognitive service management enabled with automation, AI, and ML and provides high degree of efficiency and productivity. The software can perform proactive and predictive tasks with the help of repetitive help desk functions. It offers virtual agents and chat bots to work on L1 tickets and users can interact with system and submit tickets via email, mobile and social media such as Facebook and Twitter.
ServiceNow IT Service Management –
It is a PaaS which provides infrastructure to manage, deploy suit of applications. Their SaaS component runs on top of platform and supports ITSM to automate business workflows and processes. The software is designed inline with ITIL best practices and support large size organizations. It has modular applications and accessed via browser or mobile application.
It offers service management modules like incident, change, request, problem management, performance analytics, application portfolio management, discovery and service mapping, cloud and event management , license, HR asset management, security incident and vulnerability response , compliance , customer service management, agent workforce, multiple channel , self service portal, employee service center, document management etc.
Spiceworks Help Desk–
It is 100% free cloud-based IT helpdesk and ticket management tool. It is fully supported by ads. The software is free and offers unlimited ticket service system, and support from developers of community. It deploys helpdesk on cloud or in premises infrastructure. It comes with ticket management, alerts, self-service portal, email integration, IT asset management etc. reports can be generated of tickets update and their priority.
GoToAssist –
Its remote support helps service and support people to resolve technical issues related to customers, employees, unattended systems, and servers. It has desktop and web-based application for agents to choose the interface for support. Unattended installer supports devices access and allows to view details about it such as operating system, version , DNS name, IP Address and MAC address.
Session reports let view detailed description about past sessions within specified date ranges, session recording feature allows storage of support session recordings for 90 days. Sharing of documents, chat sessions , shared screen viewing are some of the additional features of the product. Other technicians can be invited to support sessions and even transfer remote support sessions to other agents.
Summarized Table: Servicedesk Solutions
SERVICEDESK SOLUTIONS

DEPLOYMENT TYPE

FEATURES

SolarWinds
Cloud hosted
-Versatile customization and automation features

-Service catalogue

-ITIL ready

-Vast knowledge base

-Integration with 200+ applications

ManageEngine ServiceDesk Plus
Cloud or On Premises
-Ease of usage

-User friendliness

-Codeless customization

-Smart automation

-Powerful integrations with IT management apps

Freshservice
Cloud hosted
-Intuitive user interface and require little training

-Software operates via various channels

-Powerful automation capabilities

-Incident and asset management add on

-24/7 self-service portal

-Integration with 100+ 3rd party apps

Jira
Self-hosted or cloud hosted
-Multi-channel ticketing system

-Self service portal

-Robust documentation and knowledgebase

-Service desk expansion with 500+ apps found on Atlassian Marketplace

-Repetitive tasks automation

SysAid
Local machine or cloud hosted
-Employee and customer self-service portal

-Strong documentation and knowledgebase

-Automatic discovery of IT assets

-Automation and service Orchestration with apps

Splashtop SOS
On Premises
-Access with session code

-Unattended remote access and control

-Custom branding

-Robust security

Hornbill Service manager
Cloud hosted
-Quick to deploy

-No coding required and ease of configuration

-Visual drag and drop management of work

-Track timelines, history, and progress of projects

BMC Helix ITSM
Cloud hosted
-Execute proactive and predictive tasks

-Virtual agents and chatbots

-ITIL aligned processes

-Useful reports and visuals

-Multi cloud and mulit device (IoT) support

ServiceNow IT Service management
Cloud hosted
-Highly flexible solution

-Easy to customize

-Real time analysis and reporting

-Data confidentiality and integrity

-Improved operational tracking

Spiceworks Helpdesk
Cloud hosted or on premises
-Help desk mobile app

-Ticket submission via multiple channels

-Self-service user portal

-Add on apps 150+

-Active directory supported

GoToAssist
Cloud hosted
-View iOS devices

-View and control Androids

-Unattended access of Android devices
Download the table: ServiceDesk Solutions

Continue Reading:
Top 10 Helpdesk Software Solutions