Top 10 Helpdesk Software Solutions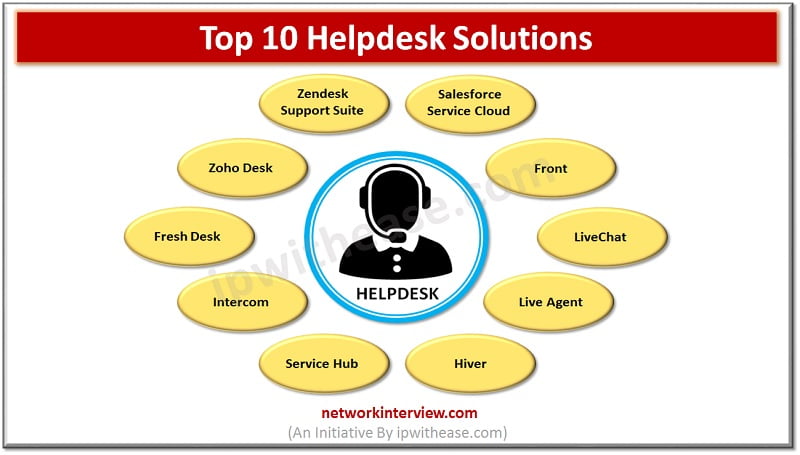 Introduction to Helpdesk Software
Helpdesk software are designed to provide customers information and support on company's product and services. Customer can inquire or submit requests for information or support via multiple communication channels be it email, mobile, phone, social media etc.
Helpdesk software providing a ticket management system for organization staff to organize and respond to customer queries in an efficient manner and create information portal on company website. Helpdesk software are being used by customer service teams to streamline support process and perform analytics into customer services across multiple communication channels.
In this article we will look at top 10 helpdesk software and their features and functionalities.
Top 10 Helpdesk Software Solutions
ManageEngine IT Help Desk Software –
One of the best Helpdesk software solution that deserves mention is the "ManageEngine IT help desk software". It has earned its place in list of some of the top names due to its powerful and seamless integration with other IT management apps, avant-garde automation, extensive reporting proficiency, customization without code and flexibility to have on-premise or Cloud deployments. You may download a free trial of ManageEngine ServiceDesk Plus Now!
ManageEngine has also been recognized by Gartner for two consecutive years for its completeness of vision and ability to execute.
Zendesk Support Suite –
It has all elements of an efficient helpdesk system, comprising flexible ticketing management, multi-channel support, and advanced reporting and analytics. It also has knowledge base feature which allows to build communities. It fits for small businesses but scalable too for large enterprises. Standout feature is ability to host communities to enhance the self-service portal, customers can share and exchange answers to queries and self-service module also has smart search tool and 24/7 access to support guidelines and FAQs. It can be used both by internal and external users. Other features also include mobile support, off shelf integrations, group rules, macros, and processes automation. Unique features of Zendesk are: Communities, out of box integration and multi-channel support.
Zoho Desk –
It is a powerful support desk platform having all tools required for customer support processes to improve reporting and productivity. Powerful reporting features generates are useful in monitoring agent performance, make data driven decisions. It has automation capabilities, multi-channel support, allow user to deliver timely and accurate support to customers. It allows customer to post queries via social media. Agents can choose what system to use in handling issues related to ticketing or live support. It gives ability to create knowledge base that customers use to find solutions and address their own concerns. Unique features of Zoho desk: context aware AI, powerful reporting, social media channel support, knowledge base creation.
Fresh Desk –
It is a comprehensive yet simple to use helpdesk solution which can fit any business size. There is a free trial plan also available to try out key features in advance. Its mobile apps for Android and iOS are very robust. The user interface (UI) is simple and smooth with features like ticket management automation to social media integration and self-service, a unified email with smart sorting and automated routing and powerful analytics features to benchmark agent performance and KPIs related to ticket volume, resolution time and repetitive customer complaints. Unique features of Fresh Desk are:  Mobile apps, unified mail, self-service portal, time tracking and configurable ticketing information.
Intercom –
Supports both chat and email. Intercom has detailed filters and customer profiles which make it easier to find any tickets. It watches customer interactions on the site and keeps track of pages they visit. Its support interface gives ease of navigation between emails and reply chat style messages. Support center can be integrated into mobile app with Intercom iOS and Android core and respond directly while moving. It can send automated messages and marketing messages to customers. Unique features of Intercom are:  engagement and adoption, outbound email and product messaging, push messages, custom bots, Banners etc.
Service Hub –
Free live chat software for small and medium businesses. The platform enables companies to build self-service solution and delivers exceptional experiences to customers. Agents are empowered to respond to user queries in real time, promotes instantaneous communication. Some of its key features are: – ticketing, live chat, shared inbox, conversation tools, meeting scheduling, NPS survey, and HubSpot CRM tools. Managing contacts, deals, requests, and scheduling appointments are easier to manage. Customer interactions and details are centralized to make it easy to monitor sales pipelines activities progress.  Unique features of Service Hub are:  Deliver real time personalized response, powerful feedback and advocacy tool, self-service solution.
Salesforce Service Cloud –
Solution is designed for all size businesses. Service cloud helps to provide world class customer support. Unification of client data across several departments gives 360-degree view of customer. Data access from single platform facilities quick response to customer with right information. It also offers a branded self-service support site so customers can find out answers of their queries. Cases can be handled more efficiently via an intuitive console saving lot of time in clicking, scrolling, switching between different tools to get information as required. Process automation tool allows to eliminate repetitive tasks. It has AI tools like Chabot, and automatic triaging to reduce agent handling time in person. Unique features of Salesforce service cloud are: complete customer service solution, pre-build business apps, industry best knowledge management solution.
Front –
Its interface is more like email apps. Team email inboxes can be monitored with a three-column design to show accounts, list of messages, and selected message in one view. Mails can be assigned, snooze message until later, adding tag to emails to find them in future, add comment to get more information from other team members. It works great for support on anything else as well apart from emails on same inbox with your team members. It can work on more than one email too and includes a built-in twitter and Facebook integration which allow users to view mentions and messages and reply them right in front. Or connect to Twilio, Truly or Intercom to add an inbox for SMS messages, phone calls, and chat. Unique features of Front are:  Unified inbox, auto reminders, auto responders, multi-channel management, real time analytics, social media integration etc.
LiveChat –
It is a premium helpdesk software for businesses. It is designed and built to deliver exceptional customer services and ideal for small, medium, or large businesses. Livechat helps both agents and sales teams. Chat widgets can be added to website and multiple communications channels can be managed from single dashboard which include email, chat, SMS, and website. Livechat offers integration with other common software platforms such as salesforce, Facebook messenger, shopify, HubSpot, Pipedrive and WhatsApp. It makes it easier to manage messages, offers sneak peeks, customer details, and agent groups. Allows to share announcements Unique features of LiveChat are:  proactive chat, chat rating, chat routing, operator monitoring, canned responses, and mobile optimization etc.
Live Agent –
It is a top-notch solution having wide range of feature set including multi-channel support. Live chat, email and social media together gives customer choice to choose the way they prefer to reach out. It is designed for small businesses but scalable to enterprises with features of gamification, web embedded contact forms and collaboration space. With unified inbox and smart automation small teams can handle volumes of tickets with ease. Application ingrates with Social media pages – Facebook, twitter etc. it has rich documented API for 3rd party apps to align functions with workflows. Unique features of Live agent are: – Multi channel support, unified inbox, social media integration, custom workflows.
Hiver –
First kind of platform created for Google workspace. It empowers Gmail inbox with features like workflow automation, workload distribution, collision alerts, activity timelines, and collaborative options. Existing inbox can be transformed into fully functional helpdesk without any additional requirement to learn a new tool or software. It connects business communication platform to slack, and ingrates with 3rd party systems using Zapier. Data import /export can be streamlined, and Hiver can be accessed using both Desktop and mobile devices. Hiver is a certified Google partner and SOC 2 Type II compliant and ISO 27001 certified. Unique features of Hiver are: Google based helpdesk, simple collaboration tools, deep insight on performance.
Summarized Table: Helpdesk Solutions
HELPDESK SOFTWARE

DEPLOYMENT TYPE

FEATURES

ManageEngine IT Help Desk
Cloud or On Premises
-Ease of usage

-User friendliness

-Codeless customization

-Smart automation

-Powerful integrations with IT management apps

Zendesk
Cloud hosted
-Highly flexible ticket management system with automated workflows and multi-channel support.

-Strong knowledge base portal and community forum with customer facing web interface

-Robust reporting and analytics with open API

-Both public and private forums with good mobile support for iPhone, iPad, Android, etc.

Zoho desk
Cloud hosted
-Omnichannel ticket management

-Highly configurable and ease of management

-Simple and intuitive UI design

Freshdesk
Cloud hosted
-Convert emails to tickets

-Intuitive reporting system to track team performance

-Intelligent automation feature to automate ticket assignment

-Inbuilt knowledge base o have quick response to an issue

Intercom
Cloud hosted
-Audience segmentation

-Behaviour triggered messages

-Customer user profiles

-Creation of Email campaigns

Service Hub
Cloud hosted
-Creation of helpdesk by adding routing and tickets automation

-Resolution of critical issues faster by prioritization

-Gather feedback to build better customer experience

-Features like team mail, conversations, knowledge base etc.

Salesforce service cloud
Cloud hosted
-360-degree view of customer with lead contact management and task management process

-Good hold on activity feed, activity tracking and collaboration tools for ease of use

-Flexible customization process for customer to create own custom profile

-Good user interface with features like auto assignment, trailhead, lighting app builder etc.

Front
Cloud hosted
-Unified inbox support

-Features like auto reminders, auto responders

-Real time analytical capabilities

-Seamless social media integration

LiveChat
Cloud hosted
-Powerful integration and capable of seamless integration with 130+ tools

-Simple and easy to learn

-Agent application to remotely manage customer desktop

-Good statistics and analytical features to support information about pre-chat surveys, agent's availability etc.

LiveAgent
On Premises and cloud hosted
-Transforms all incoming queries into tickets

-Built in call center with IVR and unlimited call recording storage

-Social media interactions with Facebook, Twitter, Instagram, and Viber.

-Vast knowledge base and customer portal with FAQs, artifacts, forums etc.

Hiver
Cloud hosted
-Auto assignment to assign queries to agents in round robin fashion

-Leverage workload and distribution to get 360-degree view of team member's work

-Agent collaboration with one another using internal notes

-Customizable automation to save time on repetitive tasks

-Leverage advanced analytical dashboard to track key metrics
Download the Comparison Table: Helpdesk Software

Continue Reading: