What is a Helpdesk? Types & Benefits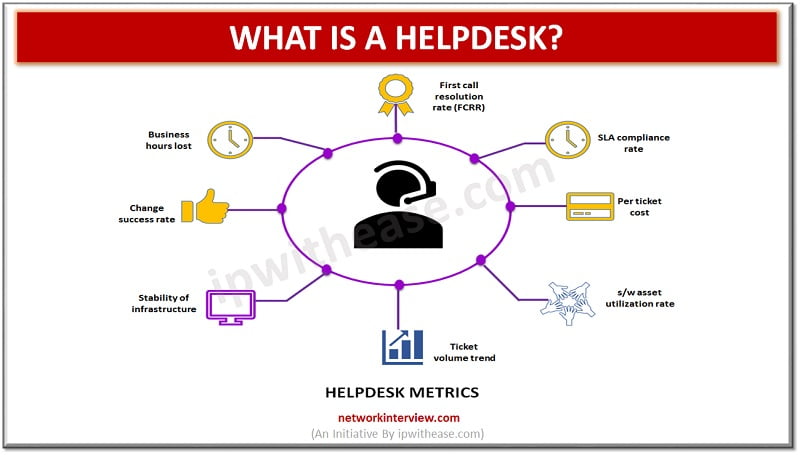 Along with digitization there comes the need of efficient services provisioning for end users. A centralized information center which facilitates customer or end user with information and support related to company's products and services is crucial for the businesses. Helpdesk services are intended to troubleshoot problems or provide guidance about company products and services such as computers, electronic equipment, food, apparels, software etc.
Today we learn more in detail about Helpdesk, its services, models, or structure, benefits etc.
What is a Helpdesk?
Helpdesk is a centralized information center or a one stop point of contact which provides centralized information and support management services to handle organization's internal or external queries related to its products and services in offering. Helpdesk solutions enable organizations to resolve customer grievances in a faster and more effective manner. Sometimes responses are automated also with the help of IVR and ticket management systems.
Helpdesk applications provide first level support and guidance to customer to aid in immediate troubleshooting. Application also maintains a library or repository of common compliant and issues with suggested solutions for quick resolution of customer queries.
A standard helpdesk offers a single point of contact for end users and customers usually the helpdesk requests are handled using help desk software, or issue tracking system which enable helpdesk operators to keep track of user requests using a unique ticket number. Large helpdesks might have multiple levels of support if first level technician is not able to resolve the issue, the problem is transferred to second level having more trained and experienced staff to handle complex issues.
History of Helpdesk
The history of helpdesk dates to early 1960s. In year 1967 1-800 numbers were given to customer to call companies as toll free number.
In year 1970 invention of Interactive Voice Responsive (IVR) had bought major change in the way helpdesk services were operated
By the end of year 1980s the trend of call centres boomed, and companies started out sourcing helpdesk services to them to bring down the operating costs.
Now the emerging self-service model and the technology which supported helpdesks is improved , businesses made systems more efficient by offering self-service where customers are empowered to help themselves thus freeing their own staff and cut off support costs.
Types of Helpdesk 
Size of companies and their function needs determine the type of helpdesks and software's being used:
Basic Helpdesk 
It is a basic ticketing system for customer complaints and additional features can be added at additional cost such as chat, knowledgebase, reporting, additional point of contacts, and mobile contacts etc. Some examples of basic helpdesk are Zendesk, LiveAgent, Freshdesk etc
Web Helpdesk
Cloud hosted and software as a service solution can be rented to companies to reduce and track expenses such as Paldesk.
On Premises helpdesk
Companies which want total control over helpdesk and their software go for this sort of model, but this means bearing the responsibilities of its support and operate.
Enterprise helpdesk
Enterprise helpdesk offers more features as compared to basic helpdesk and it addresses internal issues like IT assets. It has advanced features such as more extensive support database, multiple contact points, escalation levels and services like IT asset management, SLA management, and account management.
Open source desk
It is free and allows users to change the source code to customize solution as per requirements. Vendors of open source helpdesk offer cost based or free technical support for robust features customization.
Functions of Helpdesk 
Centralized information center – It is a central point of contact for customer and end users for all their queries and issues
Tracking of support agents – Helpdesk enables to keep track of responses and customer queries. Calls are recorded to analyse the agent service quality and major support performance.
Customer behaviour analytics – The real time data and analytics help to understand customer preferences better. This also enables to improve operational efficiency and enhance customer experience.
Companies provide a helpdesk through multiple channels such as websites, email, toll free numbers or instant messaging.
Helpdesks may consist of one or more persons that people contact. The person is trained to handle problems or issues and interface customers.
Good knowledge base – Well organized information for iterative questions removes any ambiguity and help customers by providing better response to customer queries. For specific queries customers can reach out to support agents directly
Task automation – Helpdesk automation helps in maximizing resource utilization and reduce manual efforts for e.g. ticketing systems helps in automatic allocation of tickets.
Ticket prioritization – High number queries can be prioritized and queued for better services
Enhanced workflows – Helpdesk helps in understanding the trends and which can help in streamline the process and improves customer satisfaction level
Features of Helpdesk
Web based application interface can be accessed locally or globally
Centralized compliant management and resolution
User login authentication
User / compliant categorization
Instant solution and escalation matrix
Complaint tracking and history management
Advanced search capabilities
Benefits of Helpdesk
Service agility – Helpdesk helps in organizing resolution of issues in more fast and effective manner. The optimized management of tickets help to fasten the resolution, minimize communication between customer, end user and support staff.
Improves process and task management – Helpdesk assign ticket to experienced technician for its solution.
Improved productivity – Helpdesk services provide faster and efficient services thus improving the productivity.
Efficiently information management – Helpdesk manages information effectively and prevents loss of important data. Support team have access to information already gathered thru earlier incidents which will help for quicker resolution of issues.
Improves company image – Helpdesk represent company's image and highly valued by customers.
Increased employee satisfaction and efficiency – teams have organized system that facilitates the processes, receiving only required emails, automation of redundant tasks and easier access to necessary information required for resolution of ticket.
Improved customer satisfaction – Helpdesks make customer experience more satisfactory and increase their loyalty.
Continue Reading:
Difference between TOGAF and ITIL