What is Service Desk? Types & Key Benefits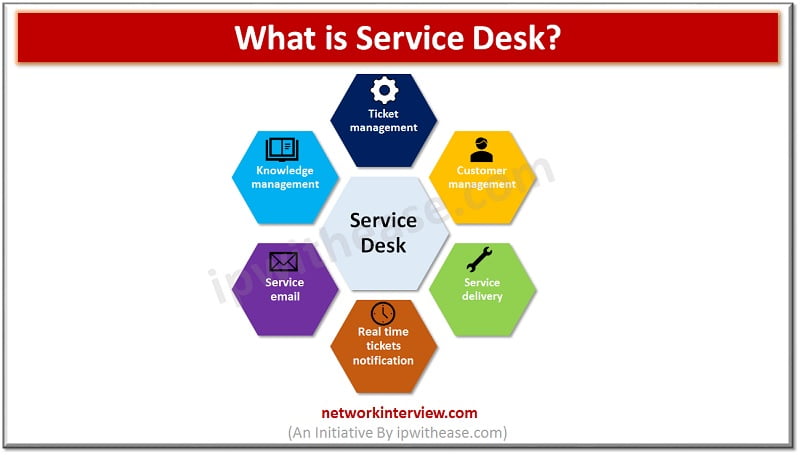 Introduction: Service Management
Managing user expectations and addressing user concerns in real world is the top priority of businesses. Service Desk is an integral part of any organization's operations. It is relevant for all businesses small, medium, or big and plays a key role in ensuring that services are meeting the key business objectives. Businesses need a software which act as a bridge between support agents and the end users and customers to provide on demand assistance.
Service desk software improves customer satisfaction by managing and facilitating deliveries of services as per customers' expectations, help to effectively communicate with end users and customers, and reduce overall support costs.
Today we learn more in detail about Service desk , its services , models, or structure, benefits etc.
What is Service Desk?
Service desk is a single point of contact (SPOC) between business and its employees, end users, customers as well as business partners. They handle a wide range of service requests starting from technical issues faced by service receivers to systems outages which impact the entire organization. Apart from seamless delivery of IT services in timely manner, service desk manages various types of IT assets (Computers, Laptops, printers , UPS, Air-conditioning etc.)  of organization
History of Service Desk
The early Service desk was a simple enabler having capabilities from fault reporting to direct assistance. It was technically focused, and objective was to 'Keep the lights on'. With the advent of Information technology Infrastructure library (ITIL) in the year end 1980s a set of practises for IT Service management (ITSM) were established to focus on alignment of IT services with the business need. In 1990s helpdesks become service desk and started providing a wider set of user-oriented services and offering more matured outsourcing and service management opportunities.
Types of Service Desk
Service desks can be setup in different ways depending on set services offered, their scope, set of possibilities and limitations. Let's look more in detail about them.
Local Service Desk
Located within or physically closure to the end user community that it serves. This aid in faster communication and better visibility of users however on the other hand it is less cost effective and efficient to justify resources.
There could be some specific reasons to maintain a local desk such as different time zones, specialized group of users such as the management or key stakeholders, customized or specialized services which require SME knowledge to cater to VIP/president etc.
Centralized Service Desk
Bigger companies usually consider having a centralized helpdesk (combining two or more centralized desks) to serve multiple users across several physical locations. This can be more efficient and cost-effective model allowing lean staff to deal with high volume of calls, reoccurrence of events also help to build high skilled team having better experience.
Only disadvantage with this kind of service desk is distance to users. To compensate this limitation usually centralized service desks might have a local desk as well to handle physical support wherever required on need basis which is controlled and managed thru centralized service desk.
Virtual Service Desk
Large organizations having widespread locations or departments may consider implementing a virtual service desk. This gives the feel of a single, centralized service desk which could be in any number or type of geographical or structural locations.
For end users there is a single point of contact (e.g. Email, phone) and calls can be handled from any location but there is a Single Knowledge Management System (SKMS) is used by all locations.
It is cost effective model to structure service desk and at times companies follow a 'Follow the Sun' approach in which call handled at one geographical location is handed over to another geographical location when normal business hours are over and issue is still unresolved. This kind of model gives 24 hours coverage at relatively low cost.
Specialized Service  Desk
Creation of a specialist groups within overall service desk structure so that incidents related to specific IT service can be handled directly by group of specialists to allow faster resolution of incidents.
Service Desk Type

Characteristics & Advantages

Local Service Desk

Handles limited number of support tickets
Address issues within company location
Very limited effort to ticket resolution as few tickets

Centralized Service Desk

Efficient handling of tickets
Ease of ticket management irrespective of volume
Centralized management by merging local service desks

Virtual Service Desk

Effortless ticket solutions irrespective of physical location
East ticket organization and categorization
Agent performance tracking in effective manner
Download the table: Service Desk Types
Benefits of Service Desk
Quality of service and fast turnaround time
Improved customer satisfaction index
Improved communication
Better managed infrastructure and controls
Single point of contact for all queries
Offers a seamless resolution experience
Improved productivity of service agents
Better management and organization of service requests
Tracking and resolution of incidents in real time
It works beyond break-fix support and helps to prevent incidents occurring in future
Focus on overall process improvement
Allows to develop proactively solutions for long term
Helps to collaborate with agents more effectively
Continue Reading:
Difference between TOGAF and ITIL