Top 10 Database Monitoring Tools of 2023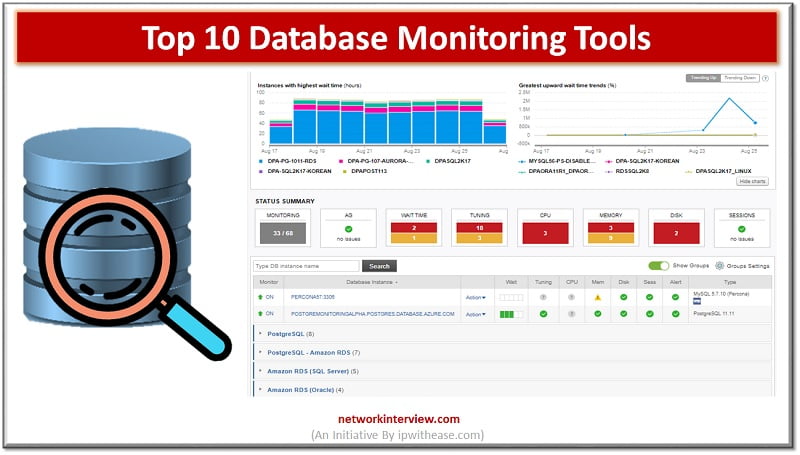 Importance of Database Monitoring
In today's digital world, Data is wealth, Data is Power and Data is everything. Thus a business should give large importance to Users and their data. 
The Database monitoring tools can help us to a wide number of variables and keep track of the performance metrics of our database or server. Today in this article you will get to know about the top 10 database monitoring tools that every business should have. 
Okay without further ado let's get started. 
List of Top Database Monitoring Tools
1.SolarWinds Database Performance Analyzer 
It is a database monitor that identifies the problems pinpoint in real-time. 
They offer 14 days free trial and after that, it is available at the price of $1,995. It is suitable for Windows, Linux, Unix, etc… 
PROS:
Dashboards are highly customizable 

This database management system is tailored for medium and large-size databases.

Graphs and alerts in a different color for critical warnings. 
2.DataDog Database Monitoring
It is a SaaS monitoring solution that monitors your cloud infrastructure, applications, and  serverless features. The major advantage of this platform is that it gives a full observability solution with metrics, logs, security, real user, etc…
It gives annual billing and demand billing options. You can also use it free for the first 14 days for an unlimited number of servers. It supports more than 400 Integrations. 
3.OpsView
These database monitoring tools are designed to provide a unified view, which includes both cloud and on premise systems. It operates famous databases like Oracle, IBM DB2, Amazon RDS, etc… 
It offers two types of plans as OpsView Cloud and Enterprise. The former one starts with 150 hosts to 50,000+ hosts and the latter starts with 300 hosts to 50,000+ hosts. 
4.Paessler PRTG Network Monitor
It is a network monitor tool that is compatible with many different databases and can monitor your complete IT Infrastructure. And the interface and dashboards are flexible and customizable. 
It tracks Applications, Cloud Services, Web Services, and other network metrics. You can build your custom configuration or else use the PRTG default ones. 
5.Site 24 x 7
Site 24×7 is a SaaS-based unified cloud monitoring for DevOps and IT operation in both small and large organizations. Site 24×7 is an all-in-one solution that works on Desktop, Linux, Windows and mobile devices.
It is not a specialized tool like the previous one but it is a cloud-based monitoring service, which can help database monitoring. It offers a 30 days free trial and there is also a free version that limits only to five servers. 
6.AppOptics APM
It is also a cloud-based service from SolarWinds, however, there is a lower edition called AppOptics Infrastructure which focuses on Performance and monitoring of databases. 
It has a specialized screen for different application databases and is easily scalable to build as a cloud service. It offers a 14-day free trial. 
7.SentryOne SQL Sentry
It is a database monitoring tool that takes a traditional approach, the user interface is not as attractive as the other products in this list however it gets the job done. 
It is dedicated to SQL, thus it will be a good choice if you have any other monitoring tools, and has more than 100 alerts. It is a little expensive and offers only a 14-day free trial. 
8.ManageEngine Applications Manager
It is an application managing system provided by the managing engine however it works well for database monitoring and server monitoring. It is available with 30-day free trial plans. 
It can map out interdependencies between applications and works both on premise and cloud Infrastructure. 
9.Spiceworks 
If you don't have any advanced or complex use for your database monitoring tool then Spiceworks will do the job. It is a free tool compatible with SQL Server databases. It is customizable and has simple data visualization.
10.dbWatch
It is a simple and easy-to-install tool. It works well at multiple cross platforms and has a good reporting method. It operates in real-time and historical data. There is also a zoom-in option. 
Conclusion
There are many database monitoring tools out there in the market, and you can choose the one that suits the best as per your requirements. Please share your thoughts and doubts in the comment section below. 
Continue Reading:
Top 10 Serverless Compute Providers