Top 10 Cloud Computing Trends for 2023: A Look Into the Future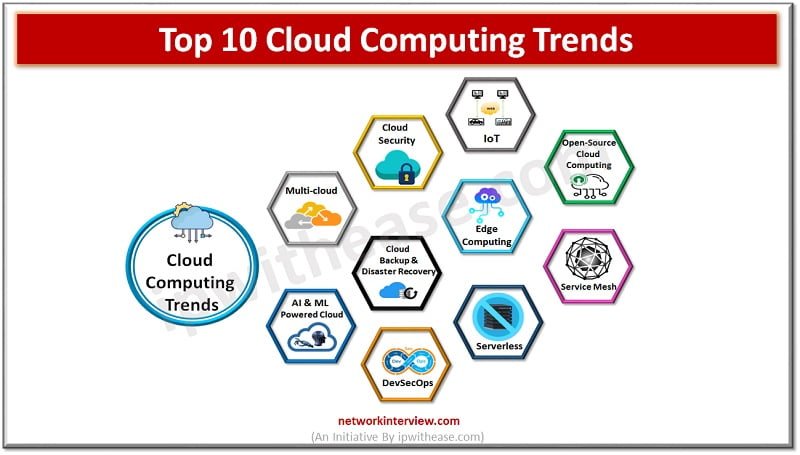 Ever-Emerging New Technologies
New technology trends arise every day, but not all of them remain relevant. The same goes for the cloud computing industry. There are some technologies that have solid potential while others will disappear sooner than later.
Today, we take a look at the top 10 cloud computing trends of 2023 based on abundant market research and expert opinions. Cloud computing is a broad concept that covers many services, deployment models, and technologies. Its rapid adoption has led to new innovations and existing solutions optimised for this environment in almost every industry vertical. There are various Cloud Computing courses available to keep yourself updated with the ever emerging cloud technologies.
The following article details why cloud usage will continue to grow in the coming years, how businesses can capitalise on this trend to streamline their operations, and which areas of the cloud computing space will see the most innovation by 2023.
List of Top 10 Cloud Computing Trends
Multi-Cloud Solutions
The number one trend that will affect the entire cloud computing industry is the growing adoption of multi-cloud solutions. According to a recent report, more than 70% of companies use more than one cloud provider, and 23% use three or more different cloud vendors.
The reason behind this is that companies need to take advantage of the best features and pricing of each cloud vendor to optimise their IT organisations. However, this isn't an easy task given that cloud services come with different price structures, payment models, SLAs, and feature sets.
Multi-cloud is likely to become the default choice for most organisations as it maximises their return on investment and helps them avoid vendor lock-ins.
AI and ML-Powered Cloud
Artificial intelligence and Machine learning have been on the rise in recent years, and they're expected to reach new heights in the coming five years. AI and ML are used in many areas of business, and the cloud is no different.
AI-powered cloud services can help organisations with everything from cyber security to predictive maintenance. One of the most prominent AI and ML trends for the cloud is AI-powered image recognition.
This technology can help enterprises analyse images and identify objects within them using AI algorithms. A great example of this is Google Cloud's image recognition solution. It can help you categorise images and detect objects in them with a few clicks.
Another trend is natural language processing. This technology allows you to analyse text and identify topics, mood, sentiment, and much more.
Cloud Security
As businesses increasingly embrace cloud-based solutions, they will require robust security solutions to keep sensitive data safe. This is where multi-factor authentication and risk-based authentication come into play.
Based on user behaviour, risk-based authentication flags and suspicious behaviour prompts users to provide additional authentication factors such as one-time tokens, passcodes sent to your smartphone, or biometrics such as voice and face recognition.
Multi-factor authentication, on the other hand, requires users to confirm their identity using multiple identifiers such as a username, password, and an authenticator app.
Another interesting trend that has emerged recently is machine learning-driven cyber security. This technology uses machine learning algorithms to predict and prevent cyber attacks, detect malware, and analyse data patterns.
Cloud Backup and Disaster Recovery
The next trend is the growing adoption of backup and disaster recovery services in the cloud. Cloud-based disaster recovery solutions are becoming increasingly popular because they're easy to set up and manage.
Moreover, they're cheaper than on-premise DR environments and allow organisations to achieve DR compliance easier.
Another trend we're likely to see is the shift towards hybrid DR. Hybrid DR is the combination of cloud-based DR and on-premise DR. It's a more cost-effective solution than on-premise DR alone, but it comes with challenges such as increased complexity.
Edge Computing
The next trend is edge computing, which is expected to become even more widespread in the coming years. Edge computing enables you to offload certain tasks from the cloud and process them at the network edge. This helps reduce network latency and improve the user experience.
Moreover, it can help businesses reduce their network costs by using cheaper equipment and removing the need for expensive WAN links. Some of the most common edge computing use cases are IoT applications, voice-over-IP communications, and authentication.
IoT Platform
The Internet of Things is a technology that's likely to see exponential adoption in the next five years. With IoT, organisations can collect and analyse data from sensors and devices that are connected to the internet. This data can then be used to automate tasks and improve operational efficiency.
There are many different IoT platforms available on the market that can help businesses deploy IoT services quickly and efficiently. One of the top cloud computing trends for 2023 is the growing adoption of hybrid IoT platforms. These hybrid IoT platforms combine on-premise and cloud-based solutions to provide businesses with a more cost-effective and flexible solution.
DevSecOps
The next trend in the cloud computing industry is DevSecOps. This is an application of a more mature culture in the software development process, with the focus being on the security of the end product. A key difference between DevOps and DevSecOps is that the latter places more emphasis on security. This is because the software development process has become more mature, and organisations have a better understanding of their security weaknesses.
This is one of the most prominent trends in cloud computing because it can help organisations to achieve compliance with ease and less effort.
Serverless Architecture
Another promising trend is serverless architecture, which will become more relevant in the future as its adoption increases. Serverless architecture is an application architecture that has no dedicated servers or there is no concept of servers.
Instead, serverless architectures use software tools and APIs to run applications. You can host a serverless application on any cloud provider and pay only for what you use. This makes serverless architecture a very cost-effective solution. The most common serverless application areas are big data, IoT, and artificial intelligence.
Open-Source Cloud Computing
The final trend on our list is the adoption of open-source cloud computing. Open-source cloud computing is an approach that leverages open-source software and standardised resources to host applications.
With open-source cloud computing, businesses can reduce their spending on software and hardware, as well as enjoy better flexibility and scalability. Open-source cloud computing is a great choice for startups and small businesses that need to keep costs low.
Moreover, it's a secure option for large enterprises that want more control over their infrastructure.
Service Mesh
A service mesh is a critical component of any cloud platform. It's important to ensure that these platforms have secure and fast communication environments. Using a service mesh, you can provide customers with a dedicated S2S (service to service) communication layer. This will result in a highly secure and dynamic cloud ecosystem. Cloud platforms are still developing and adapting to new user demands. A service mesh fills these new demands and allows access to multiple policies in your cloud environment.
Conclusion
The cloud computing industry has come a long way since Amazon Web Services first launched in 2006. The potential of cloud computing is still far from being fully explored, and we're likely to see many more innovations as the years pass.
The trends described above are likely to become more prominent in the next five years. However, it's important to note that nothing is set in stone. New technologies and innovations may emerge that could change the cloud computing landscape as we know it.
Continue Reading:
What is Multi Cloud Network Architecture – Aviatrix ?
Serverless Architecture vs Traditional Architecture