MiniTool MovieMaker – Bring Your Story to Life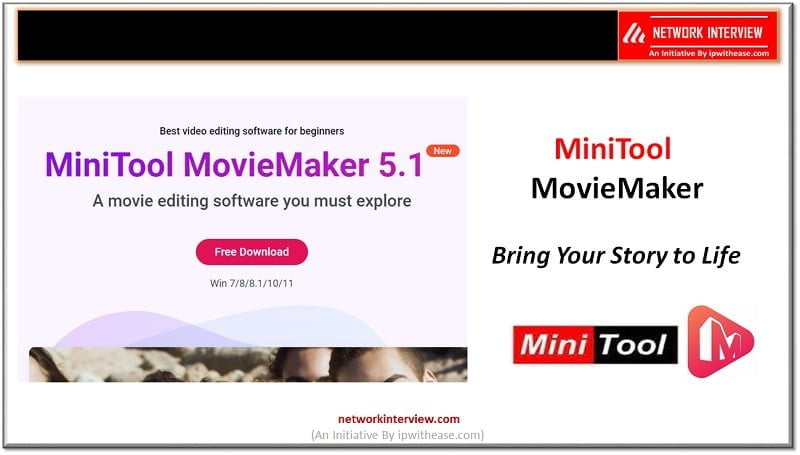 Human mind is built such that it connects to videos on an emotional level much more than any other content type. MiniTool MovieMaker is an easy-to-use free video editing software, that lets users create an amazing movie with their own pictures or videos, regardless of their skill level.
MiniTool MovieMaker
MiniTool MovieMaker renders prebuilt templates to help users quickly create a movie. Considering its user-friendly feature set, you are only required to select a suitable movie template, and then import their files to make a movie. Thereon, users can edit this movie in timeline/storyboard and add transitions, effects, animations, and texts. In the end, just export it and share it to the respective social media site or any other related work.
With simple timelines offered with one video track, two music tracks, and three text tracks, even a beginner can easily use this tool to create outstanding videos. MiniTool MovieMaker allows you to save your videos in standard or HD quality. Especially, it allows exporting videos up to 1080P without watermark.
Technical Specifications –
Below are the minimal Hardware and technical specifications to install the MiniTool MovieMaker:
OS: Windows 7, Windows 8, Windows 8.1, Windows 10, Windows 11
CPU: Intel i5 or better, 2GHz+. (Intel 6th Gen or newer recommended).
RAM: 8 GB RAM
Disk: 10 GB free hard-disk space (SSD recommended).
GPU: Intel HD Graphics 5000 or later; NVIDIA GeForce GTX 700 or later; AMD Radeon R5 or later. It is recommended to keep your graphics driver updated.
Upgrade/Updates
The latest upgrade was introduced in version 5.1 of MiniTool MovieMaker (Sep. 13, 2022). Here is the list:
Newly added online resources for Music and Elements.
Fixed some bugs.
Key Features 
Some of the salient Features of MiniTool MovieMaker are enlisted below –
Free, unbundled, ads free, watermark-free video editor.
Plethora of video templates including wedding video, love video, travel video, etc.
Import feature for various formats including video, picture, and audio.
Loads of video transitions, filters, animated text, etc. supported.
Slideshows integrated with pictures and music.
Simple ways of changing Video speed in addition to reverse video.
Split video, trim video, merge video, rotate video, etc.
Add animated titles, subtitles & end credits to video.
Add music to video, mute the background noise of video, edit music, etc.
Export video in common internet video formats.
Change video quality, video bitrate and video resolution.
Step-by-step Simple procedure to install MiniTool MovieMaker –
MiniTool MovieMaker is 100% free and clean (No bundle, no ads, and no watermarks)
Install MiniTool MovieMaker
Step 1: After getting MiniTool MovieMaker, users can double-click the installation package to get the following welcome interface.
Step 2. Click Install to install the software to the default location or click Customize Install to choose an installation location to install this tool.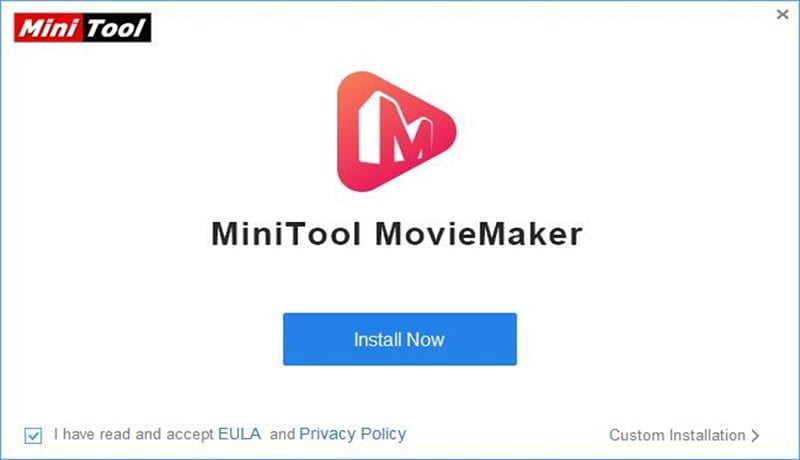 Step 3: Install MiniTool MovieMaker following the installation guide.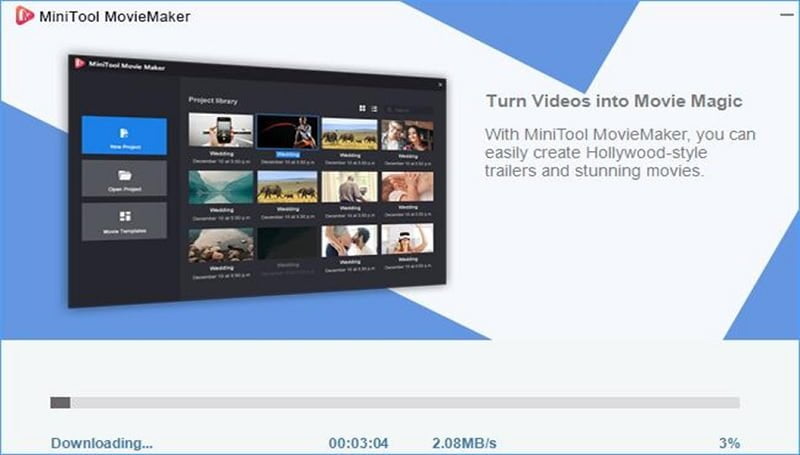 Step 4. Launch MiniTool MovieMaker by Clicking on Start Now.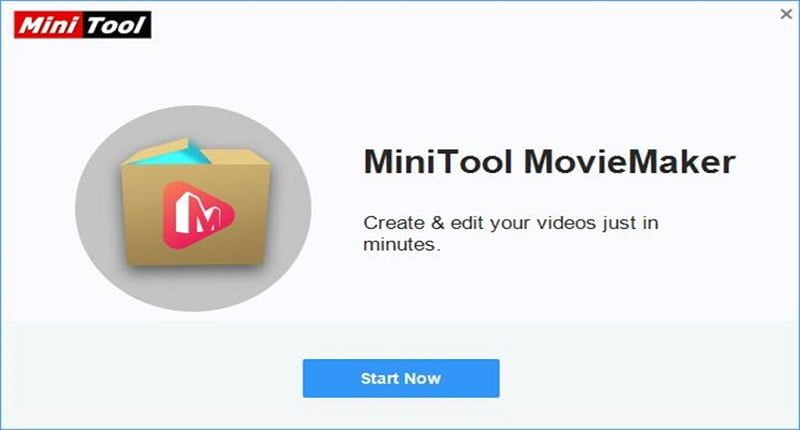 Introduction to Main Interface
The main window of MiniTool MovieMaker is user-friendly main and composed of four parts:
Menu Bar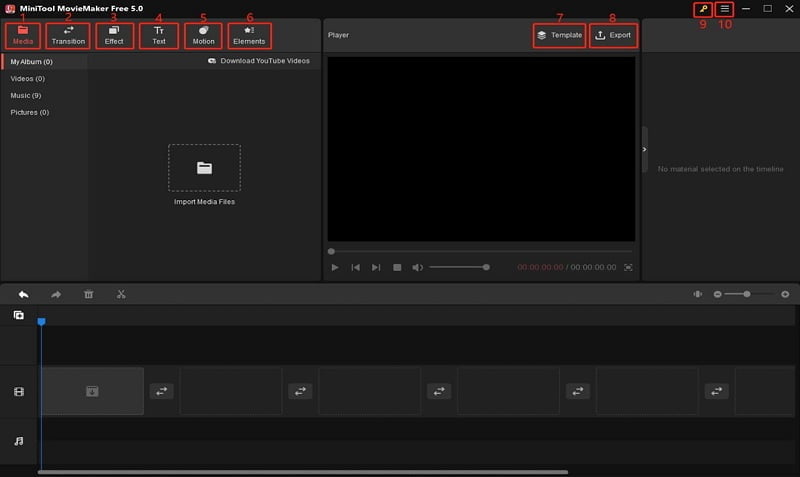 Media: Collects all media files including photos, videos and music.
Transition: Adding transitions like fade in, dissolve or blind.
Effect: Add filters (black and white, cold, vivid etc.) to videos/images.
Text: Add titles, captions & end credits.
Motion: Apply motion effects (e.g. pan, zoom in, zoom out).
Elements: Add cartoon animated elements (e.g. emoji, food, nature etc.).
Template: Use a variety of movie templates options for quick & easy movie creation.
Export: Used to export movie to PC or other devices.
Register: It helps activate/ Register your copy of MiniTool MovieMaker.
3-Bar Menu: Hides some features like File & Help.
Media Library
The library is the source for all media, including photos, videos & music files. It also contains transitions, effects, and a variety of other media features that can be used in the projects.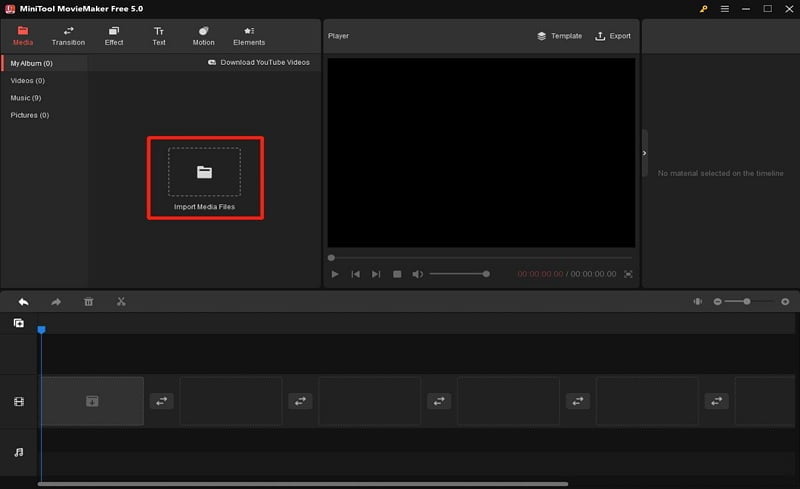 Import Media Files: Helps to Import photos, videos & audio files.
Preview Window
It shows the current video which being played in the Timeline/Storyboard.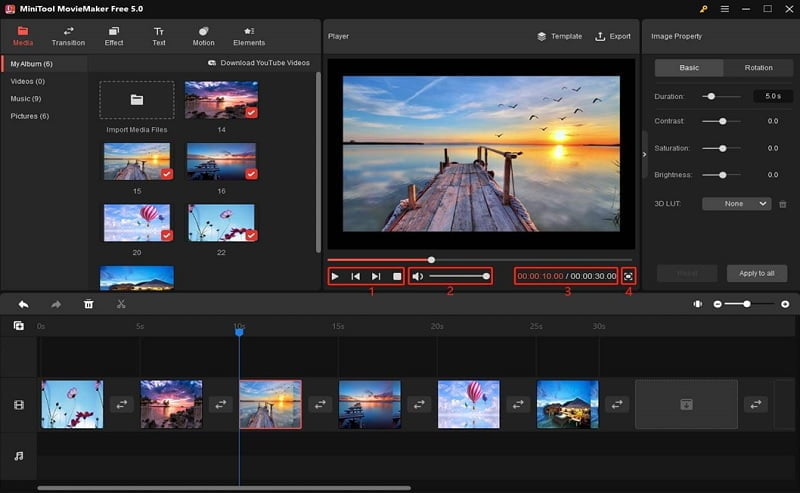 Play controls: Play or pause the video, step forward or backward by one frame, or skip to the start point of movie.
Volume: Turn the volume up/down.
Timecode: Display the exact time of the play head position & the duration of the complete sequence.

View/Exit Full Screen.
Timeline
It is the location where users assemble the media clips for their video project.
Undo: To Undo the last changes.
Redo: To Redo the undone actions.
Delete: To delete the unwanted clips and/or transitions.
Split/Trim: To Split/trim the video clips.
Video speed controller: Change the video speed like slowing down, speeding up, and reversing.
Zoom slider: Zoom in/zoom out image/video media to fit Timeline.
Tracks manager: Add texts/cartoon animated elements to your photos/videos, delete the added text/element, add empty track, and delete empty track.
Video track: Arrange video clips and photo clips with flexibility.
Audio track: Adjust volume, fade in/out music, etc.
Editions of MiniTool MovieMaker –
Free Edition
All video effects, texts, elements, etc.
Export 1080p videos
Export videos without watermark
Export the first 3 videos without length limit
Export videos within 2 minutes afterwards
For Windows 7/8/8.1/10/11
Monthly Subscription
1 license for 1 PC
1-month free upgrade
All video effects, texts, elements, etc.
Export 1080p videos
Export videos without watermark
Export videos without length limit
For Windows 7/8/8.1/10/11
Annual Subscription
1 license for 1 PC
1-year free upgrade
All video effects, texts, elements, etc.
Export 1080p videos
Export videos without watermark
Export videos without length limit
For Windows 7/8/8.1/10/11
Ultimate Plan
1 license for 3 PCs
Lifetime free upgrade
All video effects, texts, elements, etc.
Export 1080p videos
Export videos without watermark
Export videos without length limit
For Windows 7/8/8.1/10/11
Conclusion
There are other products in the market giving a tough competition to MiniTool MovieMaker, nonetheless MiniTool MovieMaker leads the race of best video editor due to its key features like ease of usage, quicker results and richness of features. To sum things up, MiniTool MovieMaker is the de-facto customer choice of Video editing tool for windows one must explore, irrespective of the individual's skill level.