Linux vs Windows Operating system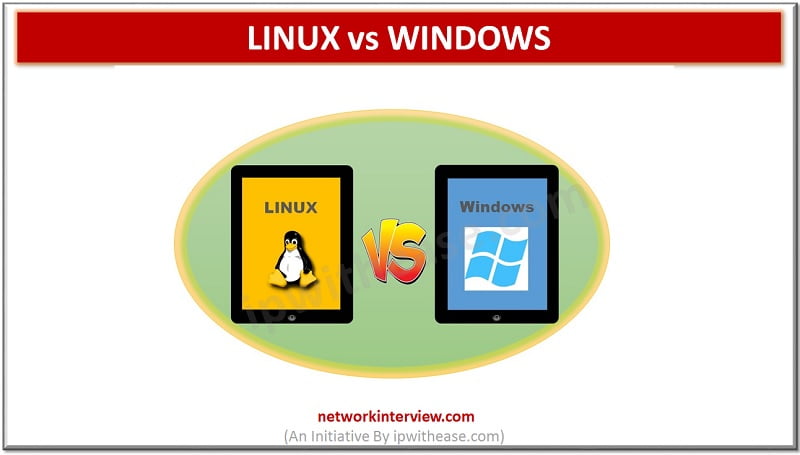 Linux vs Windows
Windows has been quite a popular choice for home and office users. It's been the widely used Operating system used in desktops, laptops and personal computers. Linux is an open-source operating system which is based on UNIX OS. Linux was created in year 1991 and is the software of choice in most of servers. The good thing about Linux is that users can modify the existing code and create distributions since it is an open-source operating system. Infact most of the web pages on internet are from Linux servers. In this article we will have close inspection of differences between Linux Operating system and Windows Operating System.
LINUX, developed by Linus Torvalds, is an Open Source OS and was developed with the intent to spread the product equally amongst home users, developers etc. when it comes to Windows Operating system, it's a closed Operating system which is not free for use by public. The first version of Windows OS was released in 1985 which was a simple GUI and pretty much user friendly.
In terms of kernel level access, Linux users have access to the source code and can perform modifications to meet their requirements. In contrast, windows source code is strictly captive with no access for users to perform modifications or alterations. Infact Linux has many distributions which are customized to user needs. The webserver share of Linux OS is 70% as compared to Windows which is at 23% only.
Related – Linux Interview Q&A
In case of Linux, files are structured in a tree format starting with the root directory where as in case of Microsoft Windows, files are stored in folders on different data drives like C Drive, D Drive. Some of filesystem types of Linux are – ext2-4, FAT, NTFS, NFS, ISO 9660, JFS and KFS while in case of windows some filesystem names are NTFS, FAT, ISO 9660, UDF and HFS. Talking about security of both the Operating systems , Linux is considered highly secured with 60-100 virus listed against it while Windows OS is not so much secured and has a list of 60,000 viruses in its list of vulnerabilities.
The overall comparison of both the Operating systems (Linux and windows) is illustrated in below table –