Top Web Development Trends in 2023!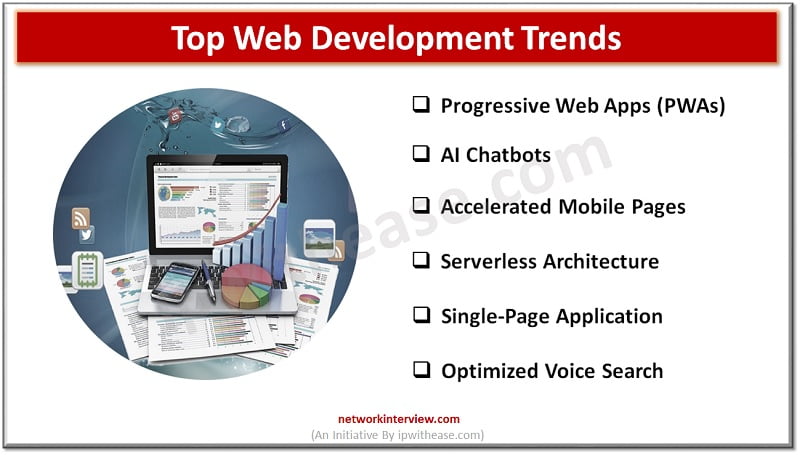 Web development is an area in which companies have taken a serious turn in the past few years. With the help of the Internet and modern techniques, enterprises have become extremely successful and popular among online customers. The world has changed a lot and all these businesses need to hire dedicated PHP developers from India or around the globe to make it better by adding new functionalities to their sites. 
It's always been necessary for businesses to incorporate new trends and technologies into their product with the help of a company that provides end-to-end web development services so that they can stay on top of the game and updated on Google searches hence attracting more customers to their platforms. And just to help you get updated on these new developments, we've compiled a list of top trends for web development in 2023.
1. Progressive Web Apps (PWAs)
Progressive Web Apps (PWAs) are web applications that can run in any modern, standards-compliant browser. They can perform all the tasks that a native application can, but they are also able to work offline and share data with the server in a reliable, fast, and secure way.
Progressive Web Apps are built using technologies that make them work by default in any modern browser: HTML5, CSS3, JavaScript, and service workers. They have no special app installation process or other technology requirements; you just need a modern browser to access them.
Progressive Web Apps are based on an open-source project launched by Google called PWAs (Progressive Web Application) in 2016. The idea behind this initiative is to provide web developers with tools to build web apps that will look and function like native applications on mobile devices while being accessible via any device at any time and anywhere — even when they're not connected to the Internet.
2. AI Chatbots
AI chatbots, or "chatbots" for short, are a new type of chatbot that can engage with users in a more natural and human-like way. They provide necessary data, reply appropriately to the queries, and sometimes can also play games.
AI chatbots are becoming more popular as they allow businesses to interact with consumers in a more personal way. One of the main reasons why AI chatbots are preferred over traditional bots is that they don't require any specific knowledge about the products or services that a business offers.
AI chatbots can help businesses reach out to customers who may not be able to make it into stores or offices during open hours. These bots can also help businesses communicate with customers who live far away from them, which helps them grow their customer base and increase sales.
3. Accelerated Mobile Pages
Accelerated Mobile Pages (AMP) is a new feature of Google's AMP project that enables web pages to be displayed in mobile browsers without the need for a plugin. This means that, for instance, if you are reading an article on your phone and then want to view it on a computer, you can just click on the link in the article and it will automatically load in your browser.
The idea behind AMP is to make it easier for people to access content from any device without having to download a separate file or go through the extra step of opening up their web browser.
AMP was first released with Google's Chrome browser back in 2017 but was rolled out as part of Chrome 77 last month. It has now been added as an option by default in Firefox 74, Opera 49, Brave 43, and Microsoft Edge 40.
4. Serverless Architecture
Serverless architecture is a new approach to building and managing applications that don't require provisioning, scaling, or managing servers. The concept has been around since AWS Lambda was introduced in 2014, but the term was coined only in 2018.
The idea behind serverless architecture is that you don't need to worry about servers anymore. You just upload your code and AWS handles the rest: providing compute resources on demand, scaling up or down as needed, and logging all requests for you. It's like having your virtual private cloud (VPC) without the overhead of managing an entire infrastructure yourself.
This gives developers a more flexible way to deploy their applications as well as a simpler way to get started with new projects — no need to purchase infrastructure upfront or wait for it to be provisioned by someone else when you just want to get something up and running quickly.
5. Single-Page Application
Single-page applications (SPAs) are websites that use a single HTML page to display the entire user interface of the site. This makes them easy for users to navigate and reduces the number of pages a website needs to load.
The benefits of SPAs are many. They allow for better SEO since search engines can index all content in one location, rather than having to parse multiple HTML documents. The design is also easier for developers because it's possible to create a SPA using just JavaScript and CSS.
However, there are also some drawbacks. SPAs have traditionally been slower than traditional websites, as they have to load all static resources from the same page before switching into a full-screen mode. In addition, many designers consider SPA designs too "flat" — some users prefer the look and feel of traditional websites with headers and menus over flat design.
6. Optimized Voice Search
Voice search has become a common way to search in the world. The use of voice search is increasing every day and it will continue to increase in the future. This is because it is very convenient and easy to use.
Voice search makes it easier for people to find what they are looking for because you can ask your computer a question or give it a command without typing any letters on the keyboard. You simply have to speak into your phone or speakers and let it convert your speech into text or an image that you can see on your screen.
Voice search is especially useful if you have limited mobility or if you have difficulty speaking due to illness or injury such as stroke or Parkinson's disease. Voice recognition software as a Service has made voice searching much faster and easier than before so that anyone can do it without much difficulty even if they are not fluent in the English language or if they cannot read well enough because of vision problems caused by glaucoma, cataracts, macular degeneration, etc. 
Final thoughts 
To meet the needs of the customers, the web development field is changing constantly. And most of the time these trends are focused just on optimizing the experience of the users may it be on mobile or wearables. Knowing what the customer wants and how they will obtain a better user experience is the key to ensuring that you stay on top of the web development trends. Implying these trends in product development helps businesses to attract and delight visitors.
Continue Reading:
Software Development vs Web Development