What is Multi Cloud Network Architecture – Aviatrix ?
Multi cloud refers to multiple cloud computing and storage services in a single network architecture. Multi Cloud distributes cloud assets, software, applications and more across several cloud environments. Multi cloud network architecture utilizes two or more public clouds as well as private clouds, a multi cloud environment aims to eliminate the dependency on any single cloud provider.
One Architecture. One Network. Any Cloud.
Aviatrix solves multi cloud environment problem by providing a point for connectivity between the major cloud providers including AWS, Azure, and Google Cloud. In addition, Aviatrix provides a centralized control to manage, monitor and troubleshoot and encrypted IPSEC tunnel connections between clouds. Aviatrix Controller auto discovers AWS VPCs, Azure VNETs, GCP VPCs in multiple cloud accounts and their associated IP information. Additionally, it uses policy and software defined routing to dynamically connect VNETs and VPCs, with its auto discover feature it doesn't required administrator with in depth knowledge. Multi Cloud also supports high availability (HA) connections for redundancy and fault tolerance. Private cloud and on premise sites can also be connected using the Site to Cloud VPN solution.
3 Layers of Multi Cloud Network Architecture 
Aviatrix MCNA (Multi Cloud Network Architecture) is made of 3 primary layers (Components) which are –
Cloud Core
Cloud Access
Cloud Operations
Related – Aviatrix (Multi Cloud Networking) Interview  Q&A 
Cloud Core is made up of 2 sub components i.e. Network and Application Workload. Core layer is where the majority of Routing decisions take place, in addition to service layer and most importantly, the applications workloads and storage. Just like the MPLS Core of a WAN provider Network, we have Cloud Core in MCNA framework.
Cloud Access is the pathway to enter and exit from Cloud. On-premise Data centers, Partners, remote customer locations and VPN users – All use Core Access to reach the Cloud. The technologies under this scope includes SDWAN, MPLS, Direct Connect, Express Route, 5G and IOT and others. In simple terms, Cloud Access relates to in and out for customer traffic towards the Cloud environment where actual workloads reside.
Cloud Operations resides on top of Cloud Core and Cloud Access layer. The architecture is conducive to troubleshooting, operational activities including logging, orchestration, alerting and flow analysis.
Now that we know the 3 layers of Multi Cloud Network Architecture, its imperative to know that MCNA is tailor made for enterprises with
single region in single cloud
multiple regions in single cloud and
multiple clouds being leveraged
Having said that, MCNA architecture of Aviatrix is setup for single region, Multiple regions and multiple clouds also. MCNA creates an abstraction layer which is responsible for common control, data and orchestration plane, which is Aviatrix.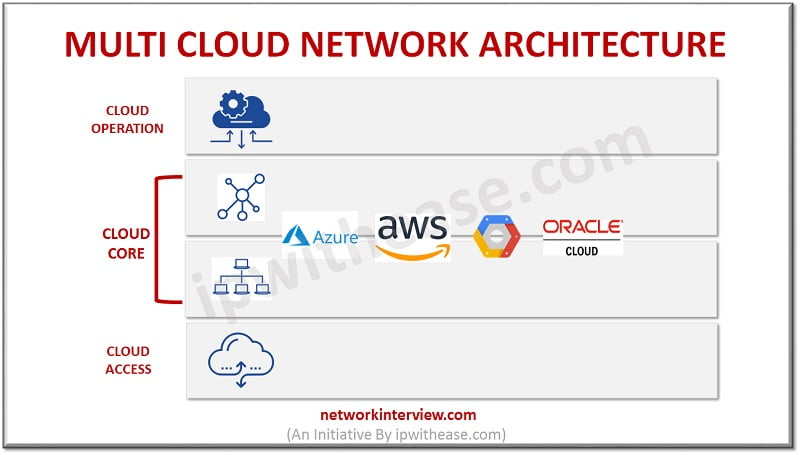 Aviatrix Operations Overview
Manageability
Automation
Visibility
Monitoring
Logging
Troubleshooting
High Availability
Compliance
Software and Technical Support
Flexible Consumption Mode
Features and Capabilities of Aviatrix Solution:
Centralized Controller
Aviatrix controller is the main processing unit of the cloud network platform. The platform provides the centralized intelligence and knowledge of the controller to dynamically program both native cloud network and Aviatrix's own advanced services.
Network Service Gateways
Aviatrix gateways delivers advanced cloud networking and security services. Gateways are primarily deployed to deliver transit network and security services such as intelligent dynamic routing, active-active network HA, end-to-end and high-performance encryption and collect operational data.
High-Availability Networking
Aviatrix is designed with active-active HA and redundant pathing. Pair of Aviatrix Gateways deployed in different availability zones and establish a full mesh multi path connection that enhance both throughput performance and network availability. High-Performance Encryption with standard IPsec encryption is limited to 1.25 Gbps. Aviatrix's high performance encryption distributes traffic across multiple cores and aggregates IPSec tunnels to achieve wire speed encryption up to 75 Gbps.
Secure Cloud Ingress and Egress
Aviatrix gateways offer both ingress and egress filtering. Centrally managed multi cloud security for any cloud application communicate with Internet based resources and service.
Multi-Cloud Network Service
Insertion Aviatrix Transit provides a secure point of access for network and security services such as next-generation firewalls, IDS/IPS and SD-WAN cloud edge connections. Aviatrix gateway provides load balancing to connected services and ensures redundant and failover HA.
Operational Visibility
Enterprise network operations must have in depth visibility into network activity. Public cloud networks are transparent, even basic analytics must be obtained from multiple sources.
Dynamic Network Mapping
Aviatrix collects the central intelligence and knowledge of the controller to dynamically generate and maintain an accurate multi cloud network topology map that includes all network resources and network configurations the controller is managing.
FlowIQ–Intelligence Network Traffic Flow Analytics
Aviatrix collects network traffic flow of data from Aviatrix controller including source port, destination port and application filtering and combined with additional data such as latency and tagging to deliver multi cloud flow inspection analyses.
Centralized Console
Controller automates the deployment of network configuration of Aviatrix gateways in your VPCs and VNETs making connectivity across public cloud services very simply and efficiently.
High Availability Connections
Gateways and tunnels can be deployed as HA configurations to enhance redundancy and fault tolerance.
Compatibility with Existing Infrastructure
Cloud to Cloud and Site to Cloud VPN connections support the on premise infrastructure that terminates VPN connections from the cloud. Engineers can also easily produce configuration templates for on premise routers and firewalls.
Simplified Troubleshooting
Aviatrix offers the troubleshooting tools which provide network performance report link status and alerts to simplify troubleshooting. In addition, events across all clouds can be logged and forwarded to tools such as Splunk and Data log for further analyses.
Multicloud Gateways Enabled via Cloud Provider Partnerships
Automate networking across multiple cloud providers – AWS, Azure and Google REST APIs to make multi cloud networking simple and dynamic.
Conclusion
Aviatrix is a cloud networking company helping customers to connect with the different clouds. Aviatrix offers end to end secure, automated routing, monitoring, and management and automates the handling of VPC networks. Aviatrix curriculum covers solutions for AWS, Azure and Google Cloud Platform, enables connectivity between data center public cloud and different clouds through VPN.
Continue Reading:
Are you preparing for your next interview?
Please check our e-store for e-book on Aviatrix Interview Q&A on IT technologies. All the e-books are in easy to understand PDF Format, explained with relevant Diagrams (where required) for better ease of understanding.