Public vs Private vs Hybrid vs Community Clouds – Types of Clouds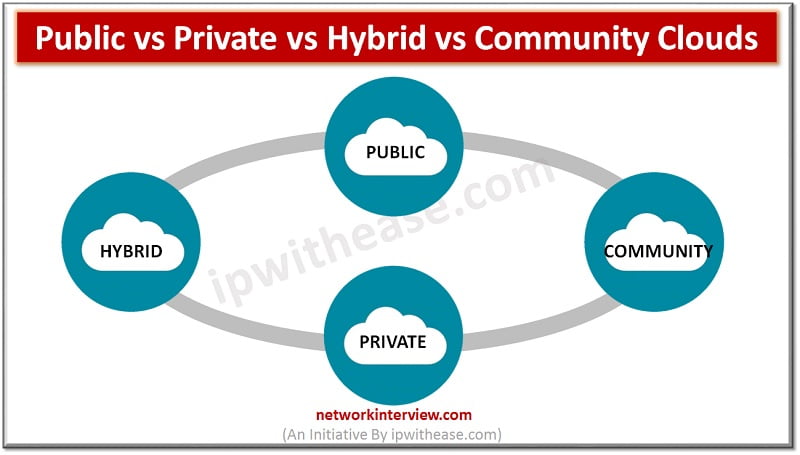 Types of Cloud:
All size of businesses receive prominent advantages from cloud computing. When part or all of the computer resources of a company are moved to the cloud, then the decision of most suitable cloud services is also included in it based on the demands of the company.
Private and public are the two types of cloud having fundamental differences and each with its own disadvantages and advantages.  Features of both private and public clouds are provided by the hybrid clouds while their recent variant has come up in the form of community cloud for serving particular demands of varying communities of business.
Related – Telco Cloud vs IT Cloud
Public Clouds
Application access and services access is shared by individual businesses in the public clouds. Infrastructure of Public Cloud is shared by multiple companies having cloud subscription. No minimum requirements of time are there in the payment. Since payment has to be done for just the used compute resources, therefore businesses find public clouds to be a highly cost effective option. For the web browsers or development platforms and hosting, the public clouds are highly suitable. They are also useful for processing of big data by which computer resources are placed with heavy demands. The companies where high level concerns of security is not the primary ask also find public clouds to be useful.
Advantages:
Moderately reliable ensuring failure resistance
Maintenance is offered by service provider
Private Clouds
Private clouds are those in which access to cloud infrastructure is there to business that no one else is sharing. Own software applications and platforms are deployed by the businesses on infrastructure of cloud. Usually a firewall is there in front of the infrastructure of cloud and for accessing the same, the intranet of the company is used over connections that are encrypted. Improved privacy and security levels are offered by the private clouds with their dedication to single client only. For meeting the demands of a company, there are more chances of cloud customization by the CSPs of private cloud.
Advantages:
limited scalablility
Offers enhanced flexibility
Hybrid Cloud
The cloud deployment of a company in case of hybrid cloud is divided in private and public cloud infrastructure. Within private cloud remains sensitive data where it is possible to maintain high standards of security. These clouds are highly suitable for carrying out the operations of big data in public cloud for the data that is non-sensitive while using private cloud for protecting the sensitive data. Companies also have the option in hybrid clouds for running their development platforms that are capacity intensive or applications that are public facing in cloud's public portion while protecting the sensitive data.
Advantages:
These are cost effective cloud solutions
For the assets that are sensitive, private infrastructure could be maintained by the organization
Community Clouds
On the model of private cloud, the community clouds are serving like latest variation that offers overall solution of cloud for particular communities of business. Infrastructure that the CSP offers is shared by the businesses for development and software tools that are intended for meeting demands of the community. Along with this, individual private cloud space is there with each of the business that is made for meeting the demands of privacy, security and compliance that are common for all the communities.
The companies running in financial, health or legal spheres find an appealing option in the form of community clouds. This is because all these sectors are subject to severe compliance of regulatory. For the purpose of joint project management as well, they serve to be a suitable option by offering benefits of sharing development platform s or software applications that are specific to the community.
Advantages:
Its management could be outsourced as well to the cloud provider
Costs is divided between participants and therefore this is a cheaper option
After understanding each of the different types of cloud, let's go through the comparative points.
Difference between different types of clouds:
FEATURES/CLOUD

PUBLIC

PRIVATE

HYBRID

COMMUNITY

Host
Service provider
Enterprise
Enterprise
Community (Third party)
Suitable for
Large Enterprise
Large Enterprise
Small and mid-size
Financial, heath and legal companies
Access
Internet
Intranet, VPN
Intranet, VPN
Intranet, VPN
Security
Low
Most secured
Moderate
Secured
Cost
Cheapest
High Cost
Cost effective
Cost effective
Owner
Service provider
Enterprise
Enterprise
Community
Reliability
Moderate
Very High
Medium to High
Very High
Users
Organizations, public like individuals
Business organizations
Business organizations
Community members
Scalability
Very High
Limited
Very High
Limited
Download the difference table here.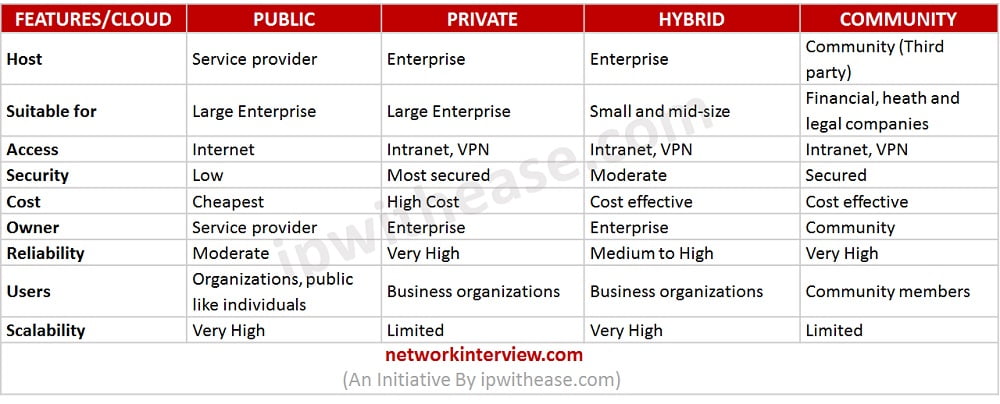 Continue Reading:
What is Multi Cloud Network Architecture – Aviatrix ?