Snapdragon vs MediaTek: Which one is better?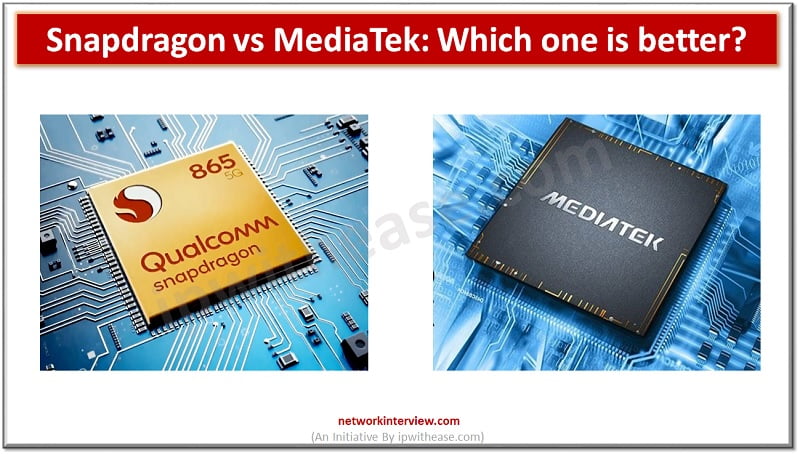 When selecting a smartphone or tablet one of the important features to check is the Processor. To be correct they are not processors in the technical circle, it's called System on a Chip (SOC). 
The Snapdragon and MediaTek are the two most famous and common processors you will come across when you're buying electronic gadgets. Which one is better? The answers may vary from one person to another based on their needs and budget. 
However, here in this article, the major differences between them are listed so that you can easily select the perfect one for you. Before seeing them, you should first understand what a Processor in a smartphone is. 
What is a Processor? 
A Processor is considered the major component of the system; it involves various processes like computing, processing, displaying, etc… In short, a processor is like the brain of the smartphone or other devices that decide your device's performance. 
The clock speed and number of cores in a processor decide the performance of your phone. Multi-usage of application, internet browsing, gaming, and editing all depends on the Processor. 
The well-known processors in the market are MediaTek and Snapdragon. Let's see about them in detail. 
What is MediaTek?
MediaTek is a Taiwanese semiconductor company that started in 1997. It provides semi-conduction chips for Wireless communication, HD televisions, handheld mobile devices, smartphones, or other digital consumer products. 
You can find the MediaTek Processors in most Chinese-based smartphones like Sony, and in entry-level phones like Nokia 1, Nokia 3, Nokia 3.1, and Redmi 6 and 6A. The Helio Chips produced by MediaTek are affordable and Powerful compared to other market Chipsets. 
Features of MediaTek Processors
Here are the features of MediaTek Processors: 
Supreme Process Power

Chipsets have more cores per processor which helps in the computing speed. 

Not economical in Power consumption. 

High temperature or heating rate due to the use of multiple processors. 

There is no premium or self-produced Graphics Chip (GPU). Only a small third-party chip is integrated within the chipsets. 

Low and affordable in price. 
What is Snapdragon? 
Snapdragon is a Mobile Processors or Chipset produced and marketed by an American multinational corporation named Qualcomm Technologies Inc. As MediaTek they also produce chipsets and mini-processors for Wireless Technologies, 5G and 4G mobile communications, etc… 
This Processor uses the ARM architecture or AMD and has an Adreno graphics processing unit. It introduced the first 1 GHz Processor for mobile phones. You can find the Snapdragon processors in high-end phones like Samsung, Huawei, OnePlus 7, Oppo, etc… 
Features of Snapdragon Processor
Here are the major characteristics of the Snapdragon Processor – 
Low battery consumption

Less heat rising rate or temperature compared to Intel or MediaTek

Currently the best Processor in the market with the highest Benchmark test results. 

Comes with the in-built Adreno GPU Chip produced by Qualcomm. 

High price compared to the market rate. 
Difference between the MediaTek and Snapdragon:
Here is a side-by-side comparison between the MediaTek and Snapdragon so that you can easily make your choice. 
PARAMETER

SNAPDRAGON

MEDIATEK

Origin
From Qualcomm established in 1985 in San Diego
Established 1997 in Hsinchu
CPU and GPU Performance
A high graphic performance especially for gaming and high-end segments.
Above Average graphic performance.
Battery Consumption
Low Consumption
High Energy consumption
Heating Rate or Temperature
Low
High
Cost
Expensive
Mid and Affordable cost
CPU Configuration
octa-core –

4x ARM Cortex A55, Clock frequency: up to 2.05 GHz +

4x Cortex A76, Clock frequency: up to 2.05 GHz – 12 nm, 64 bit

octa-core –

8x Kryo 470

(2 x Kryo 470 Gold – Cortex A76

Clock frequency: Up to 2.2 GHz+

6 x Kryo 470 Silver – Cortex A55

Clock frequency: Up to 1.8 GHz)

8 nm, 64 bit
Download the comparison table: Snapdragon vs Mediatek
Final Words
Still, confused? Here is a way out for you 
The processing power of both the chipsets is neck and neck. So you should decide only based on the energy consumption and heat. In this case, Snapdragon wins, it provides higher endurance than MediaTek. But When it comes to cost efficiency, MediaTek wins back. 
So if budget is not a problem for you go for Snapdragon, otherwise, you can opt for MediaTek which is still affordable and efficient.
Quick Facts!
MediaTek has recently launched a new chipset named Dimensity 1050,  which has the feature of first ever mmWave 5G processor. This could be a strong competitor to Snapdragon 778G SoC.
Continue Reading:
Microcontroller vs Microprocessor: Detailed Comparison
Time-sharing and Multi-tasking Operating Systems