Snapdragon vs Kirin: Which one is better?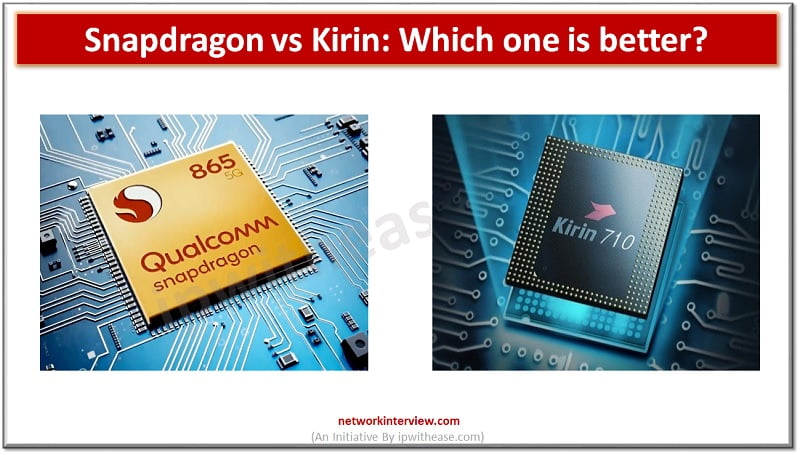 Hey guys, here is another neck-to-neck comparison. Recently Snapdragon and Kirin have announced their new model which has created waves among tech enthusiasts. 
You can't decide the winner until they are released, but so far who is the winner? If you are interested in knowing about the features of Snapdragon and Kirin processors, you are in the right place. 
Here in this article, you will get to know about the snapdragon and Kirin processors and their features and the final answer which one is better. But before getting into the article you should understand what a processor means? 
Role of Processor in SmartPhone:
A processor is considered as the brain of the phone, they are not there only for processing they do more than that. it involves various processes like computing, processing, displaying, etc… 
First of all, the word processor itself is not the right name for it. They are called SOC which is abbreviated as System On a Chip. The number of cores and in a chipset determines the performance of the processor. Better performance is needed for a good gaming experience. 
The most famous and widely used processor is the Snapdragon and Kirin is also one of the best processors in the market. Alright, without further adieu let's get into the content with a short introduction to both the products. 
What is Snapdragon? 
Snapdragon is a Chipset series produced by the semiconductor manufacturing American-based multinational corporation Qualcomm Technologies Inc. The Snapdragon is considered the best chipset in the mobile or smartphone market and almost became a monopoly.
Snapdragon processors are well known for their gaming performance and high battery life. You can find the Snapdragon processors in high-end phones like Oppo, Huawei, One Plus, Samsung, etc… 
This Processor uses the ARM architecture or AMD and has an Adreno graphics processing unit. It introduced the first 1 GHz Processor for mobile phones. These chips are used for semiconductor chips for Wireless communication, HD televisions, handheld mobile devices, smartphones, other digital consumer products, and 5G & 4G mobile communications, etc…
Features of Snapdragon
Here are the characteristics of the snapdragon Processor:
Low battery consumption

Less heat rising rate or temperature compared to Intel or MediaTek

Uses in-house designed Graphics plug which boosts the gaming and graphics performance. 

Currently ranks first in various benchmark tests. 

It's expensive to afford
What is Kirin? 
Kirin is a SoC product series developed by HiSilicon a Chinese semiconductor company that is fully owned by Chinese technical giant Huawei. It is one of the reputed largest domestic disc designers of integrated circuits in China and Asian countries. These processors have purchased a license for the ARM architecture and use them in their CPU design. 
Unlike the snapdragon processor, the Kirin chipsets are only used in the Huawei self-produced mobile phones. They also have an integrated GPU named Mali. Huawei is the biggest player in the smartphone market, especially in China and Asian countries. Thus the Kirin processors are used in many devices. 
Features of Kirin
Pros or Features of the Kirin Processors: 
It provides the highest clock speed compared to other Processors in the market. 

And comparatively, it is mid-priced. 

It leads in the single-core performance

Provides good graphics performance with integrated GPU and promising Gaming Experience. 
Comparison Between Snapdragon & Kirin 
Below table enumerates the differences between the two types of mobile processors in detail:
PARAMETER 

SNAPDRAGON 

KIRIN 

CPU 
1 x 2.84GHz (Cortex-X1)

3 x 2.4GHz (Cortex-A78)

4 x 1.8GHz (Cortex-A55)

6.03% faster than Kirin 

1 x 3.13GHz (Cortex-A77)

3 x 2.54GHz (Cortex-A77)

4 x 2.04GHz (Cortex-A55)

GPU used 
Adreno
Mali
AI 
Hexagon 780

Second to Kirin in Benchmark 

Dual Big Core + Tiny Core NPUs

Sits on the top of Benchmark tests. 

Download and Upload speed 
Download Speed – 2000MBits/s

Upload Speed – 318MBits/s

Download Speed – 1400MBits/s

Upload Speed – 200MBits/s

5G support 
Higher
Lower
Download the comparison table: Snapdragon vs kirin
Final Words
If we consider all the facts, it is still hard to decide which is the best choice, and there is no doubt both are the best in their way. However, Snapdragon processors are also available in third-party mobile phones but the Kirin processor is used only in Huawei phones. In this aspect, snapdragon once again proves its monopoly. 
If you have any further questions or doubts regarding these processors or if you want to know about any related content please leave them in the comment section below.
Continue Reading:
Snapdragon vs MediaTek: Which one is better?
Microcontroller vs Microprocessor: Detailed Comparison