Technical Hierarchy: Infosys Careers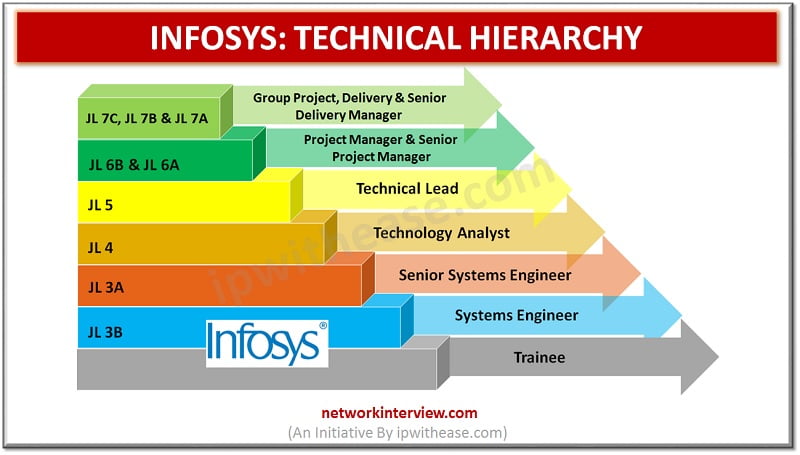 The first thing you should know before entering a company is its hierarchy and chain of command. This will help you to understand your designation and responsibility in the company. 
Are you a recruit of Infosys limited? Interested to know about the technical hierarchy of Infosys limited/ Infosys Career options? Here you will know about the technical hierarchy of Infosys limited.
Before getting into the designations here is a short introduction to the Infosys private limited and its organizational structure. 
A Brief Intro to Infosys Limited
Infosys is an Indian-based Multi-national Information Technology company, which is headquartered in Bangalore. It provides the following services – software development, maintenance, and independent validation services to companies in finance, insurance manufacturing, and other domains. 
As per the 2021 survey the company employs more than 259,619 people and is rated as the 602nd largest public company in the world according to Forbes Global 2000 ranking. 
As a typical IT company, Infosys also offers multiple streams of services and has different designations and hierarchies for each position. The designations in Infosys are addressed by the Job Level which is shortly called JL. 
In this article, only the technical designations of the company are discussed. That's only the Delivery Stream.
Okay without further adieu let's get into the details of Infosys Careers.. 
You can also watch this video for better understanding:
Infosys Careers: Technical Hierarchy
Trainee
When you first join Infosys you will only be assigned as a trainee. Once you undergo all the training and start working on projects you will be promoted to System Engineer. 
There is no Job Level for the trainee, and the training period will be usually 6 months – 1 year. And there is no fixed salary for the trainees. 
Systems Engineer (JL 3B)
You will have to work as a System engineer for 3 – 5 years. During this period you will work on different products and will play an important role in implementing the major activities involved in the Software Development Life Cycle, like testing, development, servicing, etc… 
The promotion period may vary from one person to another based on his talent and way of working. The indicative average annual Salary of a Systems Engineer is ₹3-4 lakhs.
Senior Systems Engineer ( JL 3A) 
As a Senior Systems Engineer, your responsibilities and roles remain the same, but your direct involvement in various activities will be needed. And you will guide other trainees and junior engineers in their tasks. 
You will work as a Senior Systems Engineer for another 2 or 3 years. The Average Annual salary of the Senior System Engineer is ₹4-5 lakhs.
Technology Analyst (JL 4) 
You must have a minimum of 5 years of work experience to become a technology Analyst. It is considered as the stepping stone for the technical lead. The average annual Salary of the Technology Analyst is ₹6-7 lakhs
Here your responsibility expands further to managing a small group of people to guide them in work and you are also supposed to work in coding, unit testing, and other technical stuff as directed by the technical lead. 
Technical Lead ( JL 5 ) 
After gaining experience as a technology analyst you will be promoted as the Technical Lead, where you will lead a particular set of technical people to complete a project or goal. The roles and responsibilities remain the same as in the previous designations. 
As a Technical Lead of Infosys Limited, you can expect an Annual Salary of ₹10-12 lakhs.
Project Manager and Senior Project Manager ( JL 6B & JL 6A) 
The personnel in this JL 6 Band will take the bottom-line responsibility for a project. He will be responsible to plan the project, build the team, review progress and ensure successful delivery and implementation. 
They will take ownership of their team and performance. The Average Annual Salary of the JL 6 band is between ₹15-17 lakhs.
Group Project, Delivery and Senior Delivery Manager ( JL 7C, JL 7B & JL 7A) 
It is the highest designation in the technical stream, there are different positions in the JL 7 band. There are no clearly defined roles and responsibilities for this posting. Mostly, they relate to the communication with the clients and commanding the person below them. 
The Average Annual Salary of the JL 7 Band Designations is above ₹20-25 lakhs.
Conclusion
There is also an option to switch between one stream to another ( system engineer to Consultant). After the JL 7 Band, the corporate executives like CTO, VP, President, and CEO will play their roles. 
If you have any further questions regarding the designations of the Infosys Technical Stream please leave them in the comment section below. 
***The salary packages are only indicative and may vary as per the rise and low of the demand.***
Continue Reading:
Technical Hierarchy: LinkedIn Careers
What is future of Network Engineers?
Are you preparing for your next interview?
Please check our e-store for e-books on Interview Q&A on IT technologies. All the e-books are in easy to understand PDF Format, explained with relevant Diagrams (where required) for better ease of understanding.